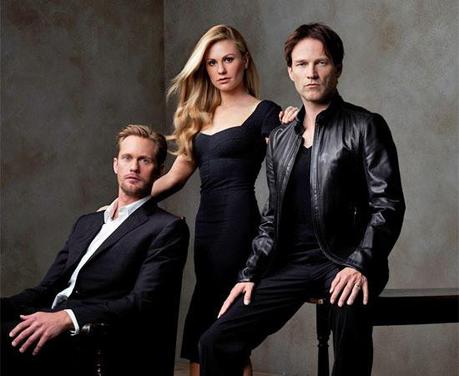 The triangle of Sookie (Anna Paquin), Bill (Stephen Moyer), and Eric (Alexander Skarsgård) has caused quite the heated debate amongst fans as to whether Sookie should be with Bill or with Eric. But one thing is for certain, it has become memorable for television audiences. So memorable in fact that the trio recently made Zimbio's list of 18 memorable television love triangles.
Sookie and her two vampire suitors made the list at #8 and here is what Zimbio said about them:
Sookie and Bill seemed like they would be together forever (and we do mean forever), but during season 3 of True Blood Eric started to develop feelings for Sookie. This love triangle is a classic story of a girl being torn between the good guy and the bad boy — only the boys are vampires and the girl is a fairy.
To see the other couples who made the cut, you can see Zimbio's list here.
Source: Zimbio.com- Memorable TV Love Triangles, "#8 Sookie, Bill, and Eric–True Blood"
Image Credit: HBO, Inc.