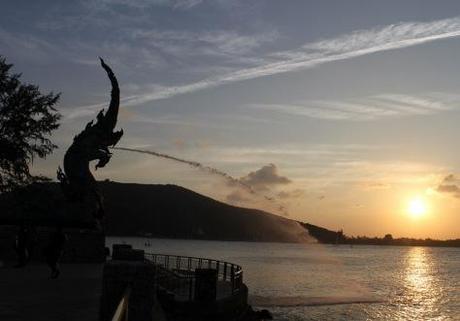 Singapore? No, take a look closer on the statue. Yep, it's not Merlion. It's Nag the Serpent, the iconic statue of Songkhla, half hour driving from Hat Yai.
On the last day of exploring southern Thailand, I moved to another city. Leaving Aonang in the early morning, the minivan took me to Hat Yai. While some other tourists decided to stay in Hat Yai and enjoyed the city crowd, I continued the journey to Songkhla by taxi.
Songkhla is one of tiny province in the south of Thailand which becomes the melting pot of ethnic diversity (Thai, Chinese, Malay and other visitors). This important  port city is flanked by two famous beaches,  Samila dan Son Awn, and popularly known as "the great city on two seas".
It was 04.30 pm when I arrived in town and checked in at a cheap yet comfy and fancy hotel. Without wasting further time, I rented a bike to have a short city tour while hunting the sunset on the beach. Although not as dense and as hectic as Hat Yai, Songkhla is also quite crowded by buildings and shops that lined the street. Vehicles sometimes created traffic at several crossroads. And what I like from this town, it is not so touristy that less travelers are found passing by.
The first spot is Nag the Serpent statue, built in 2006. Nag is believed to represent the god who is highly respected in southern Thailand. It is said that holy water spout by this god can bring blessings and happiness. The statue is divided into three sections which was scattered in different places and have different meanings. Head symbolizes intelligence and wisdom, the body symbolize wealth, while the tail symbolizes the charisma and strength. Unfortunately I could only find its head and navel, mean while the day was getting darkened and I still had to visit Merlion statue which lies on other side of Samila beach.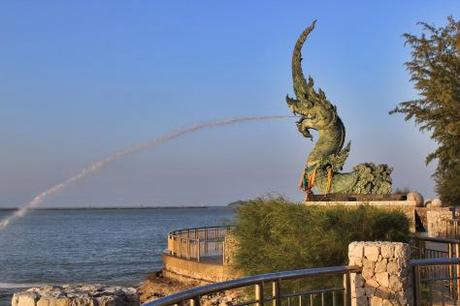 The head of Nag
Body of Nag
After pedaling for a few minutes and asking some locals the direction, I found the second statue sitting on a rock at the seashore. It was windy and the sun was already sinking.  I parked the bike next to a bench and then walked down the shore to take some pics. Mermaid statue was built in1966 by Jitr Buabus. This represents the epic 30,000-line saga about prince Phra Aphai Mani by Soonthorn Phu (an official poet for King Rama II in the early 19th century). The story tells about a mermaid who combed her hair with a golden comb on a beach.  One night, she met a young fisherman who fell for her. Since then, every day, the fisherman wait for her return. Unfortunately she never came back because she was frightened of his presence.
Although the scenery looked so stunning and the site provided some bench for tourists to enjoy the scenery, but really, the wind blew so hard that I can't handle my self to quickly leave the place after getting some shots.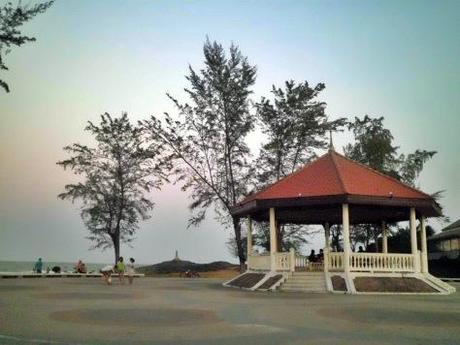 What is also interesting about Songkhla, the city is still preserving its historical heritage building . The next morning, I spent few minute to walk around  before leaving the city. Not far from the hotel I stayed, I found three historic buildings at the end of the road. The first is Songkhla city wall which was built in 1842 by King Rama III. This ancient wall was once being demolished and refurbished. Even during King Rama V reign, some part had been removed to broaden the roads. And nowadays, the wall just remains the northern part, the wall that I visited at that time.
Songkhla City Wall
Right in front of the ancient wall lied Songkhla National Museum which was built on 1878 and became city hall of Monthon Nakhon Si Thammarat. I didn't have enough time to get inside the building since the locket was still close. Therefore I could just enjoy the old cannon and old anchors exhibition at the terrace and took some photos of its beautiful pond and entrance gate.
Songkhla National Museum
Not far from the first two building, We can find Thai's 16 Prime Minister birth place which was built in local traditional style of wooden house.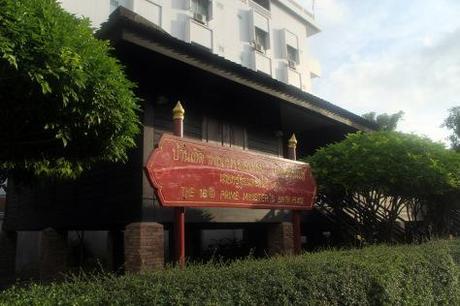 Besides, old Chinese-Malayan architectural buildings were also decorating some part of the city. Most of which are still used for commercial purposed.
Indeed, Songkhla is a historical site which is still well preserved and becomes not so touristy. You will feel like blending with the local every time you hang around. The atmosphere makes you feel homey and welcomed.