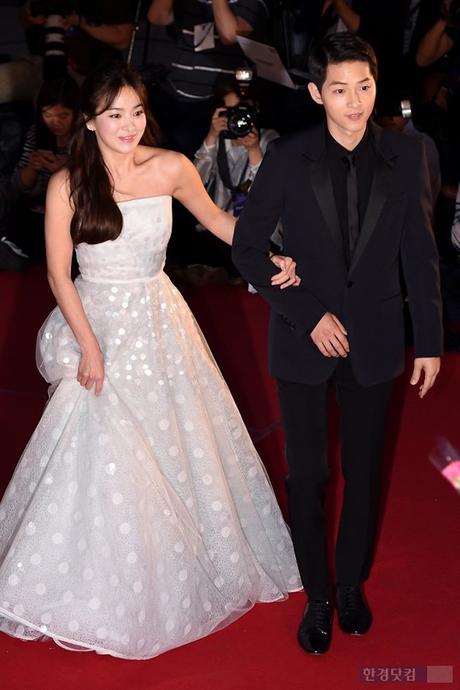 Have you ever been so captivated by an onscreen couple that you wished that they were also a real life couple? Well it's certainly no secret that's how I feel about Song Hye Kyo and Song Joong Ki. The

Descendants of the Sun

costars were the talk of the town at last week's prestigious Baeksang Arts Awards which recognizes outstanding achievements in the South Korean entertainment industry. There were tons of headlines declaring that the Song Song couple's red carpet appearance together looked like their wedding which it kind of did. Dispatch (Korea's version of TMZ) even reignited their dating rumors by calling them the "best couple ever!" in

this

Instagram pos

t

(the way he is looking at her!) They're totally shipping them. Song Hye Kyo actually was wearing a gown from the Spring 2013 bridal collection of Angel Sanchez and she looked absolutely dazzling. Song Joong Ki was no less attractive in head to toe Saint Laurent. These two captured everyone's attention as soon as they emerged from their vehicle and made their way down the red carpet. I watched a good deal of the coverage and Hye Kyo appeared tentative about taking Joong Ki's hand at first but he was more concerned that she was able to walk properly between her sky high heels and voluminous gown. It was really sweet how he attentively escorted her and tried to get her to hold onto him for support when she needed it. He also did that when they got up to accept their awards. What a gentleman! And this wasn't the first time he has totally acted more like a boyfriend than a friend.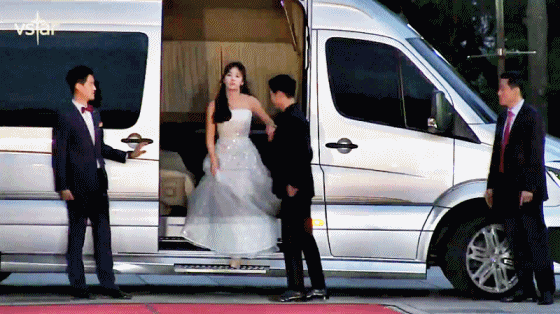 The Song Hye Kyo and Song Joong Ki dating rumors began when they were spotted supposedly holding hands and shopping for groceries together in New York prior to the broadcast of Descendants of the Sun. Interestingly their agencies admitted that they both happened to be in NYC at the same time and had met up for a meal with other people present. And the deflection continued whenever they were questioned about this however neither one of them has ever flat out denied the rumor which I why I believe that they are dating. I'm also not blind to their body language which has been quite telling from the way they behaved at their

Hong Kong press conference

to this Baeksang awards appearance. With the stigma of costars dating in the Asian entertainment world and the fact that both of them are intensely private, they probably won't admit anything until they're ready to tie the knot. And Joong Ki himself has said that he wouldn't reveal if even if he was dating unless he was caught. They're definitely close friends if nothing more. Kim Min Seok, the actor who played private Kim Ki Bum in Descendants of the Sun described them as best friends when asked about their relationship in a recent interview.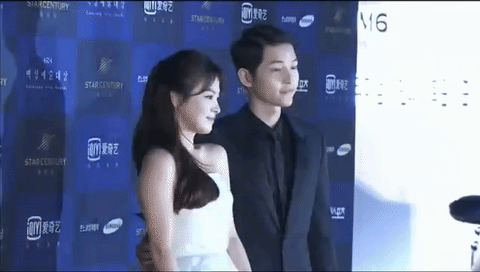 Descendants of the Sun picked up the Top Excellence (Daesang) Award for a TV Drama and the Song Song couple jointly won the Global Star Choice Award, the iQiyi Hallyu Popularity Award and the Korea Popularity Award. Joong Ki lost out to Yoo Ah In (Six Flying Dragons) in the male television acting category and their mutual friend couldn't resist cheekily pointing out that he was sitting with the #SongSongcouple during his speech. Kim Hye Soo took home the female acting award for Signal and while Hye Kyo was applauding, Joong Ki sweetly grabbed her hand to comfort her. What's lovely is that he probably didn't know that camera would be on them or maybe he did and he didn't care. Anyway these two do not act like most Asian costars and their real life chemistry is even better than their onscreen chemistry.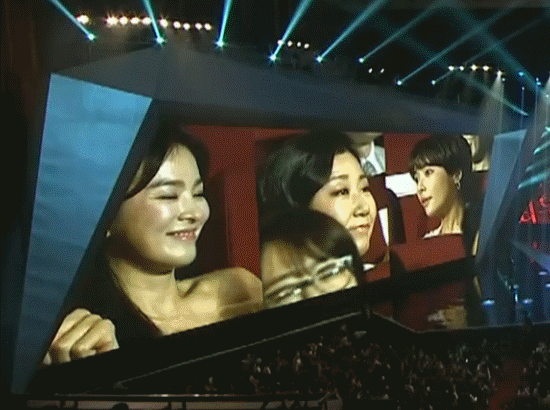 I understand that shipping is not for everyone and you may not see anything here but please refrain from making comments that she is too old for him (it's just 4 years) or that they're doing this for publicity (they don't need it!) because it's both ignorant and insulting and it also proves you don't know anything about these two. Not to say that I'm an expert but come on, they way they look at each other here is everything! Earlier this week, Song Hye Kyo was announced as the special guest at Song Joong Ki's Chengdu fan meet on June 17 in response to the request of many fans. Considering he always finds a way to talk about her in his fan meets, she may as well be there. I look forward to seeing what comes out of that. I've compiled some of my favorite moments from the festivities here. There were so many!
Don't miss out my latest giveaway! The prize is a set of 5 sheet masks and there will be 5 winners. Enter now! 

CONTINUE READING ≫
bloglovin' | instagram | facebook | twitter | pinterest | google+ | feedly