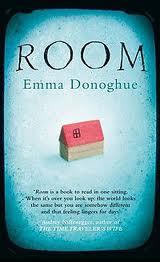 Alright ladies and gentlemen!  I am finally back in the book reviewing game after my brief 16 week hiatus for that whole finishing college and getting my degree thing.  In case you haven't been following my tweets or reading my previous blog posts I have finally (and successfully) graduated with my degree in education (high school-English) at the top of my class (yay) and am now timidly
stepping into the real world and trying not to worry too much about the future.  So, without further ado, I return to the thing you've all been waiting for: book reviews.
Normally in December I try to do only Christmas/Holiday related books and I have quite a few good ones waiting to be read, but I just haven't had time to dive into the holiday genre yet so I'm starting with what I have.
Room: A Novel, by Emma Donoghue is the story of a young boy Jack and his Ma who live in "room," a shack that has been Ma's prison and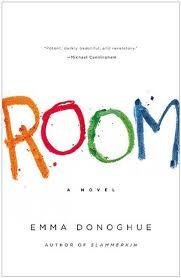 Jack's home for years.  They are kept their by Old Nick, Jack's biological father and Ma's captor.  The whole story is told from the perspective of five year old Jack who has spent his whole life in room and sees it as home more than a prison.  As you can imagine, his Ma's only goal is to keep him alive and get both of them out safe, but, sometimes being out of your prison can be just as devastating as staying in it.
I won't give away any more of the plot as it does make for a wonderful and intriguing journey. There are a lot of things Donoghue does well in this novel.  Talking about Jack's love of room without sounding fake of overdoing it while still capturing his mother's desperation to make it out.  She gets into the mind of someone in the situation and runs with it, coming up with a portrait of two characters that, even though their situation is beyond belief, come across as tangible and believable.  Now, as much a I liked the book with its hard to handle beginning and heartbreaking second half along with a somewhat uplifting ending, the entire novel is narrated through the voice of a five year old.  While this is novel at first, by the end of the book I was struggling to finish.  Jack is an amazing character and gives a unique perspective that makes this difficult subject matter easier to handle, but it's hard to handle.  I would have liked some chapters narrated by "Ma" or just another narrator to break things up a little and let me read some adult thoughts for a change.  This is no reason not to pick up this book by any means, but it does take some mental preparation before you dive in.
This novel is the furthest thing from a holiday fluff novel as you can get and if you're thinking of picking it up I'd save it for the new year, but if you need something to inspire you into feeling grateful for what you have this is the book for you.  Donoghue's novel takes you deep into a dark, unimaginable crime and leaves you with both a broken heart and hope.