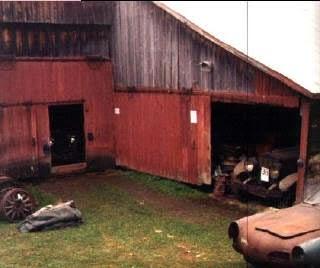 Alex and Imogene Miller of East Orange, VT. They eked out an existence on a small farm. Alex would scrounge rusty nails from burnt buildings to repair his roof. He drove a ratty VW Beetle, and when it died, he found another even more ratty, and another...the rusting carcasses littered his yard. Alex died in 1993, and Imogene died in 1996. The local church took up a collection so they could be buried in the churchyard, and the state began the process of taking the farm for taxes. That would have been the end of a sad story, except.....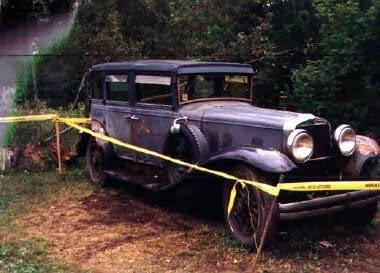 '31 SV16 Stutz Sedan ($10,000) 

While preparing the estate for auction, the sheriff discovered a cache of bearer bonds taped to the back of a mirror. That triggered a comprehensive search of the house and outbuildings.
It seems that Alex Miller was a Rutgers grad, son of a wealthy financier. He lived in Montclair, NJ, where he founded Miller's Flying Service in 1930. He had been pilot of the first air mail route, which was by autogyro, and owned by the Pitcairn's. http://justacarguy.blogspot.com/2011/07/1st-scheduled-autogyro-route-in-world.html  He operated an autogyro for mail and delivery service through the 30's, and owned 2 of perhaps 3 operable autogyros...3 Autogyro's in existence.. one he donated to the Smithsonian. This was sometime in the 1950's or 60's. They asked if they could send a truck up to get it. He said no, I'll deliver it, and he flew it to Washington.


'28 Stutz Blackhawk Boattail Speedster ($78,000 US)

Choosing to live low profile, and paranoid about tax collectors, Miller moved to the farm in VT, and took his collections with him. Most of his cash had been exchanged for gold and silver bars and coins, which he buried in various locations around the farm. He carefully disassembled his gyrocopter, and stored it in an old one-room schoolhouse on his property. he then built a couple of dozen sheds and barns out of scrap lumber and recycled nails. In the sheds he put his collection.


 '29 Stutz Blackhawk sedan for $7000

Alex Miller had an obsession with cars. Not just any cars, but Stutz cars. Blackhawks, Bearcats, Superbearcats, DV16's and 32's. He had been buying them since the 1920's. When Stutz went out of business, he bought a huge pile of spare parts, which was also carefully stored away in his sheds. The estate auction would eventually be handled by Christies, a three day circus, billed as the "Opening of King Stutz Tomb". It attracted celebrity collectors, as well as thousands of curiosity seekers. The proceeds were in the millions, some items went for far more than their value in the frenzy. In the end, the IRS took a hefty chunk of the cash for back taxes


1913 Stutz Bearcat went for just $105,000 US




Stutz DV32 Sedan ($27,500) 




A Springfield Rolls Piccadilly Roadster ($115,000 US)

Final tally: $2.18 million at auction

$1 million in gold

$75,000 in silver

$400,000 in stock

TOTAL $3,655,000

text and photos from https://groups.google.com/forum/#!topic/stlbenchracing/coDiv-0guCw
one of the cars was a DV roadster. One of two known to exist according to the source of the below auction listings scans http://forums.aaca.org/f169/k-miller-stutz-hoard-289265-2.html
notice in the bottom one, it mentions headlights by Zeiss


If you have the Automobile Quarterly books, look in Vol 36 #3






full auction listing


Lot No Description Estimate Hammer Price Hammer Price 




001 Stutz Model M Chassis (1929) $3,000-$5,000 - $7,475




002 Stutz Speedway Sedan (1925) $7,000-$9,000 - $10,350




003 Stutz AA Eight (1927) $7,000-$9,000 - $7,475




004 Stutz AA Sedan (1927) $8,000-$10,000 - $19,550




005 Stutz DV32 Sedan (1932) $12,000-$16,000 - $31,625




007 Stutz Model BB Blackhawk (1928) $30,000-$50,000 - $118,000




008 Stutz Model K Fire Engine (1924) $5,000-$7,000 - $17,825




009 Volkswagen Two Door Sedan (1959) $500-$1,000 - $748




010 Franklin 11A Sedan (1928) $8,000-$12,000 - $5,190




011 Stutz Special Six (1923) $3,000-$5,000 - $4,025




012 Stutz AA Sedan (1927) $8,000-$10,000 - $13,800




013 Franklin 19A Airman (1934) $10,000-$14,000 - $7,130




014 Stutz KLDH Touring (1923) $12,000-$15,000 - $25,875




015 Stutz KLDH Touring (1924) $12,000-$15,000 - $20,700




016 Franklin 153 Sedan (1931) $14,000-$18,000 - $7,475




017 Stutz Bulldog Touring (1917) $15,000-$18,000 - $34,500




018 Stutz Blackhawk Boattail (1928) $40,000-$50,000 - $88,300




019 Stutz Model M Dual Cowl (1929) $50,000-$80,000 - $77,300




020 Volkswagen Two Door Sedan (1965) $1,000-$2,000 - $575




021 Blackhawk Sedan (1929) $5,000-$7,000 - $4,370




022 H.C.S. Touring Car (1923) $5,000-$7,000 - $16,675




023 Henderson Touring Car (1914) $12,000-$14,000 - $17,480




024 Blackhawk Four Door Sedan (1929) $11,000-$13,000 - $8,050




025 Stutz Eight Model M (1929) $10,000-$14,000 - $31,050




026 Stutz Eight Model M (1930) $12,000-$16,000 - $15,100




027 Stutz Series G Sport (1919) $18,000-$24,000 - $24,150




028 Stutz Series K Touring (1922) $18,000-$24,000 - $28,750




029 Locomobile 48 Town Car (1925) $25,000-$35,000 - $50,600




030 Stutz Model 4C Roadster (1916) $30,000-$50,000 - $70,700




031 Stutz Touring Car (1914) $40,000-$60,000 - $70,700




032 Rolls-Royce Silver Ghost (1926) $50,000-$75,000 - $129,000




033 Stutz Model 4C Bearcat (1916) $80,000-$110,000 - $173,000




034 Stutz 6B Bearcat (1913) $110,000-$160,000 - $118,000




035 Stutz DV32 Roadster (1933) $130,000-$180,000 - $167,500




036 Stutz Eight Supercharged (1930) $140,000-$200,000 - $151,000




037 Stanley Steamer 7 Passenger (1924) $12,000-$15,000 - $17,250




038 Franklin Four Door Sedan (1927) $2,000-$4,000 - $1,610




039 H.C.S. Touring Car (1923) $2,000-$4,000 - $4,830




040 Stutz Touring Car (1922) $5,000-$10,000 - $11,500




041 H.C.S. Touring Car (1923) $8,000-$10,000 - $13,800




042 Stutz SV16 Sedan (1931) $8,000-$10,000 - $11,500




044 Volkswagen Karmann Ghia $800-$1,000 - $81




045 H.C.S. Touring Car (1923) $8,000-$10,000 - $21,850




046 Stutz Special Six (1923) $15,000-$18,000 - $25,300




047 Stutz Bearcat (1921) $20,000-$30,000 - $66,300




048 Stutz Bearcat (1920) $20,000-$30,000 - $57,500




049 Stutz Bearcat (1920) $30,000-$40,000 - $57,500




above info from http://forums.aaca.org/f169/k-miller-stutz-hoard-289265-2.html


a couple vehicles from the Millers hoard are now in the John Rich museum in Pennsylvania: http://www.jwrautomuseum.com/home.html

Following is from a AACA member Peter Zobian, who was a neighbor:
Imogene and Alex were both very nice persons, once you got to know them. I was just a kid when my family met them. My dad was a teacher on Long Island and we had summer farm near Washington, VT. We went to a church supper in East Orange, VT. At the time we owned a 1931 Chevrolet ex-Fire Department Hose Truck, and as we were parking, A.K. and Imogene pulled up in a 1934 Packard 734 Boattail Roadster.
A.K. got out and removed the "Sliding Boy" radiator mascot and locked it inside the golf club door. We were amused as we were in a country church parking area and didn't think that anyone would even think about stealing it. As we were getting ready to go inside, A.K. noticed our big nickel plated spot/search light mounted on the open dash of our Fire Truck and asked my dad how much he wanted for it. My dad said it wasn't for sale and A.K. asked him his name. My dad said "Jim Zobian" and A.K. said "do you have a brother called 'Easy'? My dad's brother was named Ernest and because his initials were E.Z., he was called "Easy". It turns out that A.K. Miller was from Montclair, NJ, and played football with my dad's brother (my uncle) at Montclair High!
That started a long friendship between my family and the Millers, and it probably greatly influenced my future as a car collector. In fact, I think for several years I was the only kid allowed inside A.K.'s barns to look at his collection. Years later I was in College in upstate NY and remembered a Stutz Monte Carlo sedan that A.K. had stored in a neighbor's barn. I wrote him a letter asking if he still had it and would he consider selling it to me. He responded with a very nice letter and said, yes but he thought it might need too much work. I never did buy it. I remember that the Miller's had a small business selling Real Ice Cream with a small sign on the dirt road in front of their home. That was their only visible means of support, but they always had money.
One day they both showed up at our farm (we were 3 miles from our nearest neighbor on a one lane dirt road -- no electricity and no phone) in a open Rolls-Royce touring car -- either a Silver Ghost or a Phantom I. They were on their way to Texas to bring back another Stutz. My day asked them how were they going to do that. Alex pointed to the big rope coiled on the back floor and said they were going to tow it back. Alex said he would drive the Rolls and Imogene would sit in the Stutz to steer and use the brakes when necessary. All the way from Texas to Vermont! And they did.