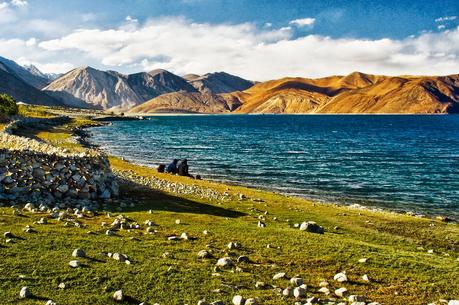 Leh Ladakh is land of Buddhist Gompas and Monasteries which is reserved
for tourism mainly. It is one of the amazing wonderful lands which are noted as the highest known cold desert spot on earth. 
Though rigorous the place is quite resplendent and will capture your heart and soul of every single visitor and nourish with everlasting delight and joy of mountain and hill expedition with treasures of memory filling up your memory. Today it is one of the tourist hot spot flowing thousands of tourist in it.
Leh Ladakh is one of the most attractive regions of Jammu and Kashmir, the northernmost state of the Republic of India. It lies in between the Kunlun mountain range in the north and main Great Himalayas to the south and is inhibited by people of Indo-Aryan and Tibetan decent mostly. 
The main water course of Ladakh is Indus which penetrates India from Tibet at Ldemchok. It is one of the popular hunted tourist attractions in India and Ladakh is the only place on earth where you can get sunburn as well as frostbite in the same place. The place is surrounded by world's biggest mountain ranges that are the Himalayan range and the Karakoram. 
These crossways two others Zanskar and the Ladakh range and the highest latitude you can find here is from 2750 to 7637 m. There are many sightseeing and tour wonders in Ladakh with fantastic landscape created by the force of nature.
With the help of jeep safari or mountain biking, you can capture the incredible beauty of the mountains and the peaceful solitary hills and valleys lying beneath the great snow capped and glacier hovered mountains. 
Some of the top listed amazing places to visit in Leh Ladakh tour are Nubra Valley which is filled with orchard gardens, Pangong Lake which is noted to be the highest lake in the world with crystal clear water that is said to refract a band of violet, blue, green, orange and red colors is awesome.
Other places are the culture rich sites like Zanskar valley which is situated amidst the great Himalayan range and the Zanskar Mountain. In this place you can experiences the hues of exclusive
 Tibetan culture with mix diverse traditions of both Indians and Tibetans. And if you are looking for a serene place to bask and relax for a refreshing mountain and hill breath, the places such as Rangdum is known to be a land of sheer beauty where you will find beautify and inspiring scenery to capture and thrill.
For best result know the place first of all and plan for an exhilarating customize travel packages and enjoy the best expedition in the famous attractions of India.