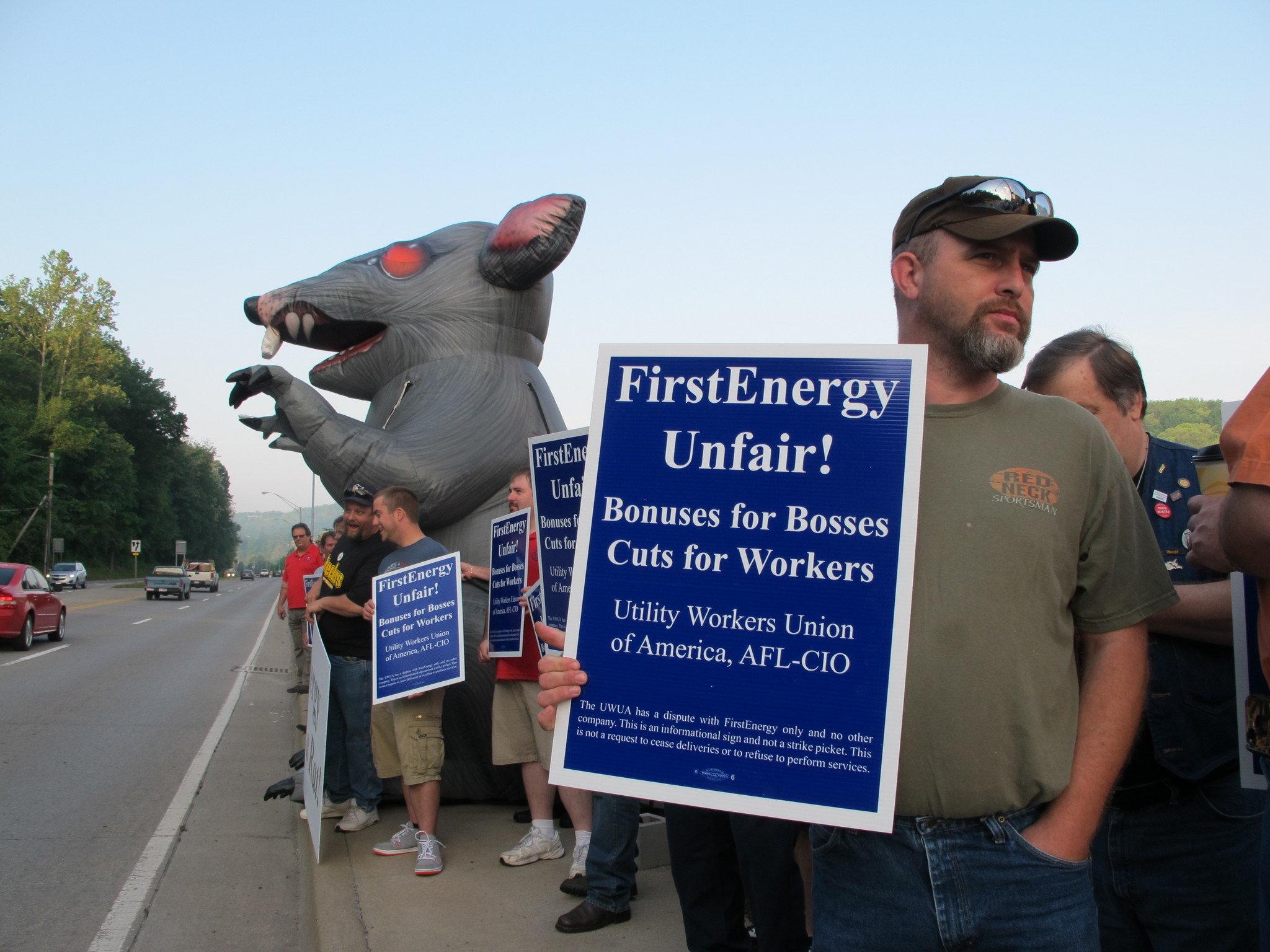 Cross Posted WVPubcast
Activists gathered to protest a First Energy shareholder meeting yesterday morning in Morgantown. Members of multiple organizations and a giant inflated rat called attention to several energy concerns.
More than 100 protesters crowded the street in front of One Waterfront Place where the annual First Energy shareholder meeting took place this morning. Utility workers from PA, OH, MD, and WV joined coal and steel workers as well as teachers and various environmental groups bringing a plethora of concerns to public attention. Many wore bright t-shirts with the word "SOLIDARITY" across the back.
FirstEnergy has been negotiating a contract with union workers since March.
"We're down here trying to get a fair contract and to convince the upper level of management of this company that we need a fair contract for our folks," says Bob Whalen, president of the of Utility Workers of America Local Chapter 102. "One of our proposals was to have a veteran fill one of their training schools for every cohort that goes through? To date this company has told us that they have no interest in that proposal whatsoever."
After some 17 negotiating sessions, both sides have failed to agree to a replacement for the contract that expired on April 30.
"So on April 30th, which was our final proposal to them before expiration," says Chuck Cookson, First Energy's executive director of labor relations and safety.
"We offered a four-year contract that contained a total of 8 and a half percent wage increases over the four years, that contained an opportunity to earn a 6 percent incentive compensation, that contained some equity increases from some other people for some other of the classifications there, and we'd like some work rule changes that would allow us to use people in a different way to respond more quickly to customer outages and get people's power restored more quickly. That's the essence of what we're trying to accomplish."
Cookson says FirstEnergy employs about 7,500 union workers who are covered by 21 similar collective bargaining agreements. The next negotiating session is scheduled for May 24. Still, outside the Waterfront Place, protesters displayed a snarling, toothy, 12-foot, inflated rat and called for action from FirstEnergy CEO Anthony Alexander.
Meanwhile environmental and consumer groups voiced concerns over Mon Power's proposed billion-dollar purchase of the Harrison Power Station from a sister company, Allegheny Energy Supply. They say the deal between two subsidiaries of Ohio-based FirstEnergy would raise rates for all but the largest industrial customers by 6 percent.
FirstEnergy spokesman Todd Meyers explains that Mon Power is responsible for about 385,000 customers in north central WV as well as 132,000 customers in the Eastern Panhandle.
"Right now MonPower doesn't have enough generation capacity—we can't make enough electricity to supply that need," Meyers explains. "We're about 1000 megawatts short."
Meyers says the Public Service Commission wanted to know how, after retiring several power plants last year, Mon Power intended to supplement energy and guarantee stable service. So in November they submitted a proposal.
"The plan was for Mon Power to purchase 80 percent of the Harrison Plant in Harrison County," Meyers says.
"They already owned 20 percent of the plant, and so what this transaction is looking to do is to purchase the outstanding 80 percent from a First Energy affiliate—Allegheny Energy Supply—an unregulated affiliate. They want to purchase from that affiliate and put it all into Mon Power and they will have enough generation and capacity probably going out towards 2030."
The matter is before the Public Service Commission. The Sierra Club reports that the PSC has received more than a thousand letters protesting the transfer. Conservation chair of the WV Chapter of the Sierra Club Jim Kotcen says there are better ways to deal with the energy shortfall.
"We think a major solution would be for the Public Service Commission to instead require FirstEnergy to implement a major energy efficiency program," Kotcen says. "This would be things like more efficient appliances, discounts on electric light bulbs and so on that could actually cut consumers' electric bills. In the process we would help protect the environment, and we would create literally thousands of new jobs in WV."
Environmentalists are also calling for diversifying energy sources—a course of action that FirstEnergy spokesman Todd Meyers says isn't the company's priority.
"We're not looking for a diversity of fuel," says Meyers. "These plants have been consuming coal for a long time and it's not been a problem before. The plant that we're talking about is very modern with its emission control. The real goal is to keep rates as low as possible for West Virginians. That's what the goal has been."
Public hearings begin Wednesday morning, May 29, in Charleston.