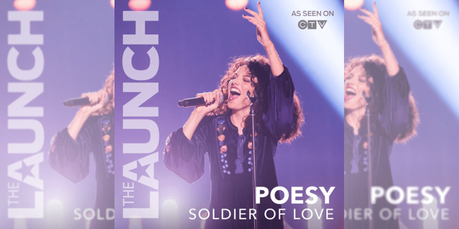 The Launch returned to Canadian television screens this week to crown a fourth winner and release another single to the world. And as the show ended and Big Machine's Scott Borchetta (along with mentors Fergie and Stephan Moccio) told POESY that her version of Soldier Of Love would be launched, another career was kick started.
From her audition (watch her performance of Radiohead's Creep below) through to the live performance of her iTunes all-genre #1 hit, POESY commanded the attention of the mentors and the audience. And now that she's taken this new step in her career, we should all prepare to see her in the spotlight again!
We caught up with POESY to talk about The Launch, the recording of the song, and working with the mentors on the show. We also asked her about her music, influences, and what's coming next for her.
The Ancaster/London, ON singer told us that she's been low on sleep over the last few days, but was able to sleep in a little bit on Friday morning. And while we know she's been busy with interviews, performances, and all that has come with her launch, POESY sounded excited and happy to talk about everything that's happening.
During this week's episode, Scott Borchetta made a comment about POESY having another gear to find while she was recording Soldier Of Love. We asked her about that comment, and how she found that gear. She said that a lot of it was about confidence and figuring out what Borchetta and Stephan Moccio were looking for. She compared her process to the visualization techniques that athletes use. She told us that the looks on the faces in the control room when she executed her vision were a clear sign that things were headed in the right direction.
We also asked about the recording itself, and having Moccio in the booth with her as she sang. POESY told us that a lot of that process took place late at night, and she thanks the team for keeping her loose, taking breaks to avoid burnout or straining her voice, and she credits lots of tea for keeping her going.
Now that her episode as aired, the single has been released, and Soldier Of Love has reached #1 on iTunes, there have been a lot of things to take in. We asked about finding out about the going to #1 and POESY told us that it was a little bit of a complicated moment. She had a feeling that it could happen after seeing the first three singles from The Launch ( The Lucky Ones, Ain't Easy, Wide Awake) succeed... but there was no certainty. So to hear that it had happened was exciting and encouraging to think that people liked the song and were supporting it. She added that it was crazy to think that an artist like Justin Timberlake just released a new song, but that she was #1.
While we were talking to POESY we got her to play a round of 5 Quick Questions. Here we go...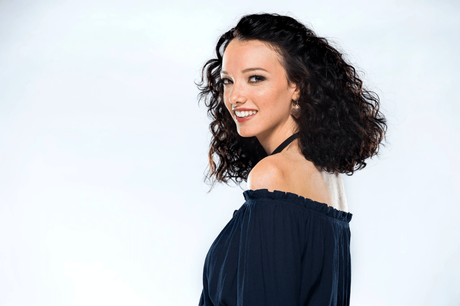 5 Quick Questions with POESY
Q1) Do you remember the first song you performed (not including your 9 year old debut at your grandparent's anniversary party)?
POESY) Dixie Chicks' Travelin' Soldier
Q2) What was the first album you bought?
POESY) Avril Lavigne's Let Go
Q3) Do you have a dream collaboration or duet partner?
POESY) There were three very good answers...
1) A collaboration with Queen guitar player Brian May
2) A duet with Stevie Nicks
3) A duet with Annie Lennox
Q4) Is there a city/venue at the top of your wish list?
POESY) San Francisco is at the top of the city wish list, and Wembley Stadium is at the top of the venue wish list.
Q5) Is there an artist you think people should be listening to more?
POESY) Toronto's Austra and Nottingham, England's London Grammar.
We asked POESY about working with Fergie, an artist that has experienced a ton of success in her career, and who understands what it is be to in front of the camera and in the spotlight.
It turns out that the Fergalicious was everything POESY could have hoped for in a mentor, and more. Along with prepping her for the live performance of Soldier Of Love during the recording of The Launch, Fergie offered advice for the future that should serve the young singer well as she moves forward. It was fantastic to hear that this mega-star was kind, sweet, and down to earth. POESY also told us that Fergie genuinely loved the show, the concept, and the process as the entire cast and team worked together to make it all happen.
As we talked about music and what she has planned for the future, POESY told us that she hopes listeners will give a listen to her debut EP, The Spotless Mind, if they count themselves fans of Solider Of Love.
The five track EP was recorded and produced at POESY's kitchen table, embracing the DIY nature of indie music and allowing her to present her songs and voice to the world.
Give it a listen below.
She also told us that after the recording of the show (and after a period of feeling like time was going by so slowly it caused a lot of frustration) she started writing songs for what she hopes will be her debut full-length album. She was clear that she doesn't want to be a one hit wonder with Soldier Of Love ... and it sounds like she's willing to do what it takes to make sure she isn't.
Before we wrapped up our call with POESY we promised to talk to her again in the future, and we asked her if there was anything else she wanted to share with the world. She told us that she can't make any announcements right now, but promised that when she can, it will all be told on her social media channels.
Find her on Facebook, Twitter, Instagram, and YouTube to stay up to date on everything coming from POESY. We will be,
Soldier Of Love was written by Stephan Moccio and Lindy Robbins, and produced by Stephan Moccio.