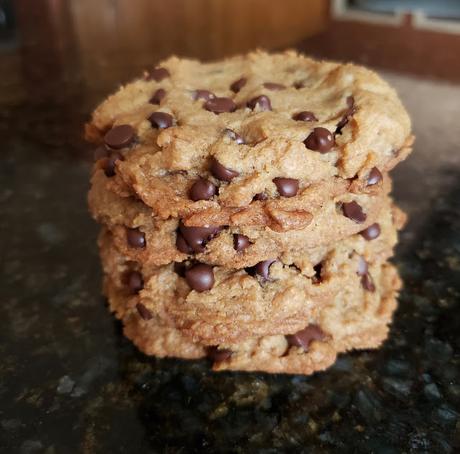 If you want seriously delicious and vegan peanut butter chocolate chip cookies, then this is the recipe for you! We've adapted a recipe from Isa Chandra Moskowitz (so you already know it's gonna be good) to make the cookies a little lighter and softer with additional chocolate chips. You'll level up your cookie game with this recipe, no doubt.
An interesting thing has happened during this pandemic. Caitlin and I realized, separately, that we prefer our own baked goods over store/bakery-bought. With the exception of cake. Bakeries always pump out a polished and impressive cake. But I was particularly happy to realize this because I get intense anxiety around going grocery shopping or either picking up takeout because our mom is extremely vulnerable. I'm sure I'm not alone in having such feelings, whether you live with someone with compromised health or not. So knowing we can make some darn tasty treats that our tastebuds prefer, brings a little comfort in these hard times.
How have you been doing mentally, emotionally, physically, spiritually, etc. during this pandemic? We hope you and your loved ones are all safe and healthy.
Soft and Golden Peanut Butter Chocolate Chip Cookies 
adapted from Post Punk Kitchen 
Ingredients
6 tbsp coconut oil softened at room temperature
6 tbsp unsweetened applesauce
3/4 cup creamy natural peanut butter

1/2 cup granulated sugar




1/2 cup packed brown sugar




1/4 cup unsweetened oat milk*




2 teaspoons pure vanilla extract




1 1/2 cups all-purpose flour




1 tablespoon cornstarch




1 teaspoon baking powder




1/4 teaspoon salt




1 1/4 cup semisweet chocolate chips

Directions 

Preheat the oven to 350 F. Line a baking sheet or two with parchment paper or silicone baking pad.

In a large mixing bowl, beat together oil, applesauce, and peanut butter using an electric mixer. Beat in the sugars until well-mixed or fluffy. Add the milk and vanilla.

Sift in 3/4 cup of the flour along with the cornstarch, baking powder, and salt. Beat until smooth. Add the chocolate chips then use a wooden spoon or spatula to mix the rest. Sift in the remaining flour and mix until well combined.

Use an ice cream scoop or place about 2 tablespoons of batter onto the trays, a few inches apart. Flatten lightly with your hand. Bake for about 15 minutes, until golden on the edges. Let cool on baking sheets for a few minutes, then transfer to a cooling rack to cool completely.

Dive into the deliciousness that is peanut butter and chocolate.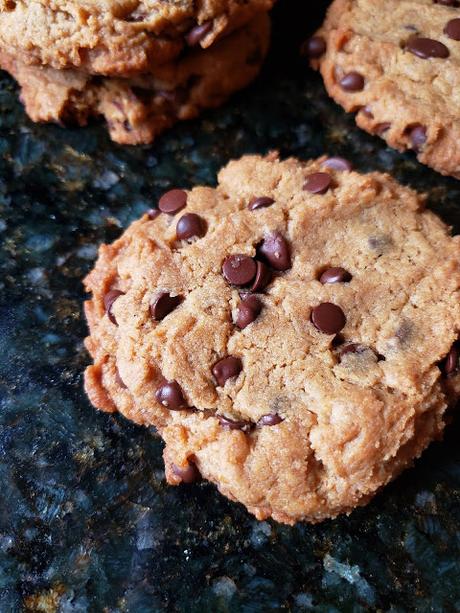 Note:* you can substitute oat milk for your favorite non-dairy milk but oat milk makes these cookies, and all baked goods for that matter, more golden in colour