I'm thrilled my mom gave me the newest March Issue of Vanity Fair.  I wasn't as interested in the cover as what I found out was inside.  There amidst the glitzy, "glam-my" features was a well-rounded feature on Sofia Coppola's favorites in life, part of which was a list of her current beauty picks or essentials.  I hand traced and cut her photo from the internet, this is the exact photo in the magazine, then diligently searched for every beauty item listed.  In the magazine feature there were no pictures of the beauty products, but here I made a little collage of all those items I found online to show you that came out looking like this.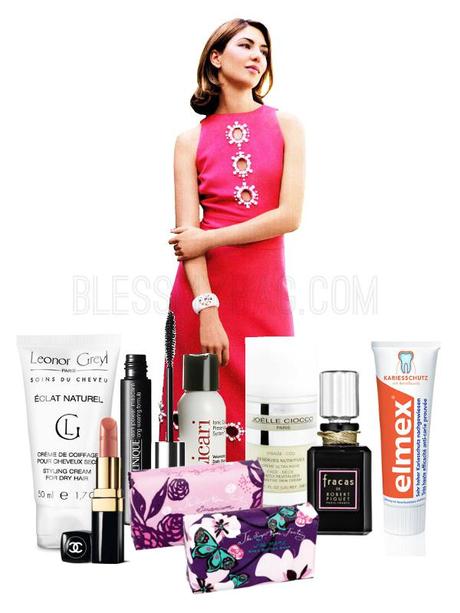 SOFIA COPPOLA'S Beauty Picks as of March 2012

"LIPSTICK: Chanel, MASCARA: Clinique Lash Power, SHAMPOO: Louis Licari, MOISTURIZER : Joelle Ciocco Reserves Nutritives Gentle Revitalizer, HAIR STYLING PRODUCT: Eclat Naturel, Leonor Greyl, PERFUME: Fracas, TOOTHPASTE: Elmex, SOAP: Soap and Paper Factory, NAIL POLISH: n/a, buffed, EXERCISE: Walking, HAIRCUT: Orlo." - p.86, VANITY FAIR, March 2012 Issue
A SNEAK PEEK AT SOFIA'S COSMETIC CUBBY (via iwanttobeacoppola.com)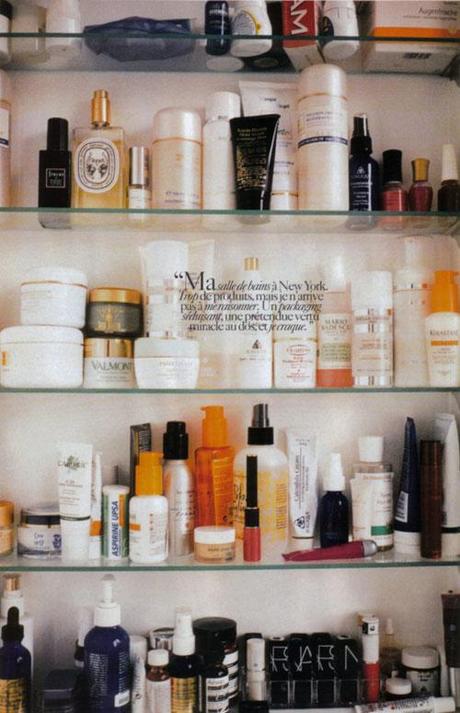 For a list of the COMPLETE items in this cabinet read the blog post on this image by iwanttobeacoppola.com
My goodness, someone's a beauty bug just like me!  My wrists kind of hurt from all the tracing and editing for the first image, i even cut out the gaps in her hair sections.  Nice to see it all together, noh?   The only thing I've tried among her current favorites is the Elmex toothpaste when I was in Germany.  It's not an overly SWEET or menthol toothpaste but it's really gentle on the gums and does the job credibly (they even have an AM and PM pair of toothpastes, for morning and evening).  The last time I featured my fave muse for style inspiration she was singing the Filipino National Anthem as a little girl to her dad, Director Francis Ford Coppola.