South Africa is months away from its 4th national democratic elections, which should be taking place before the middle of 2014. This coming election is symbolic, as it will mark 20 years of rule by the ANC, Africa's oldest liberation movement-turned-political party. It will also be the most competitive since the dawn of democracy in 1994, for the following reasons:
There are signs that ANC is at its weakest in its 100-year history – what with apparent deep internal strifes, and possibly the worst-ever relationship with COSATU due to recent sharp differences over policy positions that are threatening the tripartite alliance.
Directly deriving from the point above, ex-ANC Youth League NEC members who were expelled by the mother body, the ANC, in 2012 have set up their own party called the Economic Freedom Fighters (EFF). As I shall show later, the EFF must be giving the ANC sleepless nights.
Partly because of the 2 points above, seemingly there has been optimism by all other opposition political parties, new and old alike, that 2014 elections will present the best opportunity to give the ANC a run for its money.
While I wanted to set some kind of context, I shall leave the political commentary about 2014 elections to the experts, and focus on my area of expertise, which is social analytics.
Smaller political parties contesting 2014 elections are facing a hurdle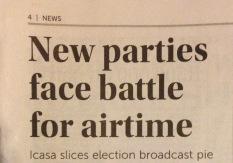 Mzansi Elections 2014 Airtime Battle
While going through this past Sunday's newspapers, I came across an article in The Sunday Times about the battle new political parties are going to be facing relating to allocation of limited free public broadcast space for their political campaigns leading up to the South African national elections in 2014. According to this article, largest parties – ANC and DA, are going to get the lion's share of free airtime allocated by ICASA, leaving all the smaller parties to fight over the crumbs.
This got me thinking. Smaller parties can use social media to good effect to canvass for votes, without need to rely solely on traditional media. Let me illustrate why this "new media" channel may prove to be just as, if not more effective.
South Africa's voting public age profile
South Africa's population is estimated at 52 million (StatsSA, 2013). The statutory voting age limit is 18 years.

" width="655" class=" wp-image-6263 " height="221" />
South African Elections 2014 Voter Registration Stats
A quick description of the 2 graphs. In the South African Population graph, I selected age groups that form the bulk of eligible voting population, and looked at their contributions by race to the overall South African population as per latest StatsSA estimate. The BLUEline in the South African Voting Population graph shows contributions by age group to the total population, while the RED line shows percentage of unregistered voters for each age group, published by the Independent Electoral Commission (IEC) on 25th of November 2013. As I am writing this post, the IEC is on a campaign to increase voter registration numbers.
My finding based on the analysis of South African voters is that Mzansi's 20-29 age group constitutes the largest portion of voting public, and almost half of them are not registered to vote in 2014, as things stand.
I have my own views why the 20-29 age group has such a high percentage of unregistered voters, which are based on my own common sense. But I shall keep them to myself and stick to the numbers.
Now that we have a picture of the eligible South Africans who are not registered to vote, let us compare it to Mzansi's social network landscape.
South Africa's social media age profile
Using Facebook, the largest social network in South Africa – and in the world – as a proxy, the bulk of Mzansi's social netizens are in the 18-34 age group.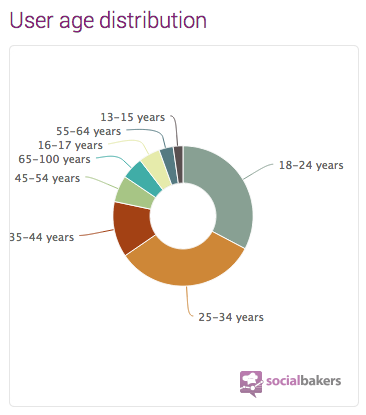 " class="size-full wp-image-6264" />
South African Facebook Profile, 25 November 2013
My finding, based on comparison of South African Facebook User Age Distribution pie and the South African Voting Population graph, is that the bulk of unregistered voters are also the most active on social media. The key insight derived from this finding is that all parties hoping to do well in the South African 2014 elections MUST target the younger voters disproportionately, and they MUST incorporate social media in their election media strategy if they are to reach this age group more effectively.  
I would like to now add to the findings above by looking at how the main South African political parties are performing on social media.
Performance of main political parties on social media
For the purpose of this analysis, I selected only political parties that are registered for the 2014 elections. In addition, my selection was restricted to 5 main parties – #ANC, #DA, #EFF, #COPE and #AGANG. Anyone who knows Mzansi's politics would agree that my selection is fair.
Using Twitter – the second largest social network in South Africa – as a proxy, analysis of 3-months worth of cumulative social mentions of the 5 selected parties above shows the following: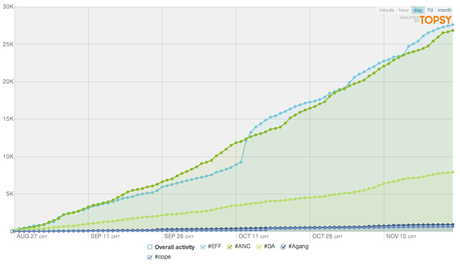 " width="655" class=" wp-image-6268 " height="377" />
Cumulative Share of Social Voice (click on image to enlarge)
As the cumulative graph above shows, EFF has been enjoying the highest share of Twitter voice since slaughtering of an ox in Marikana in early October, followed closely by ANC. DA is a distant 3rd, while Agang and COPE have hardly any share of Twitter voice to talk about.
My finding is that EFF, the latest kid on the political block that is lead by ex-ANC Youth League president and a great source of traditional media sound bites – Julius Malema, stands the best chance of doing well in the coming elections in the 20-29 age group, if social mentions are anything to go by. However, the ruling party, the ANC, is a close second and cannot be ruled out of this race. Doing well in the recommended age group comes with 2 provisions, though:
There must be a clear social media strategy that must be sustained until the elections; and
The two parties need to individually make a concerted effort to get this age group to register to vote in the 2014 elections.
In closing
I am aware that heavy reliance on social media for political campaigning has not been tested in South Africa yet, but timing is perfect for 2014 elections, given the increasingly pervasive nature of this "new media" channel. We now know of examples of well-known campaigns that used social media successfully, and these include the Arab Spring, and the current Syrian civil war. In addition, a plethora of articles have been written about the 2008 Barack Obama election campaign, which is reputed for having been successful ostensibly due to social media.
My prediction is that social media will set new standards in the 2014 national elections in South Africa, and I cannot wait to keep my tabs on this development.
ABOUT THIS BLOG | ABOUT THE BLOGGER | LATEST QUICK DIGI-TIP