Portugal is in! Portugal is in!
Last Tuesday night (on November 19), the Portuguese national team secured a spot in the upcoming 2014 World Cup by beating Sweden 3-2, thanks to their countryman, superstar Cristiano Ronaldo, and his three-goal hat-trick.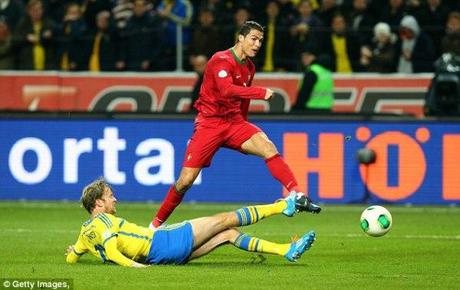 Cristiano Ronaldo on his way to goal No. 2 (Getty Images)
His national team down by 2, the Real Madrid striker suddenly erupted at the half with his second and third goals of the evening, thus sending Sweden's coach to the showers. It was touch and go for a while, with Sweden's own leading scorer Zlatan Ibrahimovič battling it out with Ronaldo for the right to send their team to Rio. But Ronaldo's back to back goal-scoring efforts (at the 77th and 79th minute, respectively) put the Portuguese ahead by one. It was all over at that point.
Enjoying this well-deserved victory, Ronaldo tried to sum it all up by claiming, "You never know who's going to win and that's why football is brilliant. Simply, I did my work."
Simply, he sure did! Indeed, his superb performance this week reminds me of the good old days of World Cup Soccer circa 2006. In August of this year, I re-ran an article I wrote back when both Brazil and Portugal were still top contenders. The intervening years between World Cups, however, have not been kind to either side, to say nothing of the French, English and Dutch players. Nostalgia's a bitch…
Nevertheless, let's look back one more time at these national teams' past performances in this final soccer recap of 2013.   
No "Ifs," "Ands" or Head-Butts, Please

So where did the 2006 World Cup gathering in Germany leave the once-capable soccer capital of Brazil in the overall team standings? Well, as the old Beatles song so fondly recalled for us, "Nowhere Man," down and out in Frankfurt, and not even qualified for the semifinal round in Munich's Olympiastadion.
Doubtless, this was not the only time Brazil's upward surge was halted in midstream by more determined and formidable foes — think of previous unsuccessful efforts covering the years 1974 through 1990 and, of course, the disreputable 1998 disaster in Paris.
In reality, this was a more than usually hot-tempered tournament for all concerned — and I don't mean the torrid weather conditions. Full of promising start-ups and highly anticipated encounters, there were major upsets galore not only for the embarrassed Brazilian side but for other famed footballers as well. 
One of the most glaring omissions was the early ouster of supposed top contender Team USA. To be honest, no one seriously expected the United States of America to get very far along in their Don Quixote-like quest for a first World Cup championship, and certainly not to the actual final round itself — for that, there were other, far hungrier foreign teams out there, prowling about the soccer turf in search of their day in the Teutonic sun.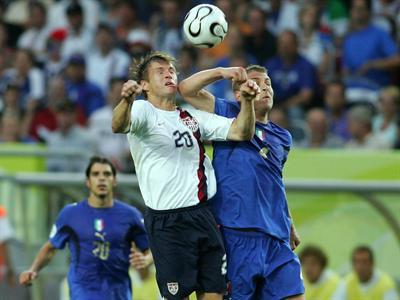 Collision course: Brian McBride & Daniele De Rossi (ussoccer.com)
At any rate, the U.S.'s terrible team showing against such nonentities as Ghana and the Czech Republic, as well as a bitterly fought contest with perennial powerhouse Italy — an all-out brawl that led to three red cards being brandished, including one for Italian player Daniele De Rossi for flagrantly elbowing USA team member Brian McBride in the temple — did not ingratiate the hapless Americans, a one-time host nation in '94, to their disgruntled supporters.
Time to tune out, which would not have been bad advice considering what followed next: the Orangemen of Holland, for example, was another of those illustrious Old World names that could traditionally be counted upon to provide a reasonably good showing at the games — but not this time. They merely fired blanks at the much smaller but resolute Portuguese squad, in what could only be referred to as one of the most vicious qualifying matches in memory.
Russian referee Valentin Ivanov lost control of a game that was never much in control to begin with. It tied a World Cup record for most yellow cards issued (16), and went on to break another (four red), for various assorted infractions, faults, and exceedingly non-sportsman-like conduct from both ends of the playing field. Not a banner day for the Dutch or for the Portuguese, who would turn out to be the unlucky recipients of rougher play to come.
Surely, with such an esteemed soccer nation as Argentina being done-in by penalty kicks, and with the German war machine likewise running out of fuel before the discontented hometown crowd, that left the Forza Azzurri of Italy, a three-time winner, and the upstart French, seeking a second title shot, to go at it alone in a frequently seesawing final battle that, true to this quadrennial event's contemporary form, was low-scoring and dull — and controversial to the last.
It ended up in exactly the same manner as too many World Cup matches have been decided of late: that is, by those irritatingly inconclusive penalty kicks, never a true test of a team's abilities on or off the field, no matter what FIFA may have to say in their defense.
The biggest shocker of the day, however, came when an egregiously mind-numbing foul was committed by visibly shaken French team captain Zidane, who lost his head, as it were, inside the chest of blue-shirted opposing player Marco Materazzi with only minutes left in second overtime play, after being pilloried with insults by the Italian defender that were reportedly aimed at the veteran midfielder's closest kin.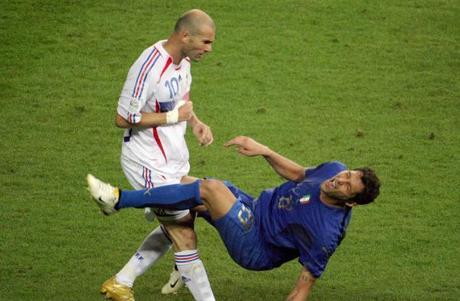 Zidane watches Materazzi go down (www2.macleans.ca)
Earning a red card for his efforts, the dejected Zidane was sent off to sulk, thus depriving Les Bleus of one of their most reliable free-kick shooters — he had earlier been responsible for his country's lone goal after Materazzi was singled out for allegedly dropping a French attacker in the penalty zone (so much for innocent until proven guilty). 
The culprit himself went on to score a fabulous header a bit later in regulation play that subsequently tied the game at 1-1, leading to a scoreless and exhausting double overtime play and the dreaded penalty kick situation in which Italy found itself on top, much to everyone's surprise.
*     *     *
Zidane's retaliatory act was only one in a long list of outlandish displays that had so marred this and other World Cup clashes. Through it all, the local police did a splendid job of maintaining order in the stands and on the streets, along with quelling the potential rowdies that have cropped up every so often in past European entanglements.
The same could not be said for the playing field, where most of the shenanigans took place and where the brutality was unavoidably transferred. At times, such actions proved counterproductive to the spirit of the games and, as it turned out, became more the rule than the exception, yet reflective of our violence-prone society as a whole.
Particularly offensive was the impulsive, crotch-stomping incident perpetrated by England's 22-year-old forward Wayne Rooney, a veritable gorilla of a man, against downed Portuguese defender Ricardo Carvalho. This, too, resulted in another stunning second-half ejection, this time for the rampaging Rooney, whose ruddy-faced complexion took on the fiery aspect of the referee's flashing red card.
With English team captain David Beckham incapacitated by leg injuries, culminating in his tearful withdrawal from the rest of the match, and a non-scoring exhibition by six-foot-seven-inch substitute striker Peter Crouch ("Hey, do the Crouch, yeah"), these series of unfortunate soccer events took the wind out of the waning British sail, thus setting up the near-miraculous shootout victory for the roughhouse gang from Portugal.
In the end, some sort of commendation (!) was in order for the intrepid display put on by Portuguese goalkeeper Ricardo: his unprecedented three penalty kick saves and superb technical acumen on goal landed the underdog Lusitanian forces a long-awaited semifinal fight (with France) for the first time in 40 years of aborted title attempts. 
Thrills, Spills and Brazil's "Big Phil"
Indeed, not since the great African-born national team player Eusebio's last World Cup appearance in 1966 (in England, of all places) had such a single-minded group of raucous native combatants been featured in all-important semifinal play. It was as if the entire population of the Dão region was hard at work, laboring valiantly to reclaim on the field what it had so long ago lost on the high seas: their zest for world conquest.
Credit (or blame) for this accomplishment likely went to the source of all the misplaced show of emotion: their constantly gesticulating coach, that showboating, eye-rolling Brazilian-born técnico, Luiz Felipe Scolari, or Felipão ("Big Phil"), as sports columnists so endearingly dubbed the colorful sideline figure.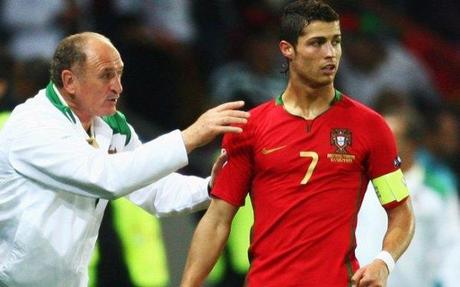 Felipao ("Big Phil") coaching Cristiano Ronaldo (esporte.ig.com.br)
A veteran of several crowning soccer achievements, to include Brazil's 2002 comeback victories in Korea-Japan, and a berth for Portugal at the finals of the 2004 European Championship game with Greece, not to mention a perfect 12-match World Cup winning streak, the Dr. Phil-like drill instructor was the de facto cabeça (or "mastermind") behind the overly enthusiastic Portuguese response — indeed he would have to be, now that Brazil was out of the running.
Would Big Phil's fired-up team members, among them veteran Luis Figo, key offensive playmaker Deco, and 21-year-old star-in-the-making Cristiano Ronaldo, lead their heroic troop past the seemingly unstoppable Frenchmen? Would they be able to accomplish on the playing field what the shame-faced Brazilians had so grievously failed to do with their hugely expensive arsenal? Would Felipão become the first coach in soccer history to win a World Cup title for two different national teams?
Not quite, for try as they might Portugal lost the engagement 1-0, thanks to the unbeatable combination of a taut French defense topped by maître Zidane's flawlessly executed penalty shot. Giving away a huge height advantage to France's much taller players, the spirited but punier Portuguese team members always came up "short" on potential goal-scoring opportunities lobbed into the penalty area.
Still, their unheralded field campaign and reckless air of abandon drew raves from new-found fans, particularly the baffled and disheartened Brazilian press corps: with nothing positive to report about their country's World Cup chances, they proudly proclaimed Portugal's prowess to one and all.
"I feel satisfied and glad with the way things have turned out overall," Big Phil was quoted as saying. "At the end, even by ending on a loss, we're still one of the best four teams in the world. That's a sort of title for us."
Which was more than one could say for five-time winner Brazil. Along with Meira, Maniche, Miguel, Postiga, Valente, Costinha, Simão, Nuno Gomes, and the rest, they made a believer out of me and my family — and many others, I'm sure — as we screamed our bloody heads off at their brash, go-for-broke antics. Finally, we cried, there was somebody out there worth rooting for.
Not intimidated in the least by any country's clout, the Portuguese had nothing to lose by gamely taking on all comers — and truly giving it to the Mexicans, the Dutch, the Brits, the French, and even the Germans — while fouling opposing players like I've never seen a team foul before. Inconceivably, they replaced the flat-footed Brazilians in the hearts of disappointed soccer fanatics when they were needed the most.
Despite some of the poorest officiating in the annals of World Cup record-keeping history, and despite the sheer number of cards given out, the questionable calls and randomly made decisions, the obviously fake dives and the horrendous lapses in judgment, it was still quite an exhilarating demonstration staged by the FIFA organizers.
There's no doubt in my mind, though, that soccer has become — and will continue to remain, for the foreseeable future — a strictly European running game. And with the vast majority of Brazilian players still living and working on the Continent,* they would be well advised to stay right where they are for the duration of Europe's long, hot summer — or, as my journalistic colleague John Fitzpatrick so cleverly phrased it, Brazil's "winter of discontent."
If the name "Ronaldo" can be associated with someone other than a shaven-headed, overweight, over-the-hill Brazilian prima donna, then there's hope after all for the efficacy of World Cup competition.
"I may not be the Ronaldo you know, who beats three or four players," boasted Portugal's Cristiano Ronaldo to the Associated Press, "but I'm fulfilling my role."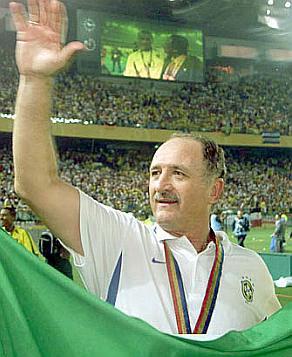 Bye-Bye, Brazil (ofinodabola.net)
After that declaration, what is there left to say except to quote from a July 2006 Jornal da Tarde headline, which, I believe, put the finishing touches, and the proper perspective, to how soccer-sensitive Brazilians really feel about their team's participation in the world's most popular sporting event: "Thank you, Big Phil. At least one Brazilian fought with courage at this World Cup." ☼
Copyright © 2013 by Josmar F. Lopes
---
*Besides the exorbitant fees and more favorable working conditions offered by most European clubs, an unhealthy rash of high-profile kidnappings in Brazil, beginning with the mother of one of the country's brightest stars, Robinho, in November 2004 (which led to the abandonment of his home team Santos for a multimillion-dollar deal with Real Madrid in Spain), had sadly spurred a new mass exodus of many of its top-flight players — including Luis Fabiano and Grafite, both of whose mothers were also held for ransom. According to security experts there, the trend was believed to have started with Brazil's next-door neighbor, Argentina; then quickly gained favor with São Paulo's former bank robbers looking for easier prey and more lucrative targets to hit.