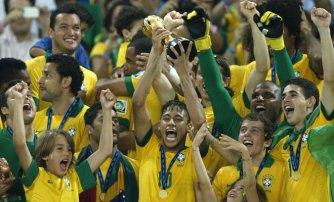 Brazil 2013 Confederations Cup Victory (backpagefootball.com)
By now, everyone's probably heard about the Brazilian national team's lopsided 3-0 victory over Spain in the 2013 Confederations Cup, held this summer in Brazil between June 15 and June 30. Brazil's players, among them such new faces as Neymar, Hulk, Dani Alves, Fred, Julio Cesar and others, came out smelling pretty much like roses, while the rest of their countrymen were up in arms over the high cost and lack of essential services provided not only for this Cup, but the World Cup Soccer Tournament to come in July 2014. We won't even go into the headaches and logistical nightmares the 2016 Summer Olympic Games is expected to bring. Mamma mia!
After undergoing weeks of street protests and clashes with local police, resulting in brutal crackdowns, vandalism, violence, rubber bullets, pepper sprays, arson and all manner of offenses, things finally quieted down enough to enable viewers outside as well as inside the country to enjoy what was left of the games.
It seems that whenever Brazil's national team does well in the stadium (thanks to the dual efforts of team coaches Felipe "Big Phil" Scolari and Carlos Alberto Parreira), the rest of the country goes to pot. Conversely, whenever the country finds itself humming along quite nicely – in economic terms, let's say – the Brazilian national team limps dejectedly off the field.
Not wanting to pour cold beer over this latest victory, let me recall for readers a time not too long ago when Portugal, not Brazil, became the envy of soccer fans everywhere; when the biggest names in the sport were left powerless by the European style of play. Let me take you on a trip down World Cup Soccer's memory lane: to summer 2006, a mere seven years ago – the seven lean years, one should add, when Brazil was poised to take on soccer's best and brightest, only to see her aspirations flicker and fade, as a moth does when it flies too close to the fame; as Icarus did when he ventured too near the sun.   
In bringing her 3-0 win over Spain back down to earth, perhaps the Brazilians will have learned the bitter lessons the heartbreak and losses of the years between 2002 and 2014 have taught the team: that pride always, inevitably, and undeniably comes before the fall. Just ask Icarus!
The Lean Years Get Leaner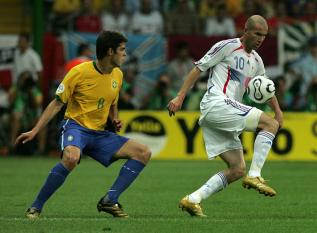 Zinedine Zidane (right) & Kaka (whoateallthepies.tv)
No doubt the headlines said it better than I ever could: "France Bids Brazil Adieu," "2002 Champs Caught off Guard by Loss," "Parreira Accepts Blame for Brazil Defeat." But wait! Hold on a minute. Brazil lost? What's wrong with this picture? Could this really have been happening?!?
Yes, unfortunately, it's all true, a dreary case of déjà vu all over again, as both Orson Welles and Yogi Berra once concluded. It was a rather unpleasant reminder of the 1998 World Cup Soccer finals in Paris, where France held Brazil off to a humiliating 3-0 defeat, only this time the quarterfinal match-up between the same two countries' national teams took place at the Commerzbank Arena in Frankfurt, Germany.
No matter, the result was still the same: an embarrassing 1-0 loss to France in regulation time, with Les Français coming off like vintage Chardonnay, and "Bye-Bye" Brazil smelling more like stale Limburger cheese. Every time the talented Brazilians have had to face the fleet-footed French, they forget all about jogo bonito ("the beautiful game") they're most adept at playing and, as a consequence, freeze-up in climactic European soccer clashes.
That calamitous 1998 confrontation was a primary example, one of the worst performances by a highly regarded national team I have ever witnessed… till now. It wasn't so much the abysmal display put on by a spooked out Brazil squad, in particular the young and inexperienced, 21-year-old phenomenon Ronaldo — up to that point, untested in World Cup play — but the indecisiveness and inaction on the part of the entire group of players that were so feverishly called into question by subsequent Brazilian investigative hearings.
At the time, heavily favored Brazil was all but stymied by the superlative playmaking abilities of Algerian-born midfielder Zinédine Zidane, then 26, who scored two of the three game-winning goals that day to join France's venerable Legion of Honor, alongside his fellow Les Bleus teammates. It all came back to haunt the Brazilians once more, on Saturday, July 1, 2006 — a date that will live in hall-of-shame infamy — when Monsieur Zidane, now the "grand old man" of French soccer, took immediate steps to control the flow of the game, out-hustling and out-dribbling star players ten years his junior, and firing off a fearsome free kick into the inside right foot of unmarked attacker Thierry Henry, who spent most of the match waiting for that golden opportunity, which finally arrived in the fifty-seventh minute of play.
That's all it took, really, to stem the weak tide of the Brazilian counteroffensive, or what little of it there was, as an anticipated second wave of attack never came — and when it did, was ineffectual at best, in a sputter of last-minute activity that resulted in an over-the-top shot on goal by Ronaldinho Gaucho, the only decent one of the day from Brazil's part.  
Going back a bit historically, the first time the hearty Brazilians challenged the sullen French in World Cup competition (Sweden, 1958) a fast-rising comet named Pelé — then a gangly 17-year-old rookie starter — streaked across the Swedish playing field to kick the opposition into submission by trumping France 5-2. Their next fateful encounter, a 1986 quarterfinal match-up in Mexico, concluded in a 1-1 tie that was ultimately decided by nerve-wracking penalty shots (no one's favorite form of ending scoreless regulation-time play) in which France came out the winner by a Gallic nose. Ironically, a more resilient German squad eliminated them in the semifinal round in another dramatic shootout attempt.
The memory of all these ill-fated soccer events must surely have left a bitter after-taste in the mouths of veteran national team players Cafu, Roberto Carlos, and especially former World Player of the Year, Ronaldo. At least, one would have hoped so. But heck, let's face it, folks: this time Brazil deserved to lose, mainly because they did not deserve to win. "It's a hard moment for us," head coach Carlos Alberto Parreira offered to reporters. "It's very hard when a Brazil squad is beaten in the quarterfinals. I wasn't prepared — no one was prepared to leave. No one thought we'd leave before the finals." Famous last words, indeed!
From the outset of that year's FIFA World Cup Soccer championship, the Brazilians did next to nothing to merit entry into the record books, let alone earn a quarterfinal berth with the underrated French. Instead of trying to intimidate foes by staging a veritable Carnival parade of millionaire superegos before a massive TV audience — as pathetic a crop of would-be sports "heroes" as has ever been assembled for an international outing — Brazil could have spent the time wisely by watching videos of the opposing side's tactics, or practicing those boring set pieces (free kicks, corners, and the like) that landed top-seeded England and its celebrity player, David Beckham,* a vaunted quarterfinal spot with the fiercely independent Portuguese.  
Fat-Boy Slim, Where Were You When Brazil Needed You?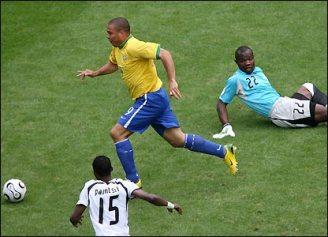 Ronaldo vs. Ghana (news.bbc.co.uk)
But as far as world-class competitors were concerned, there were none to be had. Croatia, Australia, Japan, and Ghana: Brazil disposed of these toothless wannabes handily, without ever breaking a sweat — except for our dear friend, Senhor Ronaldo.
There he was, a bloated, out-of-shape remnant of his former athletically trim self, and not nearly as dangerous as he needed to be in Deutschland. Huffing and puffing away, like an elephant seal atop a melting polar icecap, Ronaldo was frequently caught on camera traipsing about the goalmouth, in constant search of an easy loose ball, and, I might add, an easy goal-scoring opportunity — a poor substitute for grit, determination, and plain old-fashioned teamwork. About the most this so-called "phenomenon" could muster up was a none-too-convincing spill in the penalty zone — it was amazing he could motivate himself to do even that.
Maybe I was imagining things, but I could have sworn Ronaldo looked old and tired before his time. But no, that couldn't be. At 29, he was a mere babe in the soccer woods compared to such "senior citizens" as Beckham, at 31, and Zidane, at 34, not to mention the grandfatherly Cafu, at the ripe old age of 36 — but seeing is believing, and what I saw did not impress me one bit; neither did it impress the native-born journalists covering the noteworthy event, who, up in arms over Brazil's piss-poor performance in toto, blasted anyone and everyone associated with the languid team effort for this newest fiasco. They even charged the star striker, as well as several other select offenders, with not showing enough passion and drive — that trademark desire for World Cup Soccer domination — in the very sport the dexterous Brazilians have purportedly mastered better than anyone else on the planet.
I hate to say it, but passion and drive were hardly at the top of Ronaldo's or anybody else's collective endorsement-revenue-minded lists of late. Oh yes, there were the occasional flashes of soccer "brilliance," as limited as they were, in the easy romp against the relentlessly upbeat African nation of Ghana. The final tally: 3-0 Brazil (were you surprised?).
That opening run by Ronaldo, though, in which he faked-out Ghana's otherwise expert goalie Richard Kingston, after being fed a perfectly placed pass by the 24-year-old Kaká, was masterfully executed by all. But don't tell me it wasn't a prearranged trick of the soccer trade! O Rei Pelé was notorious for pulling off such stunts in his day, including two famous ones from 1970: the first, in the Brazil versus England showdown, which very nearly resulted in a spectacular solo scoring opportunity by "The King" himself against Britain's premier gatekeeper, the great Gordon Banks; the second over goalie Ivo Victor in the Brazil-Czechoslovakia match-up.
But these were too few and far between. The best of what Brazil once had to offer the soccer world was by now being echoed by those (wonder of wonders) insufferably stuffy French. ARRRGH!!! It's enough to make a die-hard World Cup Soccer watcher, such as myself, tune in to "Breakfast at Wimbledon" instead; enough, but not quite.
Ronaldinho Gaucho, voted World Player of the Year two years in a row, simply did not live up to all the hype being touted about him. How could he, in that sweltering heat (and with so much added media pressure, to boot) perform to such unattainable standards? Demurely and quite nonchalantly, his toothy grin and cheery demeanor were the lone saving graces of a cheerless and unmotivated bunch of soccer mismatches.
Soldiering on despite the chaos surrounding him, team captain Cafu appeared to be on the brink of early retirement, a leaderless exhibition by the supposed leader of the Brazilian pack. Roberto Carlos' deadly accurate cannon-shot of a kick was nowhere to be found. Perhaps he left it in the baggage claim area at Düsseldorf Airport, but wherever it was, it certainly wasn't on the field of fractured dreams. The youngster Kaká tried valiantly to score, but got nowhere fast, as did Juninho Pernambucano, after colliding with the French Maginot line of defenders (impenetrable for once); they were both replaced in the second half by coach Parreira, along with their spent captain, Cafu.
Robinho and Cicinho were then brought in to lend a helping "hand," so to speak, as was an overweight Adriano — too little, too late. They did their usual job of scrambling about town, to no particular effect. Parreira and his coaching staff, among them a drawn and haggard Mário Zagallo (the former coach of the luckless 1998 squad), came up empty-handed, with no discernible recovery plan of any kind. Indeed, no one on the bench got very excited at all about anything having to do with the match at hand — a rarity for such a crucial contest in which Brazil fell behind early in the second half. They were probably still in awe at the way the French had beaten them at their own "beautiful game."
Truth be told, it was a national disgrace, but I wasn't much surprised by the outcome. Some people, including my own Brazilian wife, claimed the players and coaches must have taken another infamous nosedive. "Just like they did in '98," was the angry outcry. An understandable concern, but somehow I didn't believe it. That's just too pat an answer for what actually transpired on that dismal day. These guys were washed-up from the start, listless and unresponsive, as they had been all season long. They never came together as a group in any cohesive manner (unlike in Mexico, in 1970), as a national team should.
It's time for them to put to pasture some of the literal "dead weight" that's been dragging the team down for so long. It's the least they could do to salvage whatever pride and self-respect they had left after their trouncing by the French before millions of viewers worldwide; and, even more important, give the next generation of newcomers a fitting chance to bask in their own self-made glory.
Only the blindest of Brazilian football fanatics, deliriously devoted to their embattled team, could not have foreseen what was coming. This latest chapter in Brazil's failed pursuit of another World Cup title has finally put to bed the notion of the country's invincibility on the soccer field. May it rest in shattered pieces… for now!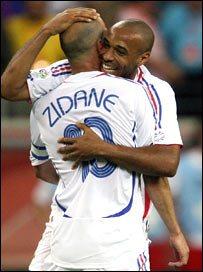 Thierry Henry hugs Zidane (news.bbc.co.uk)
On the other hand, Zidane, Henry, Barthez, Ribéry & Company were more than deserving of their total team victory: they ran Olympic-sized rings around a poor, helpless opponent. Like overactive, overage teenagers, they put on a fabulously entertaining display of soccer skill and stamina that completely overshadowed the laid-back Brazilian game to no end. If there's any kind of lesson to be learned from this sorry set of circumstances, it's this: the French were doing to Brazil what Brazil was once noted for doing to others — that is, mixing samba with soccer.
And yes, dear sports fans, "just like they did in '98," it was indeed a magical, sleight-of-hand moment, a gallant all-out team effort by France, bar none — I only wish I hadn't witnessed it all over again.
(To be continued…)
Copyright © 2013 by Josmar F. Lopes
---
*The British soccer star's only goal in the 2006 tournament – with his wife, former Spice Girl Victoria Adams, looking on approvingly from the stands – was on a marvelous free kick that sailed ever so gingerly over a wall of dumbfounded Ecuadorian defenders. It sneaked into the upper left-hand corner of their net, as England squeaked by to the quarterfinals with a score of 1-0. He really did Bend It Like Beckham, as the 2002 film-title suggested.