During this time of uncertainty and fear, the masses are buying up all hand sanitizers. The funny thing is, we're not seeing the same reaction for soap. Maybe you guys are already stocked up or you're just not buying because soaps are made from ingredients you're not fans of. Or maybe you're all looking for great-looking soaps that will love your skin. Today we're going to introduce you to a wonderful organic soap company that leaves out synthetic fragrances, dyes, and other harsh chemicals. Instead, the artisan soaps from Soapcreek Company are made from sustainably-sourced essential oils, natural clays, minerals, butters, and herbs sourced both locally and worldwide. Plus, they're wonderfully decorative.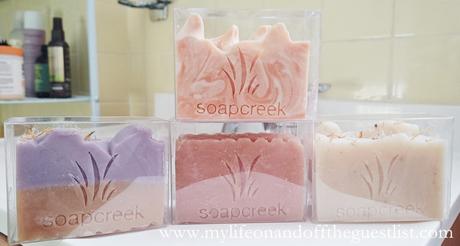 Not only are the hand-poured and hand-mixed Soapcreek Company soaps are available in a wide variety; 21 glorious artisan soap offerings to be exact. We had the pleasure of experiencing four of these large and luxurious 6 oz bars. These four included:
- your skin and your senses will love the combination of hydrating Mango butter, fresh coconut milk, citrus essential oils and a touch of sweet balsam. This combination rejuvenates, brightens, tones, softens, soothes chapped, raspy, or sensitive skin.
- calm and refresh your skin at the same time with this dual soap bar. Soothing Aloe and French Clay, along with a layer of raw honey holds moisture, relaxes, soothes and heals the skin. Floral lavender oil with a hint of citrus controls sebum.
- this gentle bar features Carrot puree, making it high in vitamins A and E to nourish your skin. The honey holds moisture, while goat milk nourishes your skin. We're currently enjoying using this amazing soap; we love the invigorating touch of clary sage oil, a great antioxidant, and anti-inflammatory that's perfect for stress reduction.
- this earthy soap combines rich Cocoa Butter and honey with exfoliating orange peel to make it a moisturizing treat. The addition of Ylang Ylang, bergamot, and sweet orange essential oils relieves anxiety and brightens dull, oily, or wrinkled skin.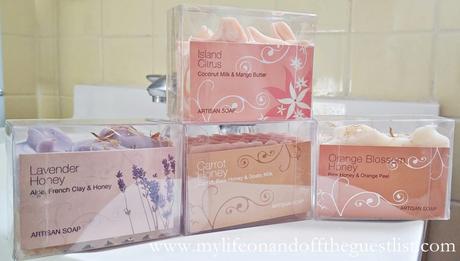 Each award-winning Soapcreek Company artisan soap retails for $9.99 each on www.soapcreek.com. Indulge in each scent all day by pairing it with accompanying body products like the Body Buttercream, Cane Sugar Whips, Hand & Body Emulsions, and more.