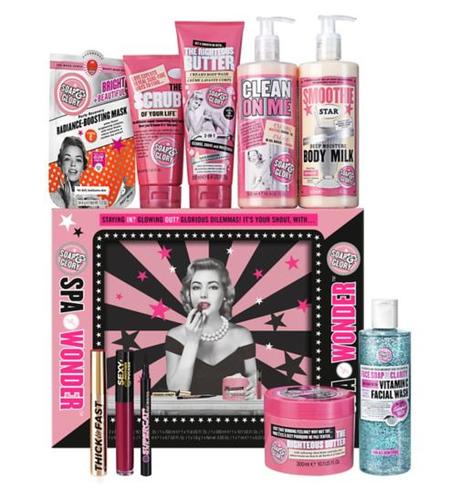 The Star Gift from Soap & Glory is Back bigger and better then before, This year set they have switched up he products inside to 10 wonderful full size products worth over £78.00, I am in love with the box that the products came inside as i am in need of a lot of storage boxes for storing my things in witch this box will come in use for.If you wanna get your hands on this amazing Soap & Glory Star buy then i highly recommend get to your local Boots store ASP to get one before they run out of stock as this set is hugely popular every Christmas!This is the Spa of Wonder Gift set witch is Boots Star* Gift for 2017 witch has been reduced from £60.00 to £30.00 witch is a incredible deal as it contains 10 full size products from new to old and also contains a very glam storage box that you can use for almost anything you like. With every Soap & Glory Star gifts for Christmas they have all been very different and by far this has got to be one of my favourites since i have started to buy these amazing sets and i always look forward to them each year and seeing what will be included in each set,
This year Soap & Glory have switched up the packaging from there lovely vanity / make up bags witch they have done for the past couple of years and instead they have created this amazing storage box with a lovely photo within the top of the box witch shows all of the products with a very glamours lady witch is beautiful.As i am always in need of storage boxes this box would also become really handy for storing anything in such as makeup / skincare products or my ever growing Soap & Glory products and it is super easy to carry with the two carry handles on each side of the box for easy lifting and storage and it also has a very super easy liftable lid witch i also love,These sets are so worth the money when Boots makes them the Star Gift as they are down from like £60 to £30 and some of the products that contain in range are from £5.00 to £10.00 and it is so worth it and also they all smell wonderful.
This year's set contains the following products....
CLEAN ON ME™ Shower Gel 500ml

RIGHTEOUS BUTTER™ 3-in-1 Body Wash 250ml 

SCRUB OF YOUR LIFE™ Body Buffer 200ml

RIGHTEOUS BUTTER™ 300ml

SMOOTHIE STAR™ Body Milk 500ml

FACE SOAP & CLARITY™ Facial Wash 350ml

BRIGHT & BEAUTIFUL™ Radiance-Boosting Mask 34.6g 

THICK & FAST™ HD MASCARA in Black 10ml

SUPERCAT™ Liquid Eyeliner in Black 1.6g

SEXY MOTHER PUCKER™ Lip Gloss in Plums Up 7ml

KEEP ME FOREVER Storage Container
As you can see from the products that this set is jammed packed of full sizes and contains the most popular the righteous butter RRP: £10 witch i have been using for a long time and this huge tub will last me for a while. I also never tried there sexy mother pucker lip gloss and Supercat liquid eyeliner before and they both look amazing and the scent on the lip gloss smells amazing and i will be using this more often now after i received it in this amazing set,
There are so many of my favorite products in the set from The Clean on me shower gel to Face 
soap  & Clarity facial wash as i use these items nearly every single day and also i didn't have none and i was just about to stock up on some products when this set came on sale,
I have had Soap & Glory sets every single year and none of them have never disappointed me and i have loved each one that they have bought out since i started to use there products, I was kinda disappointed when i wasn't able to get last years set as it came with a adorable pink little suitcase that contained soap & Glory fans and it also contained all of the 10 full size products that i also love.
Also with these amazing sets you can easily stock up on your Favourite Soap & Glory products!
You can buy your Soap & Glory Spa of Wonder Here: