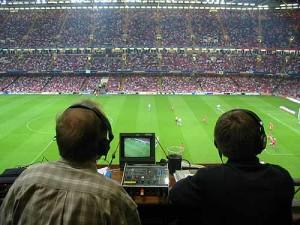 Review:  Introduction to Sports Journalism – Sportsbeat
Ever wondered what it's like being a Sports Journalist? More importantly, can you make a career change and become a sports journalist?
It's a dream job for any serious sports fan. Getting paid to watch sport. Who wouldn't want to do that? So how do you make the step from fan to expert?
As a football mad youngster growing up in the (Pre-Sky Sports) 80's, I spent rainy Saturday afternoons glued to my radio. Waiting for the football coverage to start, as soon as I heard the famous Sports Report theme tune I would listen eagerly for hours as the news came in from round the various grounds.
"Goal news at the City Ground….."
"Penalty at Upton Park"
"Pitch Invasion at The Den" (some things never change!)
I got to know the vocal styles and quirks of all the reporters who were just as much my heroes as the players that they reported on.
Introduction to Sports Journalism (ISJ) day

Sportsbeat
As part of my ongoing journey to find what I love, I did a bit of research and found out that these days, everyone who does this is a qualified journalist. I also discovered a free 'introduction to sports journalism" (ISJ) day hosted by London based agency, Sportsbeat.
The ISJ  is a "taster" for anyone interested in doing the industry recognised NCTJ Diploma in Multi-Media Sports Journalism with them.
Hosted by Jack Travers and fellow Sportsbeat journalist, Tom Pilcher. The day gives attendees insider knowledge into the sports journalism profession, including:
Tips on how to diversify your sporting knowledge
A chance to speak to two sports journalists at first hand
Experience of how a busy newsroom operates
An overview of some of the skills needed to be a successful sports journalist
I have tried to give you an overview of day below, without giving too much away, as Jack asked for some of the content to be kept a secret. I will do my best to describe what the course covered without giving the game away too much!
Exercise 1 – Sports Quiz
After the initial meet and greet, we were put into teams of 4 to do a sports quiz.
The purpose of this was to show you the importance of possessing a wide breadth of sporting knowledge, to be a successful sports journalist. A quick show of hands showed a massive Football bias. Myself included.
The quiz was a massive eye opener for me, as I previously had considered myself fairly knowledgeable about all sports.
Wrong!
And that's exactly it.  As a Sports Journalist, you have to know about everything and anything related to sport. Not just the first names of the Liverpool football squad.
As Jack said "Know a little about a lot".
The reason for this, is that there are a wide range of sports that need coverage, so it's important that editors and producers can use you for as many things possible. It's probably a fair statement that when you are starting out, you are no use to anyone if all you know is Football.
Make sure you can say "yes" to anything.
Exercise 2 – Breaking News
This lasted about 2 hours and the purpose of the exercise was to write a round-up / summary piece, on a major sporting event, "on the fly" in no more than 350 words.
Whilst I really enjoyed doing this, it was extremely alien to me. For a few reasons.
At the start I didn't have a clue what I was doing. However, I quickly worked out the following:
-   The trick was to capture all of the facts and figures
-   Include quotes
-   Prioritise and decide newsworthiness of content
-   Condense the content into a set amount of words
Doing the exercise (and taking a peek at my neighbour's article!) also made me realize how stiff my writing had become. I guess that years of writing business proposals and technical document does that and I need to get more creative with my writing.
The idea of this exercise was to teach you how to file "on the whistle" reports. (I.e. as soon as the match has ended, your copy is ready). As digital content becomes the norm, it will be even more critical that you can do this.
I also say too much in my writing. I was well over the 350 word limit!
Oh – Jack and Tom did not shut up talking to you throughout the whole exercise, recreating what I would imagine to be a busy newsroom on a Saturday afternoon.
Multi-tasking is a must!
Exercise 3 – Press Conference  
The final exercise, we were asked to attend a major sporting press conference and write up a short review.
Once again, the purpose of this was to gather facts, figures and emotive quotes. As a consumer of media, I don't trust any article that doesn't have this.
The other purpose of this exercise was to recognize the importance of shorthand.
Even the best typists will struggle to keep up with how quickly people speak and take down exact quotes without the need to set up any equipment. Also, this is a lot quicker when transcribing. This is a great skill in itself and like learning another language really hard by all accounts.  
So what next?
I joked to friends on the day that I must have brought the average age of the class up by 10 years! It was mainly twenty something, soon to be or recent graduates on the ISJ day I did.
Not that matters.
Despite having a successful career to date and passing numerous vocational exams, I feel really inferior at times not having a degree.
Sportsbeat say that you don't need to have a degree.
But you do need to be pass an interview so that they can be sure you will cope with the rigours of the course.
The fact is that, I loved every minute of the day and really could picture myself doing this as a job. I know that I would enjoy the course as well as getting a job eventually. It genuinely is a passion.
So if I want to progress I now have a few options:
1)   Start the full time (40 week) Sports Journalism course
2)   Do a general NCTJ-accredited 20-week 'Fast Track' course where you attend full-time Monday to Thursday and are expected to work Fridays at a work placement on a newspaper or news outlet.  
3)   Do a general NCTJ-accredited 40-week 'Earn While you Learn' course. This is designed to allow trainees to study part-time. The course runs on Monday evenings and all day on Saturdays and a two-week work placement must also be arranged.
All of these have pro's and con's.
This harsh reality is that I do have a wife and young family to support, so my time spent retraining and then subsequent massive drop in earnings will all but wipe out all the savings we have and mean a major lifestyle change for all of us.
Is that what I need to do to be truly happy though?  
Watch the news associates video below.

Be Sociable, Share!