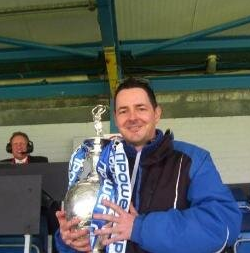 Last week, I wrote about my 'Introduction to Sports Journalism' day at Sportsbeat.
With the bit between by teeth and keen to know more – specifically around football journalism, I approached Talksport's Tony Incenzo.
I've listened to Tony's football reports since his Capital Gold days – where Match of the Day's Jonathan Pearce also shot to fame. I like the way he is able to deliver his reports in a factual and concise way but still as the "voice of a fan".
I was keen to know more about what his job involves.
So I was delighted when he agreed to do a Q&A session, to answer some of the questions every budding football journalist would love to ask.
A massive thank you goes out to Tony for taking the time to do this.
As always, please let me know your thoughts by commenting at the bottom of the article.
Tony Incenzo – Football Journalist Q&A
Q) Education – What qualifications did you get at School / University ?
A) Ten 'O' Levels, three 'A' Levels, Economics degree at University College London.
Q) How did you get into football reporting? What was your career path?
A) While I was at University, I began writing for my local newspaper – the Hendon Times – where I trained to be a journalist. Once I graduated in 1984, I set up my own Non-League magazine called Pyramid Football. From there, I began working for the Clubcall telephone information service as their Non-League editor in 1987 and later as QPR Clubcall editor. As my voice work progressed, I became a reporter for Capital Radio on their new sports show in 1988. Then in 2004, I moved on to national radio with talkSPORT and television reporting for Sky.
Q) Most people will know you from TalkSport. However, do you work for anyone else? If so, what do you do?
A) Apart from my radio and TV roles, I write a number of articles for the QPR club programme, FC Business Magazine and other club programmes around the country. I also do voiceover work.
Q)Describe a typical match day for you?
a.  When do you get the ground?
A) For a radio game, we need to be at the ground at least two hours beforehand. This is to set up the outside broadcasting equipment, make sure the ISDN line is connecting to the studio and to carry out sound level checks.
b.  What are the main things that you do?
A) For radio and TV games, I get called on air to report on goals and major incidents throughout the match. I also interview the managers after the final whistle.
c.  What sort of things can go wrong?
A) Anything can go wrong – it is best to expect the unexpected! But by getting to a ground two hours before kick-off, a reporter has a better chance of putting things right before the game starts.
Q) What do you the rest of the week?
A) All sorts of football writing, voiceover work, attending press conferences plus watching DVDs of all the week's football. Also, I go out to watch lots of matches. I am a keen groundhopper and have visited 1,847 different football grounds to date.
Q) What skills do you need to do your job?
A) Patience – a football reporter might have to hang around one to two hours to get an interview with a player or manager. Also a sense of humor as no one should take themselves too seriously.
Q) What is the best bit about your job?
A) Being able to report on Queens Park Rangers. When I first decided to become a football journalist, my whole aim was to be a specialist QPR reporter. That was all I ever wanted. I have now attended every QPR home game for more than 40 years.
Q) What is the worst?
A) When QPR lose. My work at the match might have gone ok, but a defeat for my football team simply ruins my whole week.
Q) Who has been the biggest influence in your career to date?
A) Lots of people have given me help and encouragement along the way – especially when I was first starting out.
Q) What are the three best bits of advice would you give to any aspiring football reporters?
# Get as much work experience as you can – a local paper is an ideal start.
# Be prepared to take knock-backs on the chin. Just keep going until you get your break by being in the right place at the right time.
# When starting out, you might have to work for nothing or for very little pay.