The Deloitte Sports Business Group presents the Football Money League 2012
What is the most you have ever paid for a ticket for football? An official one, mind, not one from a tout. £50? Certainly not if you follow your team away from home and have been to the Emirates, Stamford Bridge, White Hart Lane or even in the nPower Championship at Upton Park recently where £50 will get you entry and not even a sniff of a bottle of Emirates water or pie and mash in East London. What about for a cup final? The FA think fans will bend over backwards to be shafted for these tickets but rarely do they go into three figures.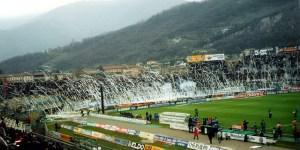 Brescia
So would you pay €150 to watch a middle of the table Serie A game? What about if I told you it was in an old, crumbling open air stadium? Form an orderly queue please. Well that is my maximum I have paid and that was for the delights of Brescia versus Udinese nine years ago. What was so special about the ticket? Well it said Tribuna Preferencia on which I thought sounded quite posh, and according to the man in the ticket office it was the only section left on sale. Now my Italian is passable but even he must have guessed my origins and decided to royally rip me off.
The Tribuna Preferencia was a covered seat, granted, but covered in bird crap. It was one of those half seats bolted onto a concrete terrace. One that offers no support for your back and allows the person behind to really put the boot in. I can tell I am really selling this to you. So when the game started I had a lovely view of the Alps in the distance as there were few other fans in the ground to block my view. Obviously the ticket office had decided to try and make up for the lack of fans in the €20 section by selling ones in the €150 section – simple logic really as long as fools like me came along with a wallet full of Euros.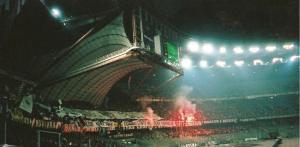 The fire pit
It wasn't my only experience at being ripped off in Italy though. The crowning moment was in September 2000 when Juventus were at home to Deportivo La Coruna in the Champions League in the much loved Stadio della Alpi. Not wanting to be caught out on the night of the game without a ticket I headed up to the stadium at lunchtime, only to find the ticket office closed. A genial man approached, wearing a smart Juventus stadium jacket. "Sold out" he told me in English "All tickets gone".
Bugger I thought – I had come all the way, and if it wasn't for blagging my way into see the Turin Shroud (tagging behind a good looking Nun to the hottest ticket of the Millennium I should add) it would have been a wasted trip. Not to worry though as my new friend made a call, and another official looking chap appeared with one remaining ticket. "A return" he said, which could be mine for just €120.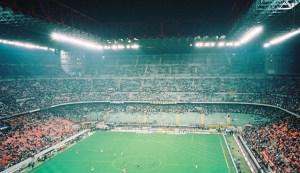 Another sell out at the San Siro
A tad more than I expected to pay as tickets on the website appeared to range from just €10 up to €130 so I assumed it was a decent seat. Of course it wasn't, and when I opened the envelope I saw it was a €20 ticket, located as I found out later at the match in the "hot zone". That is the section of the stadium in the lower tier where the Tifosi throw their flares when they get too hot. So not only was it a crap view obscured by a large fence, moat and advertising hoardings but I had to dodge fireworks thrown from above and the consequent blast of water from the firemen to put out the flames. At least I wasn't alone. Two other English chaps were in that section that must have been renamed the "Gullible foreign tourist" section. And was it full? Er no – only 8,000 watched the game, which was at least 7,700 more than Juve had got the previous week for an Italian Cup game. The good old Stadio delle Alpi – gone and certainly now forgotten.
Now the reason why I raise this very topic is to tell you all about those wonderful chaps over at Real Madrid. The the world's richest club as announced last week and you can see why. Before Christmas they played the "Classico" – the twice yearly game against deadly rivals Barcelona. This game meant so much more than just bragging rights. Both teams were almost neck and neck and if they should have finished level on points at the end of the season then the title went to the team with the best record on the head to head games.
After their world record spending sprees to try and regain some pride after Barcelona's record breaking last few seasons the La Liga title was the only objective this season. Well, that is what they will tell you when they get booted out of the Champions League at the first knock out stage again (only the xth season in a row)So why are they so rich? Is it their global marketing machine, putting the face and body of Ronaldo, Kaka and Julian Faubert (well two seasons ago any way) in the living and bedrooms of millions of people in Asia? Well perhaps, but perhaps also because they can justify charging €250 for a ticket for this game!
Yes, that is right. At today's pathetic Pound to Euro exchange rate that would cost you just £221. Ouch – just to see a football match. But that is if you could actually get a ticket. A visit to their website basically said unless you were a season ticket holder then forget it. A couple of years I became a member of Real Madrid. It was the time when Beckham and Owen were doing the business and I invested my £40 to be a "socias" which entitled me to buy tickets for any game, except of course this one. To get your hands on Barcelona tickets you had to pay an additional fee to be a premium member. And then you could apply to buy a ticket. No guarentee of course, but you could apply. You see as with many clubs in Spain and Italy, season tickets are very cheap. For instance, AC Milan were selling half season tickets at Christmas in the middle tier near half way line at the San Siro for just €95 – or just over €10 per game whilst just over €220 got you a seat in the Camp Nou. Figures in the Deloitte report show that Real Madrid made nearly 90million more Euros than AC Milan last season in Matchday revenues.
A bumper home crowd for Real
What this tends to mean is that most of the time season ticket holders don't bother turning up, so you often see vast sections of empty seats. And in these countries tax laws prevent the clubs from counting a sold season ticket as an attendee. People buy these in the main part for access to the big games. And that is why, in a nutshell, the atmosphere is so crap at football in Spain, and in the most part Italy.
A small core of fans – "Tifosi" or "Ultras" often get subsidised tickets through the club with a promise to try and generate some noise but try and get some passion from your middle aged man who is willing to pay €45 to watch Getafe play Villarreal as Danny Last from EFW found out (I am not saying you are middle aged or passionless by the way Danny!) It simply wont happen, and that is what happens at the Classico in Madrid. The people who could and would create the passion that would in turn spur the team on to perform in their biggest game of the season will be sitting in the bars around the Santiago Bernabau shouting at a TV screen, whilst in the stadium the latest C and D list celebrities will be watching the game just to be "seen" there (on my last visit to the Bernabau Tom Cruise, Enrique Inglesias and John Cleese were there to watch Real play).
The rich list shows that Barcelona are in second place, leapfrogging Manchester United thanks to their wallet busting shirt sponsorship deal with the Qatar Foundation. However, ticket prices can be as crazy as Real's in certain situations. Whilst the Glazers regime at United has seen ticket prices rise significantly, they are not in the same league as the likes of Arsenal and Chelsea who sit in 5th and 6th on the list respectively. The two German teams on the list, Bayern Munich and Schalke both play in front of sold out crowds every week but those seats are almost all taken by season ticket holders.
Real Madrid do not need yours or my money. They know that the economics are in their hands – they can set the price and people will pay it. Ticket agencies have "agreements" in place that enables them to hoover up the spare tickets and then resell them at inflated prices, all under the banner of helping out the fans. In a world where celebrities live out their life in the magazines, the Bernabau is the latest fashionable place to be seen at, and as long as this continues expect to re-mortgage your house if you want to actually see a game in Madrid. And in the process they simply get richer and richer.
You can read a full copy of the Deloitte report here.
To discuss this and any other random football subject, head on over to EFW Chat.