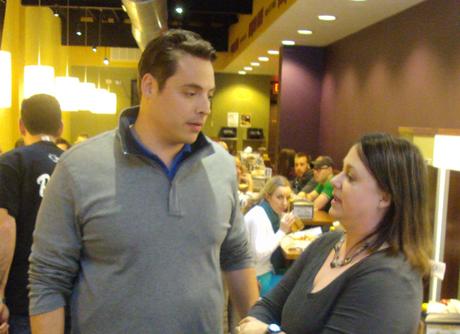 Last week I got a call from a friend of mine who owns 2 restaurants in my town – Cucina Paradiso and Burger Boss. He told me that the FOOD TV network was going to be taping a segment of The Sandwich King with local celebrity chef Jeff Mauro and would I like to come. Uh. YES PLEASE!!!!
He knows how much I love foodie stuff like that, so my mission – get my photo with Jeff Mauro and talk to him. (and of course hope to be seen in the background of his show!).
I got all that and more! When I first walked into the restaurant, they were already taping him behind the counter making burgers.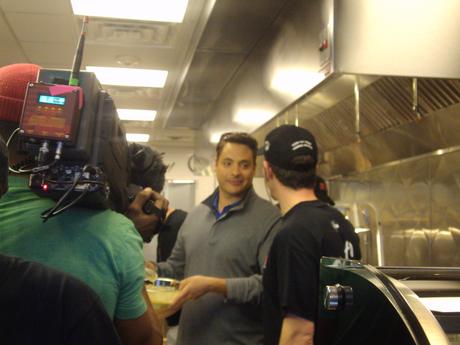 There were several camera men, production people from Food TV – amazing!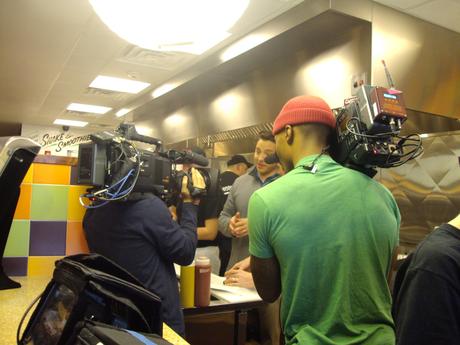 After his cooking segment was done, I went right up to him to ask him if I could take a photo with him – he is super nice and was more than gracious. So I got my photo and then sat down with my friends at our table.
We all got our food, and the next thing I know, the camera crew was focusing on our table – for several minutes! When I got my food, the producer asked if I could take a bite of it and then say "This tastes delicious!" Holy crap – what if that made the actual TV episode!!
The table across from us was reserved. After our meal, I glanced over and there was Jeff Mauro with his wife and son just sitting there. I thought they were going to film him again, but when I didn't see any cameras I said "are you doing anything at the moment?" And Jeff said – "Not right now." So I said "Can I come over?" to which he said "Sure!"
So I sat at his table – I do have something in common with him – we both went to the same high school, so I told him about that to start the conversation. He still lives in the area, they film his show in another nearby town, and he and his wife could not have been nicer! I am so lucky to have been able to be a part of this!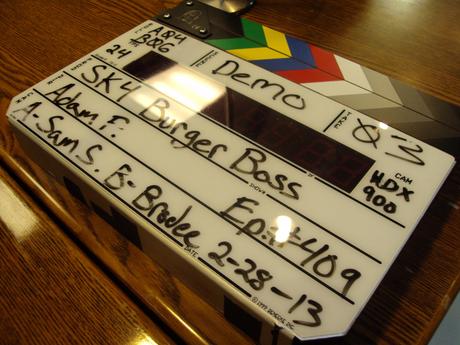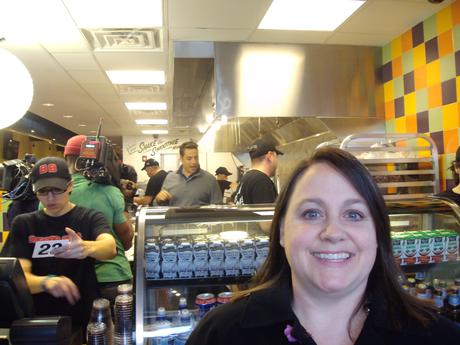 I will definitely let you know when the show The Sandwich King airs – it may not be for another month or so.
And if you live in the Chicago-land area – please visit my friends Anthony & Nick's place The Burger Boss!. They are in Elmwood Park on North Ave.
This is a great shot of the wonderful food that Burger Boss took of Jeff and his family: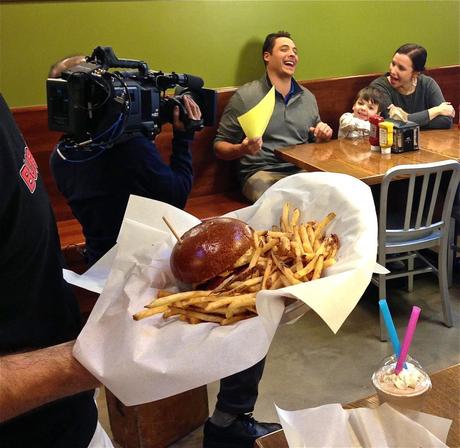 And here is me and my friends from work Leslie and Lilly!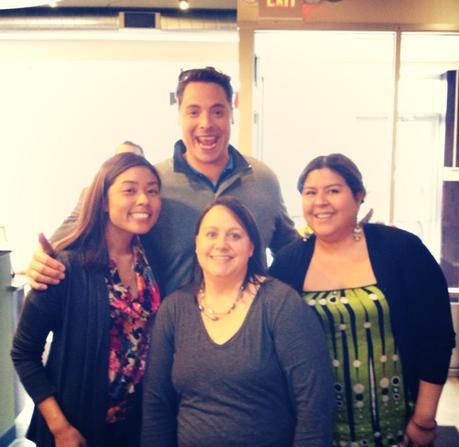 (p.s. – I am crouching down in this photo – I'm not that short!)