First, let's just dispense with the obvious (in my opinion, as a restaurant marketer and a Dad of three): if your sitter cancels and you seriously, literally cannot bear to let your $265 per person reservation go up in smoke, then you only have one choice—you feel lucky today, punk mom and dad?
Take the kid, accept it's a risk, and the very second it starts making noise, you leave. You lose. Good day, sir. Right?
I have rushed our kids out of far less classy joints than Alinea.
If you're not following the controversy, here's a summary. Oh, by the way, here's a good joke-Twitter-account: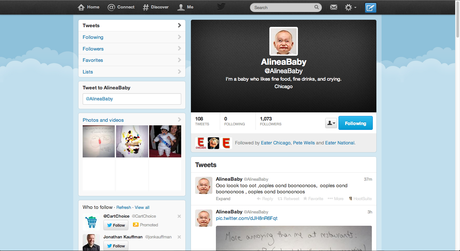 Now, here's my question.
Where is the cut off?
Let's work it out. I'm a big believer in making kids welcome as a way of recruiting future customers and bringing the family together to make decent, honestly warm, creatively invigorating memories. That kind of stuff.
But I never thought about where that stops.
Kids are welcome at McDonald's and all the other fast food. Easy.
They're welcome at the lower and middle tiers of casual dine. Fairly easy: everyone has kid's menus, Applebee's hands out balloons, lots of places draw anthropomorphic food characters emblematic of their restaurant and put them on special placemats.
Now let's head up the chain. Would you bring an eight-month-old to those expensive chains, like Maggiano's Little Italy or Sullivan's Steakhouse or Oceanaire Seafood Room? Ruth's Chris Steak House? I don't know. I never did.
I think you could get by at The Cheesecake Factory because they're near malls and loud. But those others are pricey and imitating very "grown up" concepts.
And what about those one-of-a-kind places that every city has?
Do kids go to Murray's Steakhouse in Minneapolis? I never saw kids there. We got a sitter when we lived there and I had to visit because I loved their ads so much: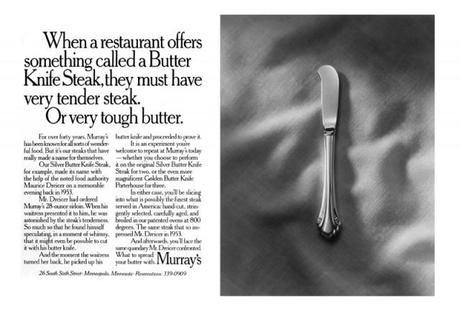 I think Chicago's only three-Michelin-starred restaurant is off limits.
I hereby declare The Cheesecake Factory your cut-off, parents-of-babies.
Take my word for it: they grow up fast.