Conservatism is an epic failure in EVERY area of human sexuality and reproduction.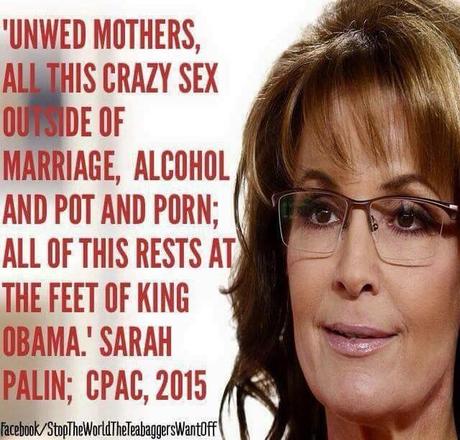 I'm betting a DNA test will show that Obama had nothing to do with this pregnancy, and that the only people who are responsible in any way, shape or form all have the last name of Palin.  And there is no way in which Obama is causally associated with pot and porn, or with individual decisions relating to sex and pregnancy either.
MORE CONSERVATIVE HYPOCRISY!
It is an unwholesome and irrational notion that sex is ever going to remain exclusively within the bounds of marriage.  It is undeniable that the worst states for porn use, including the greatest consumption of gay porn, are red / conservative states.  It is an undeniable fact as well that it is conservative states that have the worst record for out of wedlock pregnancies, cheating on spouses, and frequency / rate of divorce.  Alcohol abuse tends to be worst in red states as well.  Sadly we don't have any reliable or conclusive stats on pot use, but there is zero evidence that it has any connection, much less a causal one, to the current president.  I'm not suggesting that it is applicable in this pregnancy specifically, but according to answers.com, the worst states for the incidence of incest are Alabama, followed by Alaska.  Given the recent news from the Duggar household in Arkansas, we can reasonably question that state joining the list as well, perhaps alphabetically.
So let us not pretend that the holier than thous are anything but freaking liars and hypocrites.
That goes double for Bristol Palin who has taken a six figure salary to be the spokesperson for abstinence, and who insisted to Oprah when appearing on her show that she would NEVER EVER have sex outside of marriage again.
Yeah........how is that prudish puritanical rubbish working for you Palins?  The religious precepts relating to sex as a sin are a failure.  It promotes a sick and unwholesome, and utterly irresponsible attitude towards sex.
And when are we going to hear Mike Hucksterbee whinging on and on about parenting skills, the way he criticized the president and first lady for being bad parents because he disagreed with the choice of music they allowed their daughters, while at the same time palling around with his pedophile buddy Ted Nugent.
And does anyone else remember the drunken brawling involving a number of the Palin family last September?  I seem to recall it occurred at a party they crashed... 
From the New York Times
:
ANCHORAGE — It began as a birthday party that drew local snowmobile racers, construction workers and other longtime Alaskans last Saturday night. It turned into a brawl with members of Sarah Palin's family in the center of it, according to witnesses at the party.

The police are still investigating, and the Palin family is not commenting. But the episode is already adding some more atmospheric notes to the background noise surrounding Mrs. Palin, the former Republican vice-presidential candidate and the former governor of Alaska. Guests said the event began as a birthday party for twin brothers, Matt and Marc McKenna, the latter a well-known snowmobile racer. Most of the party was outside with dancing and a live band. But then things appeared to get out of hand.

According to a statement from the Anchorage Police Department, officers responded to "a report of a verbal and physical altercation taking place between multiple subjects outside of a residence located on the 900 block of Harbor Circle."

The report said that a preliminary investigation by the police revealed that "a fight had broken out between multiple subjects outside of the residence." It said that none of the people involved wanted to press charges, that no arrests were made and that an investigation was continuing. The police chief, Mark T. Mew, said Friday that even if the victims did not decide to press charges, the municipal prosecutor could still file charges.

The police statement concluded: "Alcohol was believed to have been a factor in the incident. Some of the Palin family members were in attendance at the party."

But several witnesses said the trouble started when Track Palin, Mrs. Palin's son, confronted a former boyfriend of his sister Willow and a fight broke out. Before long Mrs. Palin's husband, Todd, who also races snowmobiles and was also celebrating a birthday (his 50th), was said to have gotten involved in the fighting.

Later, according to witnesses, Bristol Palin, one of Mrs. Palin's daughters, threw several punches at the owner of the house where the party was being held.

The result was a brawl said to involve about 20 people. In the end, the Palin family was ordered by the homeowner to leave, witnesses said.

Witnesses said the Palin family members climbed back into their stretch Hummer limousine. Before they left, however, Mrs. Palin unleashed several rounds of profanity and Track Palin made a vulgar gesture toward the crowd, according to one participant at the party who declined to be identified out of fear of reprisals. (One participant, Eric Thompson, an employee of the firm whose office manager hosted the party, said he was fired after speaking to ABC News.)

The Palin family was not available for comment. But Mrs. Palin, in a Facebook post on Sunday, said that she had been traveling "yesterday" — the day the party was held — so she wanted to post a birthday greeting to her husband one day late. Mrs. Palin made no mention of the party.

"It was a really nice, mellow party," Mr. Thompson said in an interview on Thursday night. "Then it turned into 'The Jerry Springer Show.' "
Must be all that riding around in chauffeured stretch Hummer limousines is giving the Palins a false sense of entitlement, to behave badly and above the law.
Yup - once again, conservatives struggle with decency, hypocrisy, and apparently with the concept of cause and effect involving FACTS. i don't care if Sarah Palin got pregnant before she got married and I don't care that her daughter is repeating those behaviors. But neither one of them has any legitimacy lecturing other people on any of this.
Time for the entire Palin family to sit the hell down, to shut the heck up, and to take remedial classes in comprehensive sex ed, anger management, and drug and alcohol use and abuse.