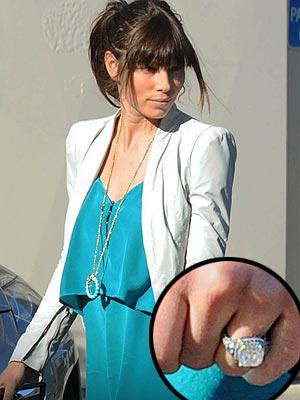 Jessica Biel's gorgeous engagement ring is one of a kind!
Let's start things off with the announcement for Jessica Biel's engagement to Justin Timberlake. As many of you probably already know, the announcement occurred back during the Christmas holidays. What no one could get a grasp on was why a ring was not readily available to go with the big "Will you marry me?" Well, with the sharp photography of a Splash News reporter, the ring was caught while Jessica was out and about in a beautiful electric blue dress back in February. She looked stunning and was obviously pleased with the beautiful diamond engagement ringfrom Justin.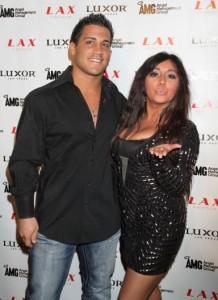 Snooki and future husband Jionni LaValle
Next, we have a very popular Snooki and her unbelievable ring from boyfriend of almost two years, Jionni LaValle. The story of how he got the perfect ring shows he has really got his act together. While shopping one day for some diamond jewelry, Snooki was apparently having thoughts of "what if" in case Jionni happened to pop the question. In a very casual atmosphere and jovial mood, Snooki was dropping some thoughts where her her future spouse could here. Now, for some guys, it would be real easy to not pay attention and take no interest, but Jionni was very interested.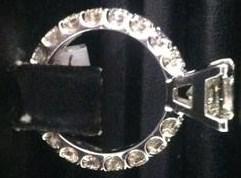 Snooki's engagement ring that is loaded with a total of 5 carats.
After making the move to go back and get the perfect ring designed, an absolutely stunning engegement ring was created. With over a 3 carat diamond centerpiece, and about 2 carats of smaller diamonds making the ring, this $50,000 engagement ring was obviously a real masterpiece. Snooki has absolutely no problem sharing her prize and letting everyone get an eye full of its magnificent beauty and bold design. Excellent choice Jionni!
For all of your engagement ring needs, all of us at Raymond Lee Jewelers personally invite you to join us online or in our beautiful and spacious 3,200 square foot showroom in Boca Raton, Florida. Not only can you find the best discounts on luxury jewelry, rings and such, but our pre-owned watches sporting brand names like Rolex, Cartier, Tag Heuer, Bulgari, and many more are ready for your consideration. Let one of our professionals work with you to find that perfect timepiece or engagement ring, and watch the savings mount up!