We couldn't write about Valentine's Day without saying something about chocolate, and the latest launch from DOVE Chocolate is a great way to start. We find ourselves unable to keep our hands out of bags of DOVE Fruit Dipped In Dark Chocolate ever since we were introduced to it at Food Fete. It's the best of both worlds, the indulgence of Dove dark chocolate, and the goodness of whole, health-benefiting fruit.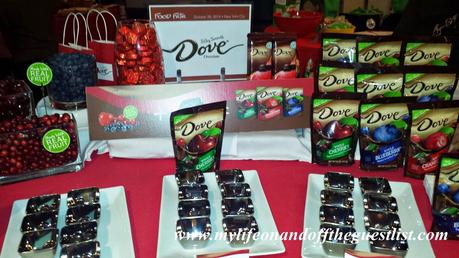 Who says strawberries are the only fruit that gets to be covered in chocolate. DOV has added some decadence to the packaged healthy snacking category by taking the top-selling fruits on the market, and completely covering them in creamy dark chocolate, resulting in bags of deliciousness that you can enjoy anywhere. Your taste buds will thank you as you surrender to the delectable and exceptional experience of  DOVE Blueberries Dipped In Dark Chocolate, Cranberries Dipped in Dark Chocolate, and Cherries Dipped in Dark Chocolate.



This decadent snack is practically hedonistic, but hen what more can you ask for than delicious, real fruit, dipped in silky-smooth DOVE Dark Chocolate. This must-have snack comes in three convenient sizes, a 2.83-ounce sharing size (though you may find yourself not), a 6.0-ounce stand-up pouch, and a 26-ounce bag. The 2.83 oz. sharing size (in Cranberry and Blueberry) retails for $1.99-$2.59, and the  6.0 oz. small stand-up pouch (in all three flavors) retailing for $3.59-$4.79. Look for all varieties at Convenience, Drug, and Grocery Stores, as well as Mass Markets.