The trusty SMWS Codes list tells us this SMWS 76.138 "Sweet Memories Of Autumn" hails from Mortlach. A distillery whose distillate becomes increasingly coveted as age and sherry level increase. They're the backbone of Johnnie Walker, the mishandled jewel of Diageo's eye and something I always look forward to trying.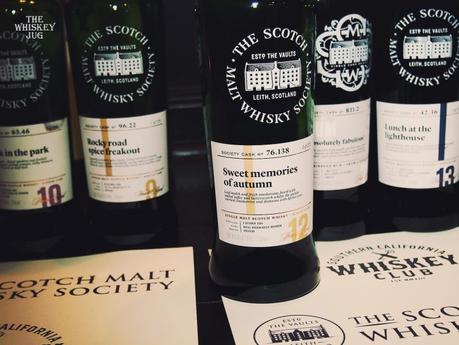 Though, like many other whisky enthusiasts, that excitement dies a bit when the whisky comes from an ex-bourbon barrel; even more so when it's in a refill barrel. Which is a bit unfair, the first-fill could have only been used the minimum 3 years to turn distillate into Scotch, leaving a lot for the raw spirit to draw from over the next 12 years. There's only one way to know though… to the Scotch review!
SMWS 76.138 "Sweet Memories Of Autumn" Review: Details and Tasting Notes
The nose was an autumnal fusion of leaf mulch and fresh mushrooms with salted toffee and sweetly chewy butterscotch. Aromas found equilibrium between the strong herbal notes of dried rosemary and the confected mishmash of pink marshmallows and fudge shrouded in a cloak of butter pastry. The palate stimulated the senses with the sweet and spicy tingle of peppadew peppers with a sprinkling of brown sugar and warming ground turmeric. A dash of water exposed a fruitier affair as dried cranberries and damsons moved towards lychee jam and the delightfully oily sophistication of aged riesling. Oils turned towards green olives and toasted sunflower seeds whilst the finish suggested the presence of banana skin and well-weathered wood.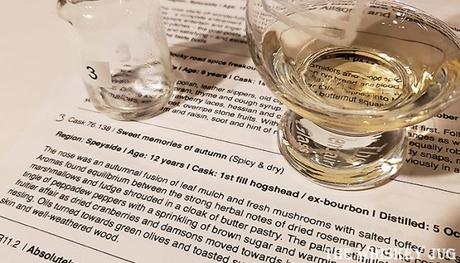 Details (price, mash bill, cask type, ABV, etc.)
Region: Speyside, Scotland
Distiller: Mortlach
Mash Bill: 100% Malted Barley
Cask: Refill Ex-Bourbon Hogshead
Age: 12 Years
ABV: 60.9%
Cask Strength | Non-Chill Filtered | Natural Color
Price: $130
Tasting Notes
EYE
Light gold / flaxen
NOSE
Graham crackers, orchard fruit, honey, buttery toffee, baking spice and a bit of sugar cookie dough.
PALATE
Complex fruit, honey, graham, cinnamon oil, roasted nuts, lemon peel and some vanilla and wheat bread.
FINISH
Long -> Fruit, graham, spice, lemony citrus and bread.
BALANCE, BODY & FEEL
Good sense of balance, full body and oily feel.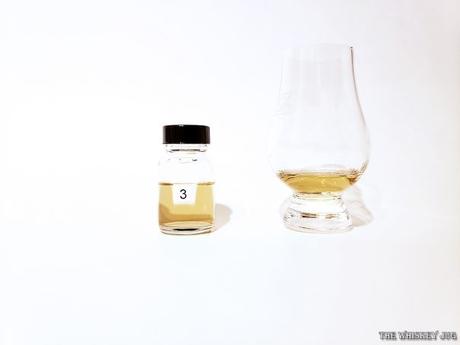 SMWS 76.138 "Sweet Memories Of Autumn" Review: Overall and Score
Good… really good. Can't find too much to complain about in the SMWS 76.138 "Sweet Memories Of Autumn". It's not super deep, but it has a nice complex fruity profile I can easily get behind. The Aroma is nicely layered and interesting; Palate is butter rich; Finish fades out warmly.
If I had one negative thing to say about this scotch it's that it runs noticeably hot, which is easily remedied. Speaking of… With a bit of water the aroma gets richer and butterier but doesn't change too much. The same goes for the palate, but there's nothing wrong with that. What's there is good and I would happily have a bottle of this on the shelf.
SCORE: 88/100 (B+)
SMWS 76.138 "Sweet Memories Of Autumn" Review
130
Nose -

88

Palate -

89

Finish -

88

Balance, Body & Feel -

88
88
SMWS 76.138 "Sweet Memories Of Autumn" Review Summary
SMWS 76.138 "Sweet Memories Of Autumn" hails from Mortlach and it was super tasty. Highly recommend trying it if you can.
Sending
User Review
0

(

0

votes)
Comments Rating
0

(

0

reviews)

"""