These Smoked Tofu Fingers with Chipotle Mayo are a great vegan appetizer for any occasion. Crispy breadcrumbs baked to perfection, chewy tofu and smoky flavours all round – what could be better?
In collaboration with Sacla'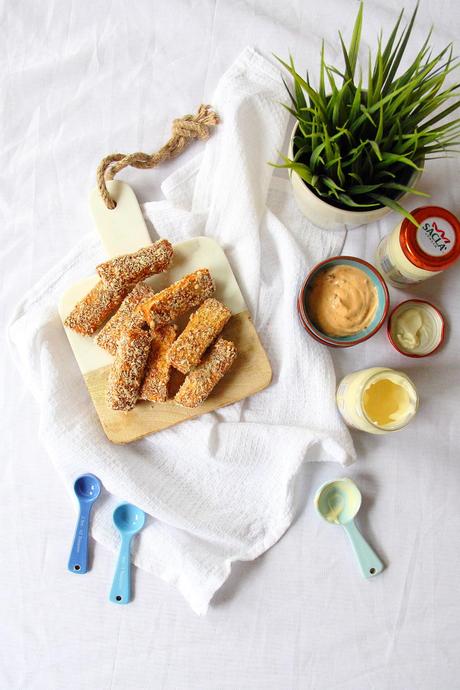 We all know that tofu can be divisive; some people find it too mushy, others find it too bland. Tofu does, however, have one secret weapon up its sleeve: smoked tofu.
When I whipped up the first batch of these Smoked Tofu Fingers they didn't manage to make it to the dining table. We'd eaten the lot before even sitting down for dinner – bearing in mind, only 50% of us would claim to be a tofu fan!
Far far firmer than regular extra firm tofu and with loads more flavour, smoked tofu also keeps its shape better during cooking – no more crumbly bits when you're trying to get it crispy! For lots of recipes you can even get away without pressing smoked tofu.
To get the best out of this recipe I would recommend pressing the smoked tofu for around 10 minutes to remove any excess liquid – depending on the brand you're using. If it comes with some liquid in the pack when you buy it then do press it to remove the excess; if it's dry in the packet, then it will already be firm enough and you don't need to.
You can do this either using a tofu press or by wrapping the tofu in kitchen paper and placing it between two plates with something heavy (like a big recipe book!) on top.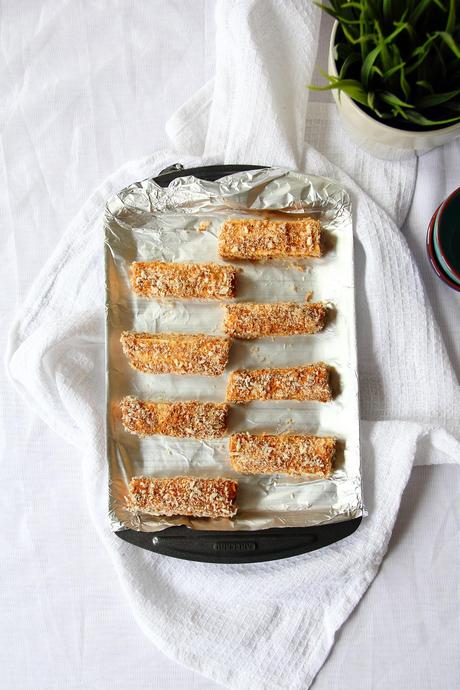 To coat these smoked tofu fingers, I've used a chickpea flour paste as an egg replacement. You dip the fingers of tofu in the sticky paste before rolling them in the breadcrumbs and I promise you the breadcrumbs will stick easily and evenly.
I've tried all sorts of alternatives to egg for breadcrumbing and can confirm that this is the best I've found, if you get the quantities just right (cornflour is a not-so-close second!).
If you ask me, it's just further proof that chickpea flour is magic. I know we've talked about this a lot over on Instagram, but is there anything chickpea flour can't do!? Omelettes, scrambles, pancakes, flatbreads, muffins, sauces… the list goes on!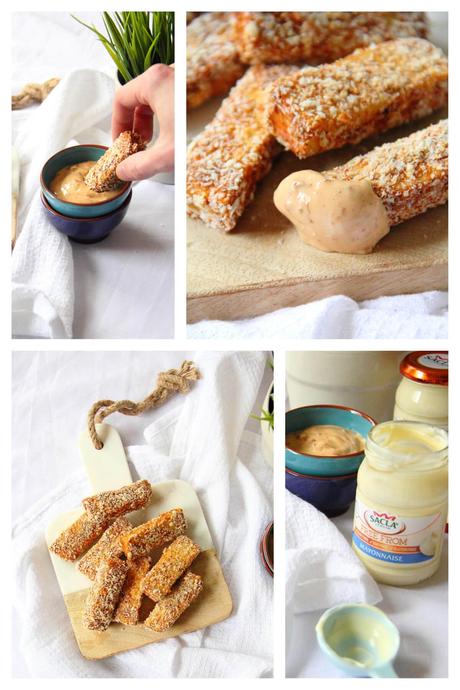 Let's move onto the real star of the show here: the dip. Nothing in breadcrumbs is complete without a suitable dip, would you agree?
Sacla' is probably best known for its pesto, but did you know that they recently launched a new vegan mayo? It's vegan, egg free, gluten free and dairy free, plus it's lower in calories and oil than a comparable egg-based mayo.
I wouldn't be exaggerating to say that the Sacla' Free From Mayonnaise is the best vegan mayo I've tried so far. It has just the right amount of tang and is much fresher and brighter tasting compared to other vegan mayos I've tried. It also has exactly the rich texture you'd expect from a good quality mayonnaise and pairs perfectly with smoky chipotle.
Would you believe that I was never a mayo fan before becoming vegan, yet here I am raving about mayo?! Proof that everything is better vegan..!
The Sacla' Free From Mayonnaise can be used in absolutely any way that you would usually use mayonnaise – even baking! It's available from the Free From aisle at most supermarkets, including Sainsbury's, Co-op and Ocado or visit www.sacla-shop.co.uk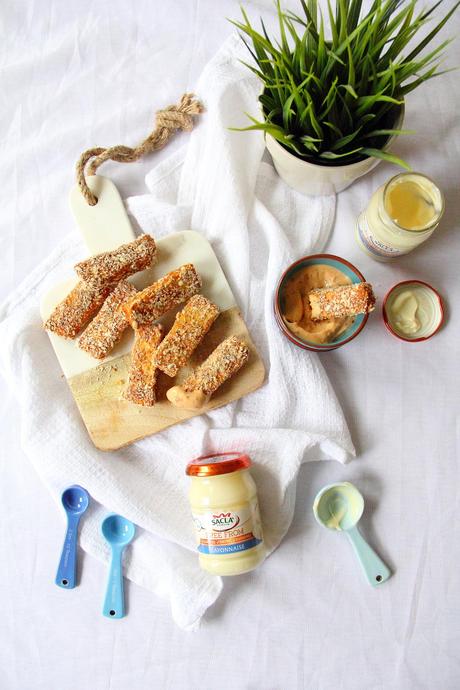 5.0

from

1

reviews
Smoked Tofu Fingers with Chipotle Mayo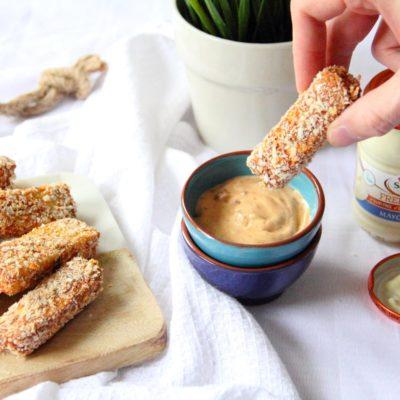 Save
Print
Prep time 20 mins Cook time 20 mins Total time 40 mins   Author:
The Tofu Diaries
Recipe type:
Appetizer
Cuisine:
Vegan
Serves:
2
Ingredients
*For the Tofu:*
225g smoked tofu
2 tbsp chickpea flour
2 tbsp water
1 tsp smoked paprika
¼ tsp garlic powder
¼ tsp black pepper
Pinch sea salt
3-4 tbsp panko breadcrumbs
*For the Mayo:*
3 tbsp Sacla' Free From Mayonnaise
½ tsp - 1 tsp chipotle paste (to taste)
Method
Preheat oven to to 200C/400F/gas mark 6.
Press tofu for 10 minutes to remove excess water. Cut the tofu into thick fingers.
While the tofu is pressing, mix the chickpea flour, water, smoked paprika, garlic powder, pepper and salt together in a large bowl to form a smooth paste. Ensure that the bowl is wide enough to dip the tofu fingers in.
Place the breadcrumbs into a wide dish or plate.
Cover a baking tray with non-stick foil or a light coating of oil.
Carefully dip one piece of tofu in the chickpea flour paste to fully coat then immediately roll it in the breadcrumbs until evenly coated. Place on the baking tray. Repeat with the remaining tofu.
Bake in the oven for around 20 minutes, or until crisp and golden on the outside.
Meanwhile, mix the mayonnaise and chipotle paste together in a small dish, adding as much of the chipotle paste as desired to get the spice level just right for you.
Once baked, transfer the tofu fingers onto a plate or serving board and serve with the chipotle mayo on the side.
3.5.3239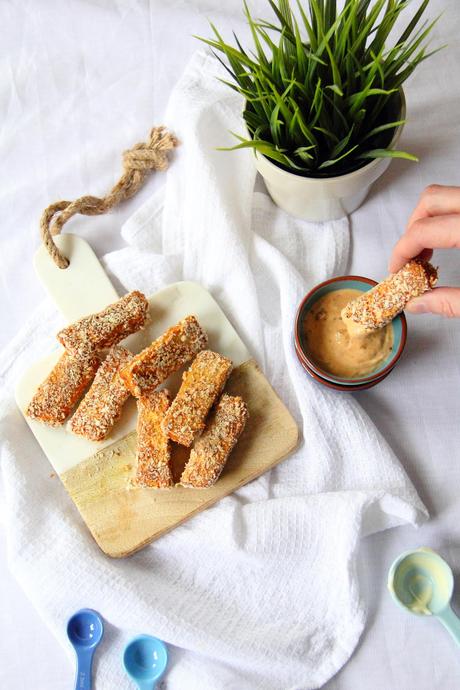 Pin this recipe for later:

Thank you so much to Sacla' for sponsoring this post and helping to keep The Tofu Diaries up and running! All thoughts, recipes and photos my own. Please see my disclaimer for more details.