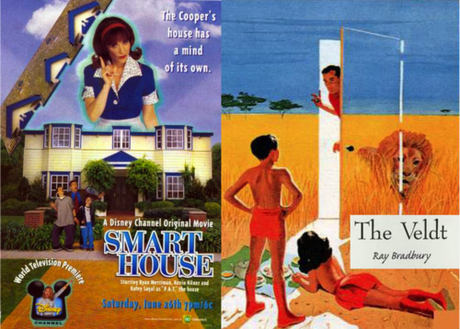 "Did you feel? Did you see? It's too real." — "The Veldt"
"Once you get used to this place, any other home is just going to be…a home." — Smart House
In 1999, the Disney Channel released a made-for-TV-movie that smart home enthusiasts of today would drool over. Smart House tells the story of the Coopers, a family that wins an automated home controlled by an intelligent assistant named PAT, short for "Personal Applied Technology." PAT is a sentient assistant that looks like a maid and acts like a mother, yet is completely virtual. The assistant controls everything in the house, from opening doors to dimming lights. When the family's son gets upset by his father's new girlfriend, he reprograms PAT's personality so she can devise ways to get rid of her. In science fiction, humanlike systems always seem to make the jump from being excitingly like us to frighteningly like us. PAT becomes power hungry, and her control over the house logistics spreads into her controlling the entire family. We won't give too much away, but the movie turns into a power struggle between the virtual maid and the very real family that she serves. 
Interestingly enough, Smart House is based on a Ray Bradbury short story that was first published in 1950. "The Veldt," also titled "The World the Children Made," is about another smart home-inhabiting family who occupy a house nicknamed "The Happylife Home." In the story, the smart house is more of a parent than a home, and completes tasks like tying the kids' shoes to rocking them to sleep at night. The house also has a special nursery that is able to transform the children's dreams into reality. The parents quickly become upset by their kids' obsession with the room, as its interior turns into a simulated African plain, or veldt. Similar to Smart House, the kids end up using their intelligent technology to wreak havoc on their parents. Listen to Stephen Colbert's reading of Bradbury's "The Veldt" right here.
Are these depictions of evil systems a mark of their times or do they illustrate certain aspects of artificial intelligence today? Sound off in the comments!