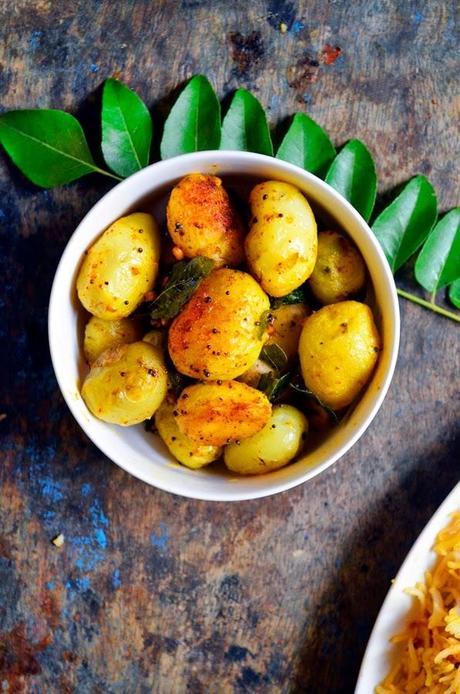 Today I am blogging about a very simple home style recipe for south Indian baby potato fry.This baby potato fry is a frequent fare in every south Indian home.I am yet to meet a person who doesn't like this fry.So easy to make yet it takes some practice to get that crispy crust.The key is to roast it in low flame,stirring gently at regular intervals.There is absolutely no need to use more oil.In some homes,they use rice flour or corn flour to make crispy roast but I don't add any. One more point is I often make this roast with sesame oil,if you find it weird,may I ask you to try it once with sesame oil and I bet you will never go back to refined oil for this fry :). Yes sesame oil gives a very deep flavor and taste to this roast.Now let us see how to make small potato roast with simple ingredients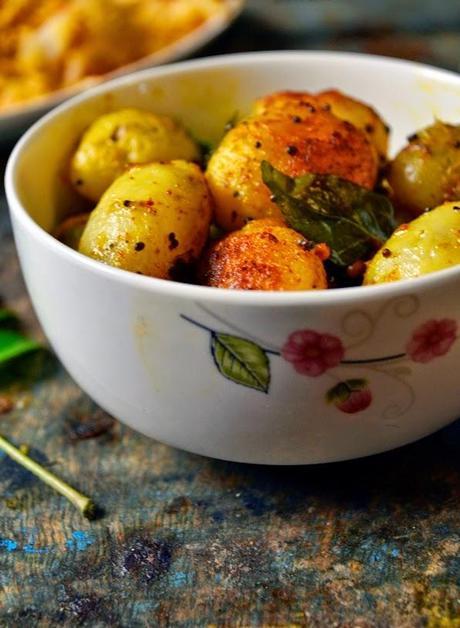 Looking for more recipes to cook with the most versatile ingredient-potato,do check
Batata vada recipe
Potato chapathi
Aloo bhature
Also here is the list of most loved potato recipes from the blog :)
Small potato roast recipe
Star ingredients: Baby potatoes
Time:30 minutes
Serves:3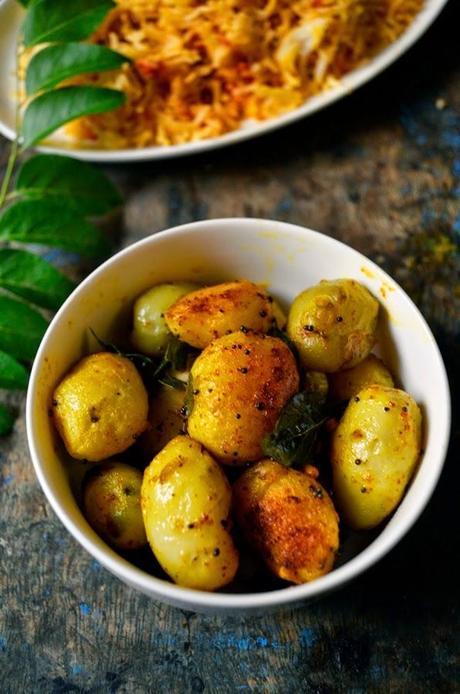 Ingredients:
20 baby potatoes,preferably of same size
1 teaspoon chilli powder
1/2 teaspoon turmeric powder
1/4 teaspoon asafoetida
10-12 curry leaves
1 teaspoon urad dal
1/2 teaspoon mustard
Salt
1 tablespoon sesame oil
Method:
1.Pick same sized baby potatoes and wash them.Pressure cook the potatoes until tey are boiled yet firm.I generally pressure cook for up to 2 whistles
2.Once the pressure is released,peel the potatoes and drain the water completely.Pat dry in a kitchen towel.Using a tooth pick or small fork prick each potato in 2-3 places
3.Heat a kadai and add 1/2 tablespoon sesame oil.Once the oil is ot temper with mustard,urad and curry leaves.Add asafoetida and saute for 2 minutes.
4.Add chilli powder,turmeric powder and saute for 2-3 minutes.
5.Now gently add the boiled potatoes and mix gently.Lower the flame and cook for 10 minutes.
6.Add salt,remaining oil and mix well.Cook till the potatoes turn golden sauteing every now and then.Once done,remove from flame and serve hot with rice,kuzambu
Notes:
1.If you want to cook faster you may add 1-2 teaspoons rice/corn flour after sauteing the potatoes for 5 minutes
2.Selecting same sized potatoes elps in even,fast cooking.
3.Adding chilli powder and turmeric powder directly to the oil enhances the flavor greatly.