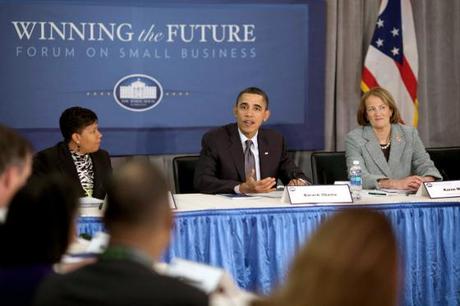 When President Obama landed in Ohio yesterday, he met with small business owners in an attempt to drum up support for job growth. Among the CEOs present at the meeting was the head of a small renewable energy firm, Tremont Electric. Maker of a device that converts kinetic energy (motion) of walking into electricity, Tremont is a small firm based in Northern Ohio. In the fall of 2009, we wrote about the company and their the nPower™ PEG.
In an interview with NPR, Aaron Lemieux, owner of Tremont, discussed the impetus for the conversion device. He talked about his time spent hiking the Appalachian Trail ten years earlier. "I was stopping into towns to purchase batteries to keep my mobile electronic devices recharged." This served as the inspiration for a converter that would take the energy from his walking and turn it into electricity to charge small electronics.
In this era of globalization and outsourcing of manufacturing jobs, one of the most amazing parts of the story is the domestic production behind the nPower PEG. According to the interview, Lemieux stated that
"Ninety percent of that product doesn't just come from the United States, it comes from the state of Ohio. This is [the] manufacturing heartland of America. We can build just about anything that we need to here."
The very fact that the president included clean energy/green jobs as part of this discussion demonstrates their viability and the need to include them in any mention of an economic and jobs recovery. Furthermore, as evidenced by Tremont Electric's ability to support local manufacturing jobs, these small start ups represent an integral part of the recovery puzzle.
[Image source]