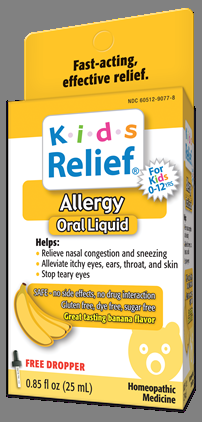 One of my twin boys has really been suffering a lot this year from seasonal allergies. (We live in South Florida, so they arrive earlier for us than in other places in the U.S.) His nose has been extremely stuffy and runny, and his eyes are all itchy and puffy. So, when it came time for him to go on a Scouts camping trip one weekend, I was very worried about him spending all that time outdoors. Would it make his allergies worse? Fortunately, I had just received an offer to review Kids Relief Allergy Oral Liquid.
I must admit that I was a little concerned at first because my son is not very enthusiastic about taking over-the-counter products. But he agreed to give it a try when he found out that it comes in banana flavor! When the product arrived, he saw that it has a little dropper, and he loved being able to measure the liquid in the dropper himself. Then he dropped it on his tongue and swallowed. Delicious! Yes, he really liked it. He said, "I'm not sure it tastes like bananas, but it is really good!" After that, he was excited about taking the Kids Relief Allergy Oral Liquid. And he was even more excited when he found that it really helped to manage his symptoms.
I dreaded seeing his face when he came back from the camping trip because I was expecting puffy and swollen eyes, but he looked wonderful! He took the Kids Relief Allergy Oral Liquid on the trip with him and took it regularly. (His father was with him to supervise.) "It worked, Mom!" he told me. "My eyes aren't itchy!"
What I really like about Kids Relief Allergy Oral Liquid is that it not only helps relieve my son's allergy symptoms, but it's a homeopathic formula, so it's safe for kids (age 2 and up) when taken as directed. Kids Relief Allergy Oral Liquid retails for $8.99 and can be purchased at CVS locations nationwide.
We will definitely be keeping Kids Relief Allergy Oral Liquid on hand now for those times when my son's allergies flare up. He is really happy to have found a product that he enjoys taking and helps him to feel better.
Disclaimer: I am not a medical professional, and this post should not be considered medical advice. Always check with your child's physician before administering over-the-counter products or medication. Your experience with this product may differ from mine.