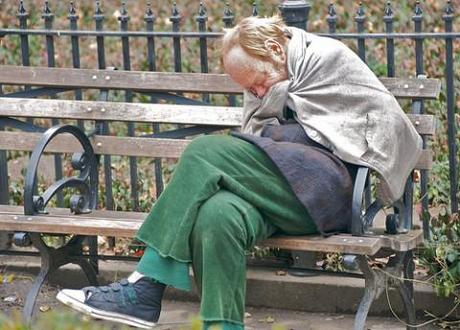 Homeless man: a target for slavers? Photocredit: Ed Yourdon http://www.flickr.com/photos/yourdon/4299779303/sizes/m/in/photostream/
Slavery in Britain today – you would have thought it wasn't possible. But it seems to be a major problem, as 24 people were discovered (after a four month investigation) allegedly being held against their will in a travellers' site in Leighton Buzzard, in Bedfordshire, by a family of travellers. The Daily Mail reported that a local homeless charity has claimed it has been taking in people who said they were slaves at Leighton Buzzard since 2007.
"We found 24 people being held against their will on the site, being kept in appalling conditions, covered in excrement [wearing] poor clothing [and in] poor general conditions [...] Prior to that, we're aware of up to 28 people who have escaped the site," said Detective Chief Inspector Sean O'Neil, from the Bedfordshire and Hertfordshire major crime unit, according to a Reuters report.
Some of the alleged slaves were homeless, leading to fears that such vulnerable people are being exploited by gangs, who target them at soup kitchens and homeless shelters. Out of the 24, reported Gawker, 15 wanted to be rescued, whilst the other 9 said they weren't slaves and went back to the camp. The youngest, a 17 year old boy, has now returned to his family. "What is going on at the Greenacre Caravan Park of Leighton Buzzard?" asked the site. Some of the men, reported The Christian Science Monitor, were believed to have worked there for 15 years, without pay, working from 7 am till 7pm.   The Daily Telegraph reported that one of the men said that he lived there and was being paid £50 a day; the paper also claimed that the men were about to be trafficked to Scandinavia. Police suspect that 100 people across the country are held by the same network of families.
Five of the caravanners have been arrested; four, all from the same family (surnamed Connors), have been remanded in custody, whilst a heavily pregnant woman was granted bail. Alexandra Topping onThe Guardian reported that as the men were denied bail, four women "burst into tears", with one crying out "What am I going to do with my children?"
"The idea you can keep people in prison without any gates beggars belief. The idea that people can't leave because they are too terrified of being beaten up … who's going to beat them up if they get on bus [sic] and go somewhere else?" said Joseph Jones of The Gypsy Council, quoted on The Huffington Post.
Horrific abuses. Mike Nicholas from Thames Reach, a homelessness charity, told Ned Simons on The Huffington Post that many workers from the expanded European Union came to Britain and were unable to gain jobs; without benefits, they were ripe for exploitation. In a blog, also on The Huffington Post, Nicholas said that homeless people are often the victims of horrific abuse: one man had been handcuffed to a radiator. "Slavery has no place in our society in the 21st century."
An unusual case. 

Dominic Casciani on the BBC website said that most forced labour in the UK has focused on women in the sex trade. This is an "unusual" investigation. The UK Human Trafficking Centre has said that it has received 1,481 reports of suspected trafficking in two years until the end of March 2011, and the charity Anti-Slavery International says there could be up to 5,000 in forced labour in the UK.
A global problem. Klara Skrivankova on The Guardian said that many bosses will threaten to expose the illegal immigrant status of their workers, and that vulnerability is often a factor. It's a problem all over the world, with some people in the west of Africa even being born as slaves.