I never use to give my body the care and attention itdeserves, well not to the same degree that I care for my face.  :-S  Formost of my life, my poor old body was neglected and didn't get pampered at all,other than being regularly cleansed with soap,
EEK!
   :-O  Soap,
d'oh
.... that is almost a dirty wordthese days,  #-o  yet, prior to converting to a body wash, soapwas all I ever used.  :">  [-X   Yearson, after discovering the remarkable benefits of incorporating AHA's (
Alpha Hydroxy Acid
) intomy body care regime, I have never looked back. #:-S   I seriously doubt that Iwould ever manage to get through a tropical
Far North Queensland
summer again without my trusty AHA body wash. 

Initially, when I was introduced to AHA's, I was using a
Glycolic Acid
infusedbody wash, however because I am blessed with sensitive skin, at times, my skingets all irritable, (
usually aftershaving
) so I have to avoid
Glycolic Acid
coz it just exasperates theproblem.  :-< I was recommended this SkinstitutL-Lactic Body Wash (
featuredpreviously  in my
Top10 Favourite Products
) a couple of years ago, when it was first launched, by the Darren, one of the incredibly knowledgeableand extremely helpful skin care therapist's from the
Facial Company.
  He suggested the gentle
Lactic Acid
based formula would be more friendly and appropriate for my temperamental skin type, so I checked it out and decided it might beexactly what I needed. 
B-)
The good thing about
Lactic Acid
as apposed to
Glycolic Acid
is that
Lactic Acid
is naturally foundin our skin anyway, so it's suggested to be the most gentle of all AHA's.  It is just as effective as the harsher
Glycolic Acid
when it comes tosloughing away dead, dulling skin cells and stimulating the natural cellturnover process. It also decongests pores and it helps increase the hydrationlevels of the skin to promote a firmer, smoother texture.  :)
As per its claims, I have found the SkinstitutL-Lactic Body Wash to be completely non-irritating, so even when my skin
IS
inflamed, I can still confidently cleanse my body, knowing it won'taggravate the condition.  Surprisingly, it's actually ideal for reducing thesymptoms of angry, red skin and is evidently proposed as being suitable for even the most sensitive types.  It is certainly mybest defense in avoiding the dreaded itchy, red rash, razor bumps and ingrown hairs thatI would frequently experience, thereafter shaving my legs.  Blocked or obstructed hair follicles can wind up getting infected, hence these problems arise,  :-L  however, with regular use of an exfoliating body wash, my pores and hair follicles are kept clear and unrestricted to allow the regrowthto come through easily, avoiding any irritation.  =D>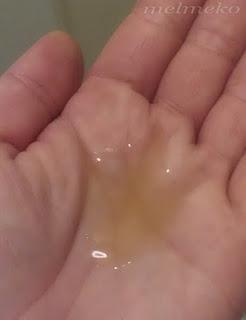 The body wash dispensed straight from the bottle
Another bonus is that the addition of AHA's to the normal cleansingroutine, will annihilate the rotten summer sweat pimples, (
belonging to the acne vulgaris family
) often referred to as '
bacne
', which usually appears on the back,upper arms and buttocks.  :-/   These zits or pimples, (
which tend to resemble mini volcanos at times
:(
) unfortunately, breakout over the bodyduring the hotter, more humid months of the year as our sweat glands becomemore overactive.  ~X(   Washing with the SkinstitutL-Lactic Body Wash helps clean the pores of any dead skin, oil or bacteria thatclog up in the pores when we sweat.  Therefore,as a result, these pimples are no more!   \:D/
I also find the price amazing, at only $36 for awhopping 375ml.  It's presented in apump-action bottle featuring the typical Skinstitutpackaging, with the white, purple and silver/pewter design and logo.  It is a clear, amber coloured, gel-basedformulation with a runny fluid-like consistency.  I am ultra partial to the lovely fresh, clean, mildlycitrus scent that is ever so delicate and not at all offensive. 
:x 
Just one pump of the liquid distributed ontomy shower puff is ample to work into a rich, luxurious lather that will wash andexfoliate my entire body with no effort at all. ;)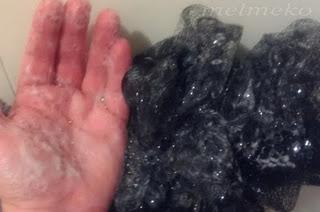 Lathers into a rich, creamy foam when used with my shower puff
It rinses off easily without leaving any greasy residue.  Instantly, my skin feels super smooth andsoft like silk to touch.  It's totally non-drying, delivering extra moisture to my skin, leaving it adequatelyhydrated and perfectly balanced for optimum skin health.  Since I started washing with the SkinstitutL-Lactic Body Wash, my skin has taken on a naturally radiant,healthy-looking glow, which makes a nice change to its previously dull, sallow,often scaly appearance.  :D
This is the first, and only,
Lactic Acid
body wash Ihave experienced myself and In my opinion I highly doubt if there were similar productsavailable, I would find a better, more affordable treatment body wash thanthis.  I would say it's supreme; absolutely flawless. 
(*) 
I basically use it every other dayor on a daily basis during the warmer months when I need to shower at least twice a day, sometimes more.  I would highly recommend it, especially foranyone with sensitive skin issues that wants to indulge in the benefits of a using a chemical body exfoliator but generally finds most AHA products are too harsh and end up upsetting your skin.  Well, you needn't miss out on the positives any more, the SkinstitutL-Lactic Body Wash is the answer to all your prayers.  
[-O<
Woot, Woot,
Sensitive Skinned Beauties Rejoice!!!
   <:-P  <:-P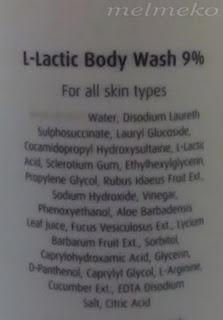 Product Ingredients
Hands up if you are guilty of ever ignoring or overlookingyour body when it comes to your skin care routine?   :-"  I encourage you to pay a littleextra attention to the skin on your body every time you shower and I assureyou, before long the noticeable improvement to the condition of your skin will be impressive.  :)  Just by regularly exfoliating and removing built-up deadskin cells, will mean you won't need to hide your pins under long pants during summer,instead you will be striping off to reveal your brand new beautiful, healthy-lookingskin.  ;;)  
Do you look after the skin on your bodyequally to that on your face?  Tell us about your body concerns and how you manage them. 
Are there any body treatment products that you use consistently? 
:-?  Feel free to comment below and share your thoughts!
All images in this post are my own other than the first generic product image above that I cropped to correspond with my layout.  I did that because my own photo ended up quite blurry and I couldn't be bothered to go through the rigmarole of re-capturing, uploading and editing just for one image, LOL   :))  Please forgive me,
hehe.
;))  :)>-