All right, now don't leave me a snarky comment or flog me for this skinny girl kung pao pork and using a prepackaged kung pao sauce! I hear from a lot of you about cooking and recipes, and what I'm hearing is that you want home cooked. Buuuuuut, you want convenience and quick turn around. You don't want to be stuck in the kitchen forever. And, another thing, many of you tell me that you don't want to have to gather a bunch of ingredients just to make, for instance, a sauce that you might not make again for months.
Convenience Helps!
So here's your next best thing. Buy a pre-made sauce! Of course, if you want to make your kung pao sauce homemade, then I'm all for that. I typically do at times because I have about every ingredient and spice in my pantry and cupboards that a typical grocery store has. But, I know that most of you don't! And, this is part of my mission to get you into your kitchen to cook by making it a tad bit easier and less onerous. And, I know that lots of you out there really don't find grocery store shopping the zen experience that I do. I mean I could go every day and stroll looking at new products and filling my cart. Yeah, you know that's strange, but I'm smart enough to know that most folks out there don't have that affinity for the grocery store.
OK, back to the skinny girl kung pao pork. Well, bottom line, it's really deeeelish. And, you can pair it with noodles or rice. Or, hey, if you want it over mashed potatoes, who am I to say it's not a zen eating experience. Actually, that sounds really good to me with this recipe! Hey, here're a few more 'skinny' girl recipes, but, guys love them, too! xoxo ~ally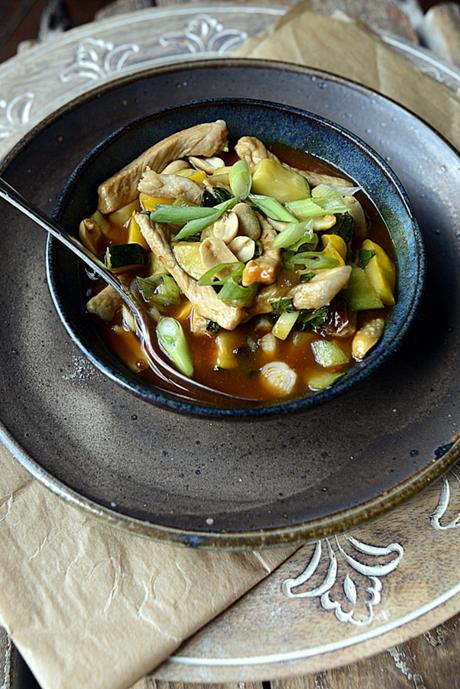 Ingredients
2 boneless pork chops, about 1 ½" thick, cut into 2" strips, or small bites, your preference
2 Tbl. toasted sesame oil
2 tsp. garlic, finely minced
2 cups zucchini, packed, small bite size dice
2 cups squash, packed, small bite size dice
2 cups kale, packed and finely chopped
1 jar (14 oz.) P.F. Chang's Kung Pao Sauce mixture
½ cup chicken broth
TOPPINGS: Green Onions, Crispy Fried Onions, Chow Mein Noodles, Salted Peanuts, Cashews, Soy Sauce and more!
Instructions