Disclosure: I got this product as part of an advertorial.
Skinnaturals Collection by Skinn Cosmetics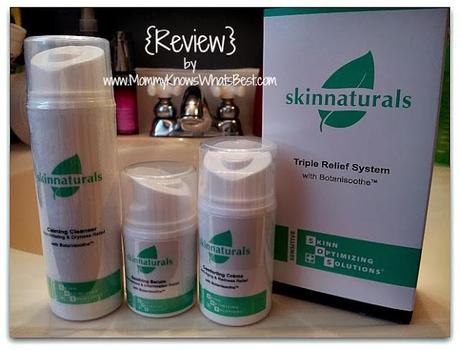 Skinnaturals Triple Relief System
As you know from previous posts, I have pretty terrible skin, especially on my face. I have to be really careful with what I use so that the product doesn't make my face worse. 
Skinnaturals has an awesome line of skincare products that promises to be gentle on skin yet reduce irritation, redness, and even wrinkles. Thanks to Tomoson and Skinn Cosmetics, I was given the Skinnaturals Triple Relief System to review. 
Skinnaturals was developed and launched in 2002 by Dimitri James. After working for major cosmetics companies for years, he become disgusted at their tactics to use pretty containers and pretty boxes yet deliver mediocre cosmetics that were not of high quality despite the high prices. He broke away from that trend and focused on the product, not the package. He wanted beauty products that were made from natural ingredients. He chose to put more money into the product itself and not into the packaging or marketing. Today, Skinnaturals is only available on its website, on TV shopping networks, and privately owned spas across the U.S. 
Skinnaturals Triple Relief System

The Skinnaturals Triple Relief System comes with three parts: a cleanser, a soothing serum, and a comforting cream. I used all three together as my daily skin regimen for a few weeks now, and I like the results! 
You start with the Calming Cleanser, followed by the Soothing Serum, and finally the Comforting Crème. They are all really gentle on my skin, and I love the smell! They smell like freshly cut cucumbers (not like the manufactured fake cucumber smell you often get in cosmetics).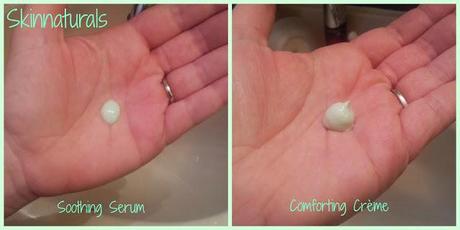 A small amount of each goes a long way!
After a few weeks of use, my skin is less red and irritated, especially in the morning. Here's a selfie after using the Triple Relief System first thing in the morning (warning..I am definitely not photogenic in the morning...):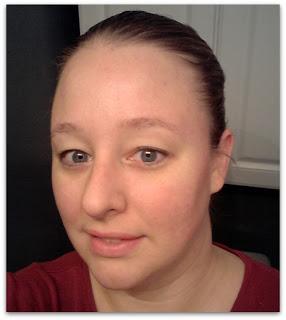 Less redness and less irritation!
More about Skinnaturals from Skinn Cosmetics: Paraben free, sulfate free, gluten free. Sans synthetic dyes, petrochemicals or genetically modified organisms. The Skinnaturals line from Skinn Cosmetics gives a whole new meaning to natural skincare.  The three-part collection will return your skin to its pure state as you wave goodbye to irritation, redness and wrinkles.Part 1: Skinnatural Calming CleanserThis natural, sulfate-free, detergent-free, mild and creamy cleanser is filled with botanical extracts and pre-probiotics to help calm and soothe sensitive skin. The formula gently refreshes and cleans without drying. Safflower oleosomes prolong the delivery of actives to the skin while white tea extract reduces inflammation that causes aging and wrinkles. Cucumber extract and Botanisoothe™ seal the deal, leaving your skin optimally cleansed, appeased and calm. Retail price: $24.50 for 4 oz.Part 2: Skinnatural Soothing SerumA highly concentrated solution that provides immediate relief of angry redness and irritation plus long-term soothing and anti-aging benefits. The serum lends itself to your need for immediate satisfaction and lasting results, even for the most sensitive skin. The formula filled with glycolipids, Botanisoothe™, licorice root extract and white tea extract reveals the following benefits: reduced inflammation and wrinkles, a reestablished skin barrier and a nourished surface. Retail price: $36.50 for 1 oz.Part 3: Skinnatural Comforting CrèmeAn amazingly powerful yet gentle natural moisturizer with Botanisoothe™ that acts immediately to help sooth and reduce irritation while offering long-term benefits. The moisturizer utilizes Vitamin F, wood and plant extract and white tea extract to support healthy epidermal structure and normal barrier function. Anti-redness, anti-wrinkle, anti-aging and anti-damage, all in one elegant formulation that will complete the process and leave your skin radiant, ageless and natural. Retail price: $34.50 for 1.7 oz.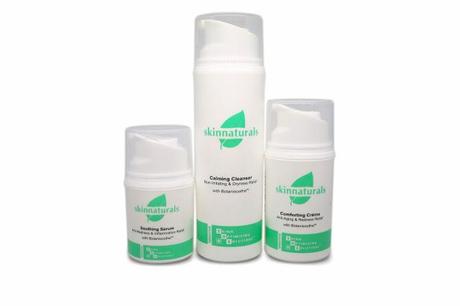 The Skinnaturals line, which 
retails for $49.50 
is available for purchase individually and as a full collection at 
www.skinn.com
and via ShopNBC.


Follow Us
Marissa is a stay-at-home mom who writes pregnancy and parenting articles on HubPages as ThePracticalMommy, as well as shares her motherly escapades on Mommy Knows What's Best. 
I received one or more of the products mentioned above for free using Tomoson.com. Regardless, I only recommend products or services I use personally and believe will be good for my readers.