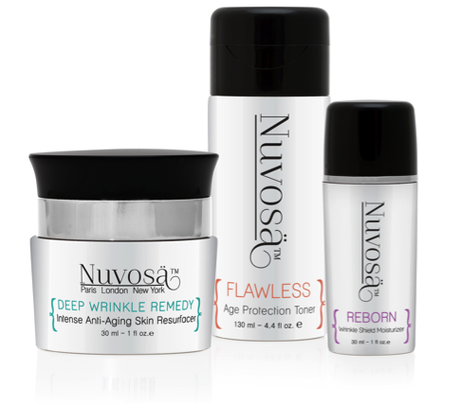 I'll admit it. Anytime I hear Hollywood A-listers and the mention of specific skincare products, I'm all ears. (Hey, what gal doesn't want Scarlett Johansson's complexion?) So when I learned Nuvosa is on the radar screen of starlets such as Scarlett Johansson, Emma Stone, Cameron Diaz, Jennifer Lopez, and Carrie Underwood (to name drop a few), I added the skincare line to my must-try-now list. The verdict? Two skincare thumbs up. Here's the skin-loving scoop, beauties:
Beauty 411: Nuvosa products combine the most powerful anti-aging compounds available (which make's our crows' feet and fine lines super happy). The line includes the Reborn Wrinkle Shield Moisturizer, Deep Wrinkle Remedy Serum and Flawless Age Protection Toner, all of which contain a wide range of natural and organic vitamins and supplements that drastically improve the skin and deliver mega-noticeable (we know that's not a word, but it should be) results.
Product snapshot:
~Reborn Wrinkle Shield Moisturizer: This clever moisturizer is a brand new generation of anti-aging moisturizing that couples technology and ingredients. This consumer-tested moisturizer (which boasts uber impressive results) drastically improves the skins appearance due to its hard-working ingredients such as Hyaluronic Acid, Organic Bilberry Extract, DMAE and a slew of other anti-agers. ($70)
~Deep Wrinkle Remedy Serum: This oh-so-smart serum is a potent anti-wrinkle formula that has been scientifically formulated to reduce the appearance of sagging skin, lines and wrinkles. Deep Wrinkle Remedy utilizes new hyaluronic acid technology to greatly boost its performance for long lasting, powerful effects. Results can be seen after just one application (and us instant-gratification folks are stoked). ($98)
~Flawless Age Protection Toner: The Flawless Age Protection Toner, which is 95% organic, closes the pores and restores skins natural pH balance. And unlike most toners, Flawless is not only moisturizing, but it's rich in antioxidants to fight the daily barrage of free radical damage. DMAE is also included (to provide extra skin firming power). ($30)
And if the list of Celebrity users doesn't impress, the stats certainly will. Take a gander at the consumer-tested results:
After 14 days of using the Toner, 94% of users responded that their skin was noticeably more radiant.
94% saw smoother skin texture after 14 days of using the Deep Wrinkle Remedy Serum.
84% of women agreed the Deep Wrinkle Remedy Serum tightened AND lifted their skin.
97% felt their skin was healthier after only 14 days of using the Reborn Wrinkle Shield Moisturizer.
Beauty bottom line: We were blown away by Nuvosa's skincare products. Anytime products deliver major, noticeable results (as in our dull, ho-hum skin became firmer and more radiant and others noticed it), that's a skincare collection we'll happily give an enthusiastic 'two beauty thumbs'! To learn more about Nuvosa (and see the uber impressive before/after photos of those who tested the skincare line), head to their website.
While we may not be able to get Sofia Vergara's infamous curves…or Emma Stone's strawberry blonde locks, at least we can boast similarly amazing skin. Happy complexion perfecting, beauties…
Do you have a favorite skincare line you swear by, readers? Share it in the comments box below!
Crows' Feet, Cupcakes, and Cellulite does not accept compensation for reviews. Samples may have been provided. Opinions are 100% the author's own.