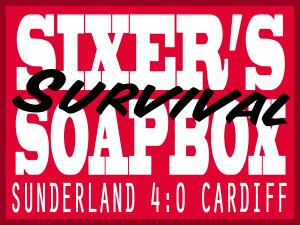 Jake: 'let's not be premature but ….'
Not often this season has Pete Sixsmith had so much cause to smile, let alone contemplate drinking perfumed tea from a Meissen cup. Cardiff at home was such an occasion. No better time could have been chosen for a thumping, morale-boosting, point-winning display. Monsieur Salut wonder how many Sunderland fans near and far were watching it live, or live-minus-a-few-seconds via internet streams or listening to Nick Barnes and Gary Bennett's Radio Newcastle commentary via the SAFC website (usually a good way of following the match, maddeningly stop-start on my Mac in the first half). But it's fair to say the warm glow of relief and h*** will have been felt around the world …
One of the more irritating arrivals on the slogan scene has been the exhortation to "Keep Calm and Carry On", with its numerous add-ons – "Drinking Tea, Picking Holes in UKIP, Winning at the O3 Arena". Used in the 1940s when Britain was being bombed by the Luftwaffe, it appears everywhere and is almost as annoying as The Little Book of Calm that preceded it.
But for once the slogan is right: that is exactly what we have to do. Three points secured against Cardiff City and most calculations are saying that two more wins should guarantee our presence at the top table next season, drinking our tea out of Meissen china rather than the heavy mugs favoured by the Championship.
This was the most convincing performance of the season (after 34 games we really are slow starters) against a Cardiff side who never really threatened us and who were dead and buried just before half time when Phil Dowd made what was for us, the decision of the season.
Leading by a Connor Wickham header, we had comfortably absorbed what little City had thrown at us. Brown and O'Shea had the always willing Fraizer Campbell under control and Cardiff seemed more interested in winding up Lee Cattermole than in searching out an equaliser.
An initial error was made by Cala allowing our Brazil bound center forward a chance to break through. Cala grabbed his arm, Wickham kept on his feet and took the ball wide of keeper Marshall before stumbling and losing his chance to turn the ball in.
My initial reaction was to think "Why didn't you go down" but then I saw Phil Dowd look at his assistant before pointing to the spot. The bonus came when he produced a red card for Cala, reducing the properly attired Bluebirds to 10 and allowing Fabio Borini to continue his outstanding penalty record in important games.
Poyet has said that it was "the best decision I have ever seen" and I would not be inclined to disagree with him. Phil Dowd is a very good referee and he referees in the spirit of the game. Cala fouled Wickham; our player stayed on his feet and attempted to score. When he failed because of the foul, which might have started outside the penalty area but which continued into it, Dowd was correct in bringing the game back to where Wickham lost his footing because of Cala's grab on his arm. Brave refereeing in such a crucial game but he kept calm and carried on.
It had been hard for them when it was 11 vs 11 because of the way we went about the game. How we started was exactly how it needed to be in that we created a tempo. The ball was moved around well; passes were accurate and, at times, penetrating; tackles were crisp. Mannone did not have a shot to save in the first half while his opposite number was busy throughout.
The opening goal was a good one, well taken by a player who has visibly grown in confidence over the last few weeks. In the past, he was a peripheral figure, hesitant and timid. Now he looks like a proper Number 9, big, strong and with an eye for goal and no longer in awe of some of the players around him. This is what we paid £8m for in 2011.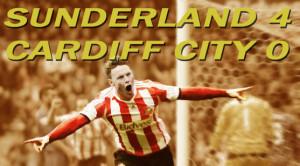 Jake captures the moment
The midfield laid a solid base with Cattermole, Larsson and Colback confounding the Horan Proposition – (c) Peter Horan – that the first two cannot play together. Cattermole was outstanding, the best Sunderland player on the pitch with his hard but fair tackling, his astute interceptions and his careful passing. Not once was he caught trying to turn – Cardiff played too deep for that – and he thrived on the responsibility placed on his shoulders. He even kept his calm when Mutch manhandled him a couple of times.
Borini and Johnson were always available wide, with both showing that they are players who have a wonderful touch, particularly Johnson. One touch that killed a difficult ball stone dead, was a touch of genius. That he misplaced the subsequent pass was a disappointment.
We were solid at the back with Brown and O'Shea imperious and making it clear that, although the old timbers may creak at times, when they are given the amount of time that Cardiff gave them they can stroll through games.
Vergini did well and the more I see of him, the more I like him. He controls the ball and is always looking to play a pass rather than hoof it up the field. Alonso had another excellent game both as an auxiliary forward and in his accustomed defensive role.
Gus got his substitutions right. Larsson was tiring but not as much as the Cardiff midfield. On came Giaccherini, who clearly relished the opportunity to contribute something to a disappointing season for him. He was played in by Borini and he finished beautifully showing what a player he could have been for us if there had been some stability at the club. He then supplied the cross for Wickham's second goal; a cameo performance to treasure.
But we were up against a Cardiff side that look likely to be relegated. They worked hard, none more so than the young Norwegian Matts Daehli, who busied himself throughout and looked as if he might become a very good player. Yet they lacked passion and looked a beaten side long before the end. They had one serious attempt on goal, a Whittingham free kick saved by Mannone. It will take something very special for them to stay up.
Credit to their fans who traveled in good numbers despite being up at lord knows what time. They were positive throughout. It must be a great disappointment for them to see their hard won Premier League place disappearing because of abysmal management within their club.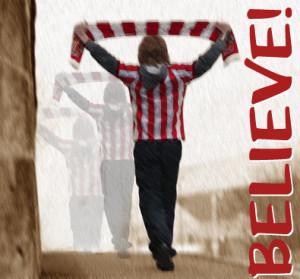 What about us? It is now very much in our own hands. One more win might be enough while two should eliminate the possibility of traveling to Bournemouth, Bolton and Blackburn next season.
But with Sunderland, you never know what is round the corner………………………….. Let's just keep calm and carry on winning – or at least not losing.
Join the Salut! Sunderland Facebook group – click anywhere along this line



And follow us on Twitter: @salutsunderland … click along this line
Click anywhere on this sentence for a glance at the home page – and highlights of all the most recent articles …
Jake flags the feature that allows you to have your say on topic or off
Fancy leaving a comment? Not sure what you have to say fits this post? Go to the made-for-purpose feature – http://salutsunderland.com/2013/07/salut-sunderland-the-way-it-is/ – and say it there.