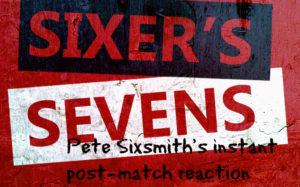 Jake: 'it won't always be pretty'
Welcome to the 2017-2018 edition of Sixer's Sevens, in which Pete Sixsmith captures the essence of each game in just seven words. An asterisk before the verdict indicates that Sixer was absent and the words have been supplied by a supersub.

But no Supersub was needed today. Pete was there. We got through (and after the most tedious draw in history we're away to Carlisle in the next round). His match report will follow, though with Norwich so near and so far I'm not sure when, so for now we'll have to mull over a very non-committal verdict that make no mention of George Honeyman, who did his bit in a team that just might be coming together.  Maybe Jake got it right with his caption.
August 8 Bury 0 (0) Sunderland (o) 1 Hardly convincing but a win's a win
August 4 2017 Sunderland (1) 1 Derby County (1) 1 Encouraging second half. Something to build on
August 10 2017 EFL Cup: Bury () Sunderland ()
August 13 Norwich City () Sunderland ()
August 16 Sheffield Wednesday () Sunderland
August 19 Sunderland () Leeds United ()
August 26 Barnsley () Sunderland ()