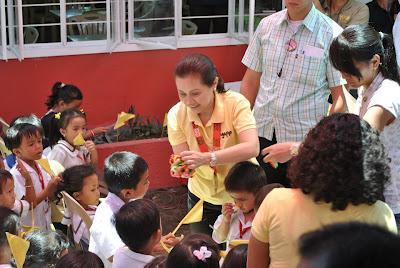 Photo courtesy of Iligan Web showing Ms. Pinky Aquino-Abellada giving out wrist bands to pre-school pupils.
ILIGAN CITY, Philippines---Yesterday, the sister of President Simeon Benigno "Noynoy" Aquino III, Ms. Pinky Aquino-Abellada, chairperson of the AGAPP Foundation led the turn-over of newly completed two classrooms pre-school buildings to five recipient schools in Iligan City.
According to what I heard during the ceremony, the aforementioned classrooms are donated by Coca-Cola Foundation through the efforts of other individuals of the country through Aklat, Gabay, Aruga tungo sa Pag-angat at Pag-asa or AGAPP Foundation.
One of the recipient schools was Tomas Cabili Central School of Brgy. Tomas Cabili of which at present accommodates for more than 100 pre-school pupils including my niece who is so happy after receiving a gift from Ms. Pinky herself.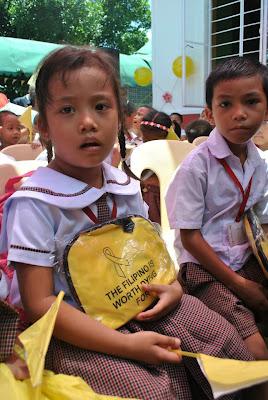 Photo of my niece Lian Del courtesy of Iligan Web
A simple ceremony was held where the newly assumed Brgy. Captain Cesarve Siacor, spotted present. My source also told me that after the ceremonial turn-over, the convoy of Ms. Pinky will proceed to another recipient school at Brgy. Sta. Elena, to which, another two classroom building was built and ready for turn-over.