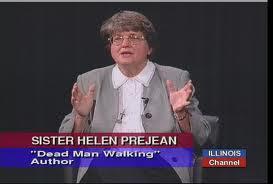 The Stylus reports
Sister Helen Prejean filled up Hartwell's dance ballroom with her stories about her experiences with prisoners facing the death penalty. Many attendees resorted to sitting on the stairs and floor to hear her speak Wednesday, Feb. 29.
Prejean, a nun from Baton Rouge, La., has worked closely with the death penalty over the past two decades, counseling and walking murderers on death row in their final moments. She became involved in thiswhen she moved to the St. Thomas projects and was asked to be a pen pal to an inmate on death row. Prejean explained she agreed because she thought simply writing would be easy enough. Yet she never expected to get so involved.
Sister Helen sees death row inmates as human beings. It's harder to justify killing them that way. What's your opinion? Please leave a comment.