Hello traders/investors,
The STI ended today with a rise of 1%. despite an overall negative showing from other asian indices. This surprised me, and I decided to browse through some STI stocks to see which ones contributed to the increase. At first glance, I could not see any counter that performed spectacularly. Weird. I then decided to look at a page of all the component stocks. Lo and behold, DBS and Genting SP led the charge. You can call it a bank-led rally too, seeing how the 3 banks have been moving up in recent weeks.
I never bothered with the banks since they have been rather dull during the mini bull-runs in the last year or so. There have been so many other more attractive counters to trade. To see DBS shoot up 10% in the last 7 trading days is something unexpected. (I understand this is most probably because of the good earnings release).
There are reasons out there for the good showing by the local banks' share prices but that is not for me to analyse.
As yet, I still do not have much to say about DBS, OCBC, and UOB. However, here is a blue-chip counter I am monitoring for set-ups.
SIA Engg is flirting with all-time highs at around $4.95 (make it $5.00). S59.SI first made a test of that high in January of this year before retracing down to the mid-to-fast moving averages. Then, buying interest in the last few weeks pushed SIA Engg up. Today's close at $5.24 represents a new all-time high. It is obvious that SIA Engg is in a solid uptrend. The strong performance at this $5.00 region should be more reason to think SIA Engg will continue to go higher in the mid-term.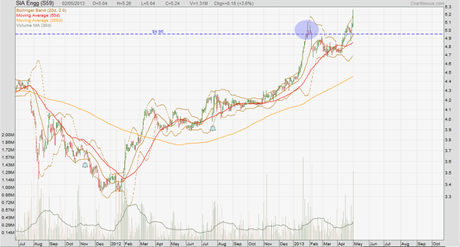 While writing this post, I actually thought I had more than one counter to be bullish and happy for, but upon looking through the other charts, I realised I could not say so for several STI stocks, excluding banks and telcos. So, I am still not entirely certain of the STI opening wings and taking off from here. I expect a number of stocks to weigh down the STI.