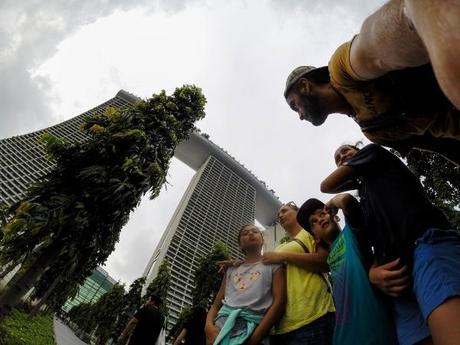 We have just spent five days in Singapore and for our family of six we spent just over $220 USD a day. Singapore can be expensive for families but it doesn't have to be. With substantial research to find the best deals, you are able to make this expensive destination become quite economical for family travel.
Transport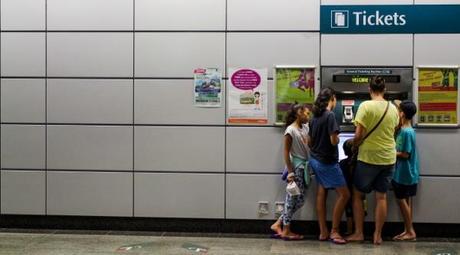 Singapore has a super efficient public transport system. The country uses smart cards for the MRT lines and buses and you can top them up at any train station. To get hold of one of these cards you can purchase them at any 7-11 or at the ticketing office desk at a train station. The cost is $12, which comes with $7 of credit already loaded.
Armed with these cards we were able to go anywhere we wanted to in Singapore for very reasonable rates. We were spending around $2.50 a day each to catch trains and buses to our destinations. On average we were catching 2 buses and 2-3 trains a day.
If you have a child who is under 7 and under 90cm they are able to travel for free without a card on the trains and buses. Our youngest is only 3 but comes in just over 90cm so we had to get him a child concession card. They are free but you need to take the child's passport to the ticketing office to collect. Having his own card made him feel like a grownup and he was able to scan his card too when we were travelling.
We were happy that the public transport system was good in Singapore as we were not allowed to travel in a taxi with 6 people. We would need a maxi-taxi and that was just way out of our budget.
Food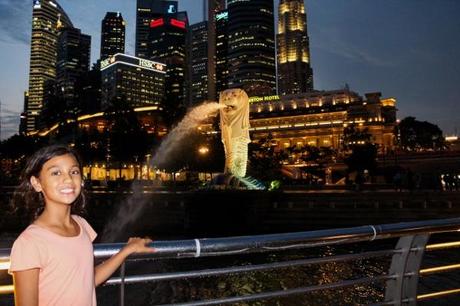 Singapore has some amazing food all over the city, but for our family we couldn't go past the famous Hawker centres that offer an abundance of authentic fresh food choices at fantastic prices. As our hotel was on the same bus route as The Maxwell Food Centre we would visit for brunch and dinner most days.
It is home to the famous Tian Tian Chicken Rice that was made famous by Anthony Bourdain, and we indulged on more than one occasion. If you are visiting Singapore this is a must try dish. The chicken is succulent and soft and the fragrant rice has been cooked in chicken broth. Even though it is a simple dish, with the added chili sauce the flavors explode in your mouth.
The children loved Roti Canai and would order this everyday. There are also little bakeries and fresh juice stalls and on average we would spend around $30-40 USD for brunch and dinner (about $5 to $6.75 per person).
Accommodation
Singapore is known for it's expensive accommodation costs. The cheapest hostel bed in the city comes in at around $20 USD and for a family of 6 that is $120. We searched high and low for affordable family accommodation and we found a few options but they were few and far between. The one place we discovered very reasonable rates for a modern family room was in the Geylang area of Singapore.
Geylang is one of the oldest suburbs in Singapore and also the city's red light district. Taking this into consideration we decided to book here and we were very happy with our choice.
Even though our hotel, the Pearl Fragrance Hotel, was in the red light district the children had no idea. We walked back to our hotel nearly every evening from the MRT or bus station and it seemed very tame.
Our room was perfect, we were only paying $100 USD a night for family room with a big king bed in one partitioned part of the room and 2 single beds in another. We had satellite TV, Air-conditioning, fast free Wi-Fi, a fridge and even a hair dryer!
As we also travel with 2 inflatable camping beds we were able to use them for our extra kids. If we were to visit again as a family we would not hesitate to stay here again. For value for money, there is not much else that can compete in Singapore.
Activities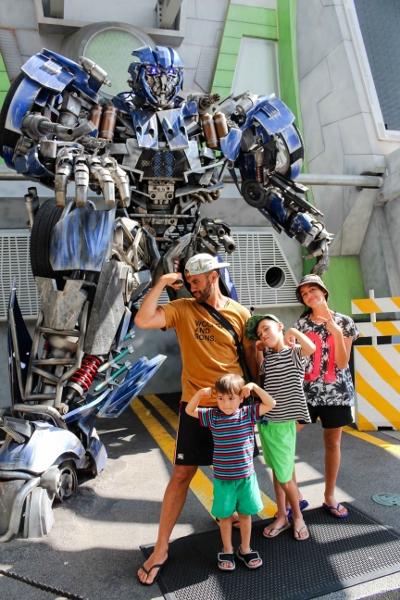 Singapore has an abundance of activities to keep a family busy for weeks. Sentosa Island is home to Universal Studios and many other attractions. We made a plan and 3 attractions we wanted to visit were located here.
As we are on a limited budget we allowed extra for Singapore as there were many things that we were dying to do. We decided on visiting Universal Studios, SEA Aquarium and Adventure Cove Waterpark.
I was able to find a great combo deal online and to book 5 tickets to all 3 attractions was only $375 USD. (Our youngest who is 3 was free for all 3 attractions.)
Our family had a fantastic day at Universal studios and spent the whole day there, we arrived before it opened and left at closing time.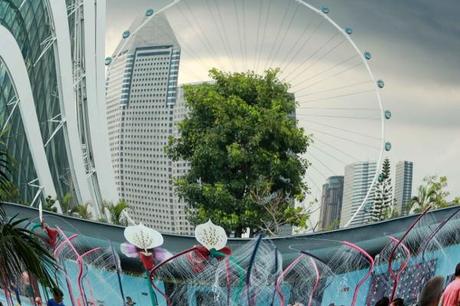 Other free family activities that I highly recommend are a visit to Gardens By The Bay near Marina Bay Sands. If you plan it right you can have spend the late daylight hours exploring the park and then have a picnic at night and stay to watch the amazing Super tree grove light spectacular. A visit to the Children's Garden is a must as there are several playgrounds and tree huts to play in it also has a waterpark that includes spectacular views of Marina Bay Sands and the Singapore Flyer.
A walk through Chinatown and visit to the Buddha Tooth Relic Museum and Sri Mariamman temples is also a great family activity. Chinatown is so pretty at night with lights and markets so be sure to visit then.
Singapore has a rich history and we enjoyed a stroll down Boat Quay and Clarke Key visiting the historic sites that dot the shoreline. If you have the funds splash out on a river cruise from Clark Quay at sunset as the view are spectacular and the commentary about the history fascinating.
To finish our stroll off down the Quays we ended at the Merlion statue. Every night at 8pm there is a free light and water show from Marina Bay Sands Hotel and the Merlion Park is the ideal place to view it from.
Singapore is such a fun city to visit as a family. There is an abundance of activities that will keep even the most frugal traveller happy. Transport is efficient and cheap and the food is some of the best in the world. We were intrigued by this city and ended up loving the vibe and hope to visit again soon.