Here are Simply Fútbol, we want to inform and make sure that as many questions as possible are answered as best as possible. As always, if you have a question about the Beautiful Game send it to us via email at [email protected] or you can send it to us via Twitter, Facebook or Google+
————————————–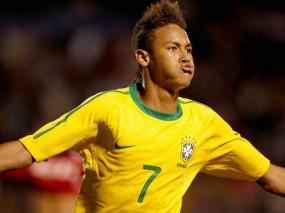 Today's question comes to us via Jared Chown (@jaredc17) and it is regarding Brazilian football.
"Why are Liga do Brasil based brazilians hesitant to leave for Europe even if it means more $$? Loyalty? Comfort?"
Jared,  that is a very tough question to answer. In part I guess that is a very personal answer.  That you would have to ask players individually.   Individuals have the right to play where they want and work at their craft however they want.
There are players that like to stay near family and friends and have them go to see them play.  Others have a desire to go play in some of the biggest clubs in Europe.
In the case of Neymar, he is the face of Brazilian football right now and he is being paid to be more than a player.  he is paid to be the face of the upcoming World Cup.  He is being paid to be the future of Brazilian football.   At this point in 2014, Neymar could be the most marketable name in world football.  So think about that for a second.
What we lose sight of in Neymar's case is that he is only 20 years old and he's already earning near European money.   Currently Brazil's economy is in relatively good footing, although the downturn has been important the past few months.  Will it continue?  The trend says now and as Simon Kuper said in Soccernomics, countries don't get rich off of these events.
But let's look at those players that are staying in Brazil who don't happen to earn the money the Santos superstar does.  Brazil is one of two league that pays extremely high salaries.   Although the Reais are flowing all over in Brazilian football, there are players that have not been paid at times.  So not all is rosy and not all is good in the land of Jogo Bonito.  
So, yes, there are players that are staying; that does not reduce the fact that Brazil is still one of the top two exporters of football players in the world.
Mexican Football
Yet there is another example that can be used- Mexico.
Mexican soccer is a very profitable league and have the best salaries in the western hemisphere.  Many South American players that do not go to Europe are able to make a phenomenal living in Mexico.  This is part of the reason also that Mexican football is only, in the past decade or so, truly beginning to export players.   Leaving their homeland is a tough decision and of course money is a big issue, but there are other factors that trump the move.  Going north of the border to play in MLS, for many Mexican players would be a cut in pay.   The restrictions and regulations of MLS only would allow a Mexican league to earn somewhat the same if they were brought in as a Designated Player.
Here in the States we've had that same discussion with Landon Donovan and why he never left for Europe on an extended basis.  He could be added to that list.  He simply felt comfortable in California and that is fine.  Of course,
My personal opinion is that you can play in whatever league you want.  Now if you want to be considered one of the best in the world, I strongly believe in Ric Flair's quote.  "To be the best, you have to beat the best." let's not compare what Neymar means to Brazil compared to what Donovan means to the US; that is not even a comparison.
As I said in the beginning if you want to play soccer in Madagascar, you have all the right to do so.   As a player, the bigger question is what do they want out of  their careers.  If they are looking to earn good money to get their families out of the "hood", that's commendable and it should be accepted.  If the desire is to be one of the best players on earth, then he has to play against the best week in and week out.
Hope I answered your question.