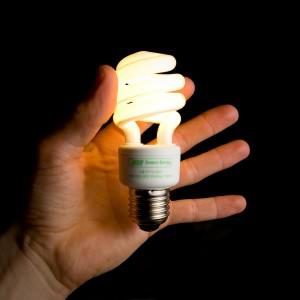 Photograph Courtesy purplemattfish
Making the choice to go green can be a daunting one, and many people who want to take up environmentally friendly behaviour simply don't know where to start. Small changes can soon add up, so I've come up with some simple and easy to implement ways to get you moving in the right direction.
Stop heat escaping
-   If you don't have double glazing or cavity wall insulation, weather-proofing kits can help seal up cracks around windows so that heat doesn't escape, and draught excluders can do the same around doors. Heavy curtains or Roman blinds can also help keep heat in a room after dark, and conservatory blinds will keep a conservatory warm in winter and cool in summer – eliminating some of the need for heating or air conditioning.
Likewise, if you don't have loft insulation, a reasonable substitute is to place a thick, folded blanket over the entry hatch – making sure it overlaps the edges – creating a seal which should prevent heat from getting into the attic and escaping out through the roof.
Reduce energy consumption
-   If you really like to wake up to and come home to a warm house, putting the thermostat on a timer so it comes on just before wake up or get home is a far better option than leaving the heating on all day. And it might be worth lowering the temperature you heat your house to by a couple of degrees – chances are you won't notice the difference. Other ways to save energy in this area are to only heat the rooms you use – for example, if you have a second living room you never sit in or a spare bedroom, make sure the radiators are off in those rooms. Additionally, placing foil on the wall behind radiators will reflect heat back into the room, making your radiators more effective.
As well as lowering your thermostat, try turning the hot water setting on your boiler down too. Anything over 65F is wasting energy, and as a bonus it means you won't be scalded by the hot tap anymore! Putting a special insulating "jacket" around your boiler will stop heat from escaping around it, meaning it'll use less energy to do its job.
Save water
-   Reducing the amount of water you use is a lot easier than most people think. The simplest way to do it is by putting something heavy in your toilet cistern to displace the water, meaning you'll use less per flush. Classically, a brick is used but water can disintegrate a brick over time, meaning bits of it might start blocking your toilet. Instead, lots of water companies offer free "water savers", which are essentially rubber bricks, or in a pinch you could fill a Tupperware dish or milk carton with gravel and use that instead – make sure the lid's on tight though!
Liberty-Belle Howard is a UK blogger with a keen interest in green issues. She is currently blogging on behalf of Hillary's Blinds.