You may love him, you may hate him, but Simon Cowell has done something lower than anything he's ever said to any contestant on a singing show.  Not only did he has an adulterous affair with his best friend's wife, but he impregnated her.  He has no shame about it either because they have been spotted together, photographed together, and confirmed it, even though the divorce is not final yet.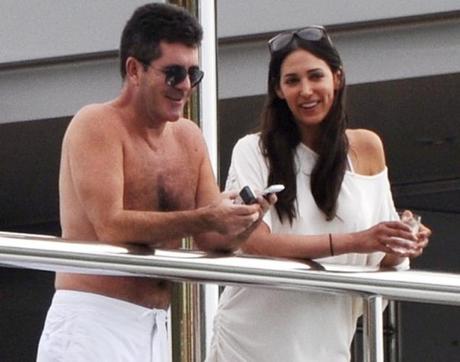 Courtesy of NY Daily Mail
She's a New York Socialite that is 20 years his junior, and she's definitely his type if you've seen any of Cowell's exes.  Andrew Silverman, a property developer, has made some harsh allegations in his Divorce Petition.  Silverman is alleging Adultery in his Petition and naming Cowell as the Co-Defendant along with Lauren Silverman.  If he proves cheating then Cowell and Lauren Silverman's child will have to take a DNA test.  Both Defendants seem to be in love and almost flaunting it, not caring whether or not their picture is taken.  Both Defendants have spoken to the press about wanting it to be a girl, however, in all of this love and scorn there is one problem.  The seven year old child between Lauren and Andrew Silverman.  Andrew is seeking full custody because of this "cruel and inhumane treatment" by the Defendants.  This poor boy is stuck in the middle of his mother and father.  I believe Andrew Silverman has every right to be bitter and upset, his best friend had an affair and impregnated his own wife.  If you cannot trust your best friend and wife, who can you trust?  However, to prevent the current child they have together from seeing his mother is a different ball of wax all together.  Not only is he trying for sole custody of the child, but considering the divorce circumstances, he's also trying to enforce the pre-nup she signed in 2003.  Lauren Silverman not only is a socialite (which mean she comes from money and is not hurting for it), but also if Simon sticks by her side, she will not want for anything either.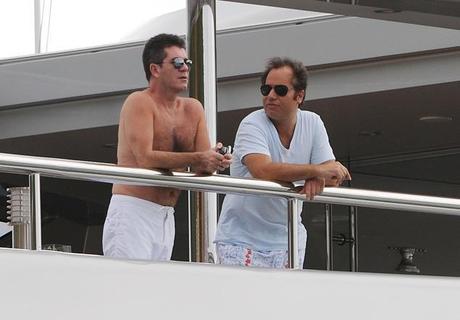 Simon Cowell and Andrew Silverman
Andrew was completely blind sighted from the affair and pregnancy.  Sources also say that Cowell thought his indiscretions with the female Silverman were along the lines of friends with benefits and no strings attached.  I am unaware how you can live with yourself having a no strings "relationship" with your best friends girl, but maybe Rick Springfield can shed some light. (If you do not get that joke then you are too young).  Cowell now has to soften or has softened about the idea about having kids because in the passed he has stated either he was not that fond of them or "passed his window" in being too old now.  I guess you have to wonder, if he thought this was just an adulterous fling with his then best friends' wife, will he stay by her side?  He did not seem to care much about children or the woman, but now they are inseparable together, seemingly to be in a relationship.  If Cowell does not sit by her side, she has enough family money to fend for herself, but now this is a knock down drag out fight filled with hurt feelings with the divorce and a child in the middle.  What makes it worse is that this is a seven year old who is fully aware of what is going on around him.  Whether or not you like Simon Cowell (I do because of his blunt candor), you cannot respect a man like this at all whatsoever   He is a homewrecker, uncaring about what destruction he leaves in his path, even a poor child.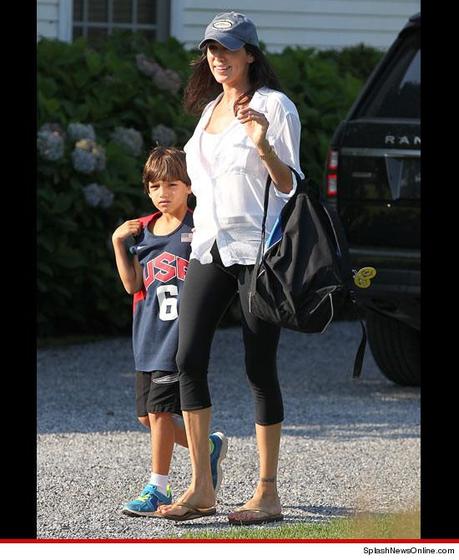 Lauren Silverman and son with Andrew Silverman (TMZ.com)
Even though friends and family have been saying the marriage has been on the rocks for some time, this is definitely no way to act out or help the marriage in any way whatsoever.  Especially when there are children involved, the female Silverman should have filed for divorce and tried to settle thing amicably, not have an affair with her husbands best friend.  Now, this will be one nasty divorce filled with bitterness, hurt feeling, and choice words flying around.  Allegedly, when the Silverman's were married, his friends refused to go to the wedding.  I guess they could sense something about her, however, Andrew was obviously in love.  Andrew's own parents had their concerns about the relationship and wedding as well.  I'm hoping the next time Andrew Silverman gets into any sort of relationship, he heeds the advice his friends and family are giving him.  When the people around you are suspicious of the woman you are about to marry, they are only looking out for your best interest.  This is going to be a very interesting story that I'm going to keep my eye on because this divorce is going to be as drama filled and as nasty as they come.  Stay tuned for updates....