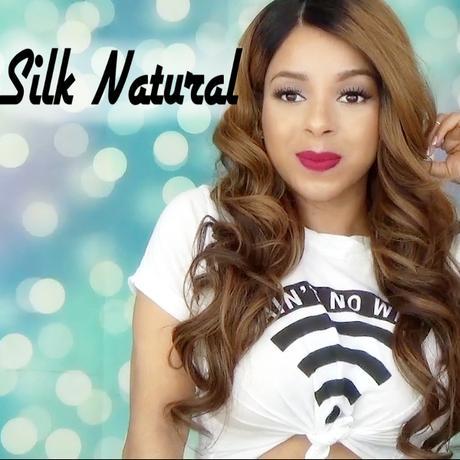 Let's take a moment to drool over Freetress Equal Silk Natural Wig. This silk base lace front wig is just as gorgeous as it is versatile. Silk Natural has a 3.5 x 4 inch silk base frontal with tons of styling options. The curls are also very pretty. You can easily re-curl or even straighten. Because of the length, it may not be an everyday unit. I'm very impressed with the quality of this wig. Silk Natural can easily go head-to-head with similar units that are double (or even triple) it's price. It is more expensive than most synthetic wigs (averages about $50). I will post a video review below. Check it out to see a closer look at this unit and the way it installs.
FREETRESS EQUAL SILK NATURAL WIG REVIEW
[adcode]
WIG SPECS:
BRAND:
Freetress Equal
NAME:
Silk Base Lace Front Wig Silk Natural
COLOR SHOWN HERE:
OF2730613
MATERIAL:
Synthetic – Heat resistant fiber
TYPE:
Lace Front Wig
LENGTH:
Long, layered 22 – 24 inches
PARTING:
3.5 x 4 inch silk base
HEAT SAFE:
Yes – Up to 400ºF / Heat resistant fiber
WIG CAP:
Smaller size with 2 frontal combs and 1 in back; adjustable straps.
RATING:
4 stars by GirlRatesWorld
[adcode2]
TIPS FOR STYLING:
– smooth puffiness with curling wand on low heat
– add a cream concealer or foundation powder to parting
– use bobby pins or wig grips to keep in place all day
– store unit in wig bag or on a wig stand to keep tangle free
– apply hairspray (lightly) to lock style in place

BE SOCIAL WITH ME!
I have tons of hair reviews lined up and ready to go! I don't want you to miss them. So be sure to follow @GirlRatesWorld on your social media sites. Also take a moment to check out dozens of other wig and hair reviews here. Is there a wig you want me to review? Awesome! Let me know in the comments below. Thanks for showing your support. I really appreciate it ♥︎.
YouTube | Pinterest | Instagram | Facebook
You May Like
Scarlett 21Tress Wig Review – Human Hair Ble...
My Fitbit Life – A Fitbit Flex Review
GLS26 Wig Friday Night Hair Review
Jamaican Twist Ponytail – Quick Natural Hair...

About GirlRatesWorld
Beauty and style lover with an addiction to wigs, puppies, french toast and neon polish. Hundreds of reviews under my belt and new ones added weekly. Be sure to swing by often.