TAKEAWAY: It was last January that the Silicon Valley Business Journal became the first of the 40 American City Business Journals to introduce a totally new and rethought product. The results are in!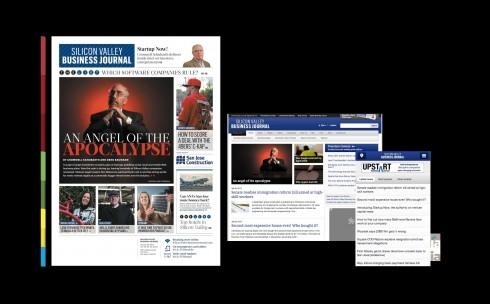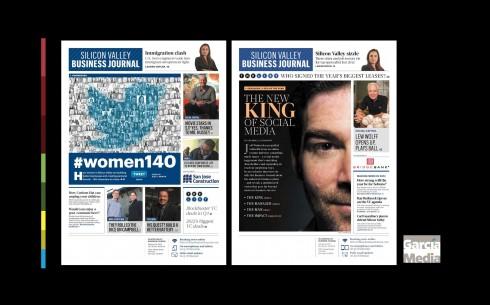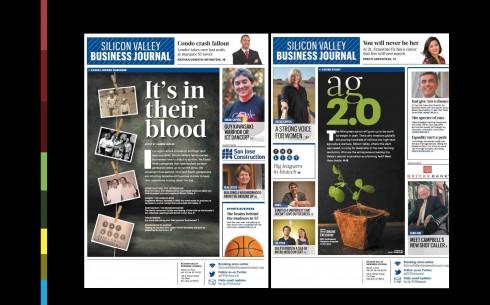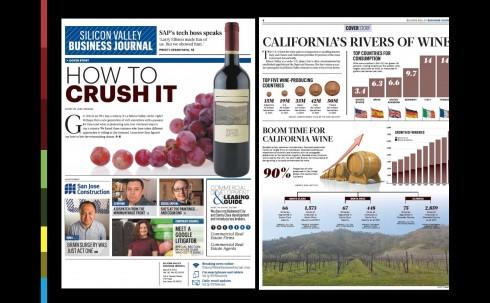 I often say that the work we do needs to emphasize the three S's: strategy, substance and success.
Our work with the American City Business Journal group, which involves 40 weeklies, appears to have completed the circle of the three S's resoundingly well, especially that important S for success.
The first of the 40 business weeklies to undergo a total rethinking has been the Silicon Valley Business Journal, published in San Jose.  It launched in January and now five months later the first results are in: growth in circulation, online readers and revenue. According to Chief Content Officer for ACBJ, Emory Thomas, with whom we have worked closely on this project, the Silicon Valley Business Journal is in the top two within the company for circulation growth in the first quarter and its online page views have been stronger in 2013 every month than any of the months in 2012.
This project is typical of what can be done when the publisher, editor, journalists and a creative art director, combine forces and decide to go for a media quartet approach, not so much digital first, but storytelling first. Week after week, the SVBJ displays visually appealing and journalistically sound centerpieces that surprise on its front page.  The rest of the newspaper is designed to facilitate navigation, and to let those digitally minded readers find what they want to read quickly.
And it is not all about short items for the SVBJ.  Narratives are important, but so are those finger reading items of briefs and the Lists for which all of the ACBJ weeklies are famous.
SVBJ editor, Greg Baumann, who was appointed just about the time we were creating the new concept, agrees that changes such as these require changing the way we work:
The primary challenge is establishing a newsroom culture that 1) values and executes advance planning, and 2) prizes big stories, well written. If you establish these two things, executing a digital first strategy that can create great paper stories is achievable.
Our rethinking for ACBJ titles, which took place through a series of workshops, approached every aspect of content strategy, digital/print positioning and look and feel. It also included a rebranding for the new pinstriped logo, a concept that will be applied to all other 39 titles as they adopt the changes.
The work, however, is just beginning. It is not the "redesign" of 40 titles, but more like adapting them to thrive in a media landscape that's dramatically different when they were created.
Here's how Emory Thomas sees it:
Everything we're learning in Silicon Valley is positioning ACBJ for success in a multiplatform world that's driven by a digital economy. We've developed a content strategy that is detailed in a way that's quite specific to ACBJ. It's a story-centric model that gracefully merges the roles of digital and print and social and other platforms, allowing each to thrive unto itself while yet fortifying the others. It also positions our business for a media world in which most of the long-term growth will come from digital.
Finally, once a philosophy has been established for how stories will flow across the platforms, an important part of the project was to create a look & feel that adapted well to all.  With the arrival of ACBJ creative director, Jon Wile, and the appointment of a new Silicon Valley Business Journal art director, Ryan Lambert, we were ready to concentrate on the design style and all those important details.
From Jon Wile about how the design went from concept and prototypes to reality:
The print redesign is merely the bow on top of our content reinvention. We have recalibrated our newsrooms to think about the storytelling process, which starts in digital and evolves as it crosses platforms into print. We are continuing to unite our branding and story-telling across all of our products and the different platforms. Lead designers are responsible for not only executing the design of pages and graphics in print, but helping foster conversations with reporters/editors, brainstorming story ideas and concepts, and educating the editorial staff on how to tell stories in non-narrative formats. Ryan Lambert, the Lead Designer in Silicon Valley, has done a tremendous job in all three of these areas.
Previously about
ACBJ

 project:

http://garciamedia.com/blog/articles/the_design_of_the_silicon_valley_business_journal_from_prototype_to_reality


http://garciamedia.com/blog/articles/the_new_silicon_valley_business_journal_is_here


http://garciamedia.com/blog/articles/our_first_two_launches_of_2013_silicon_valley_business_journal_and_malaysia
TheMarioBlog post #1261