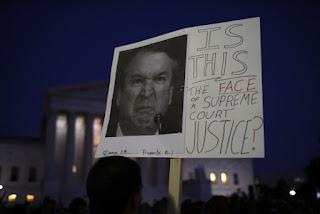 Brett Kavanaugh protest

Signs of ineptitude and possible corruption at the FBI under Director Christopher Wray did not begin with the botched USA Gymnastics probe, which was the subject of a U.S. Senate hearing last week. It dates at least to a sloppy background check on U.S. Supreme Court nominee Brett Kavanaugh -- and that's a story that seemingly will not go away. Perhaps it's driven in part by Wray's curious background, which  includes alarming ties to Russian interests and right-wing bad actors who tend to have an outsized influence in Alabama's political and legal worlds. From a Legal Schnauzer post in October 2018:
FBI director Christopher Wray has professional ties to Russia, and that likely explains a Brett Kavanaugh background check that widely is being described as a "sham," according to an Alabama political insider.

Donald Trump nominated Wray to lead the FBI in June 2017, having fired James Comey roughly one month earlier. In 2003, President George W. Bush nominated Wray to lead the Criminal Division at the U.S. Department of Justice (DOJ). Before going into public service, Wray was a partner at King and Spalding, an Atlanta-based law firm with 10 offices around the country -- plus 10 international branches, including one in Moscow. . . . 
How sketchy was the FBI supplemental background check on Kavanaugh? It probably would have to improve to merit being called "cursory". According to one report, FBI agents interviewed nine individuals --  but they apparently did not include chief accuser, Dr. Christine Blasey Ford, nor any of her corroborating witnesses. From a report at New York magazine:

Several people who reached out to investigators to offer information said they were also left hanging. NBC News says dozens of potential witnesses have come forward to FBI field offices, "but agents have not been permitted to talk to many of them." The New Yorker spoke to several people who were also unable to get an audience with the FBI despite their ability to corroborate [Deborah] Ramirez's story and information refuting claims Kavanaugh made during last week's testimony.
The FBI/Kavanaugh story continues to percolate, as evidenced by a report last week from the UK Guardian: 
The FBI director, Chris Wray, is facing new scrutiny of the bureau's handling of its 2018 background investigation of Brett Kavanaugh, including its claim that the FBI lacked the authority to conduct a further investigation into the then supreme court nominee.
At the heart of the new questions surrounding Wray . . . is a 2010 Memorandum of Understanding that the FBI has recently said constrained the agency's ability to conduct any further investigations of allegations of misconduct.
It is not clear whether that claim is accurate, based on a close reading of the MOU, which was released in court records following a Freedom of Information Act request.
The FBI was called to investigate allegations of sexual misconduct against Kavanaugh during his Senate confirmation process in 2018, after he was accused of assault by Christine Blasey Ford, a professor who knew Kavanaugh when they were both in high school. He also faced other accusations, including that he had exposed himself to a classmate at Yale called Deborah Ramirez. Kavanaugh denied both accusations.

The FBI closed its extended background check of Kavanaugh after four days and did not interview either Blasey Ford or Kavanaugh. The FBI also disclosed to the Senate this June – two years after questions were initially asked – that it had received 4,500 tips from the public during the background check and that it had shared all "relevant tips" with the White House counsel at that time. It is not clear whether those tips were ever investigated.

The FBI said in its letter to two senators – Sheldon Whitehouse and Christopher Coons – that the FBI did not have the authority under the 2010 MOU at the time to "unilaterally conduct further investigative activity absent instructions from the requesting entity". In other words, the FBI has said it would have required explicit instructions from the Trump White House to conduct further investigation under the existing 2010 guidelines on how such investigations ought to be conducted.

But an examination by the Guardian of the 2010 MOU, which was signed by the then attorney general, Eric Holder, and then White House counsel, Robert Bauer, does not make explicitly clear that the FBI was restricted in terms of how it would conduct its investigation.

The MOU, which was released in court documents in 2019 as part of Freedom of Information Act litigation brought against the US government by Buzzfeed, also does not explicitly state that the White House had the power to set the process parameters on any investigation.
What about the ties of Wray's former law firm to Russian mobsters, domestic mobsters, and unsavory characters in the Alabama political/legal firmament? From our 2018 post:
King and Spalding's extensive ties to Russia should raise eyebrows about the cursory supplemental background check of Brett Kavanaugh by Christopher Wray's FBI, says Jill Simpson -- whistle blower, opposition researcher, and retired lawyer from Rainsville, Alabama. In a Facebook post yesterday, Simpson notes King and Spalding's ties to a number of dubious characters and activities related to Russia.

They include Sergei Millian, a one-time Russian translator who has headed the Russian-American Chamber of Commerce (Russia Am Cham, based in Atlanta) and reportedly was a primary source of information for the Trump-Steele dossier. In short, Millian likely has loads of blackmail-worthy dirt on Trump, and guess what law firm has represented Russia Am Cham? It's King and Spalding, of course, says Simpson.

The firm also has ties to Trump-affiliated mobster Felix Sater, and Simpson says the firm (via Russia Am Cham) was involved in a failed lottery deal -- involving oily Alabama lawyer Rob Riley and his associate, Robert Sigler -- that fleeced the late Milton McGregor, attorney Tommy Gallion, and other prominent Montgomery business types out of about $40 million. King and Spalding, says Simpson, has ties to Russian oligarch/mafia figure Oleg Derispaska, one-time Trump campaign chair and convicted felon Paul Manafort, and Trump attorney general Jeff Sessions.

That is a lot ugly, nasty stuff -- threatening America's democracy, and Christopher Wray, via his association with King and Spalding, is tied to all of it. Writes Simpson:


FBI director Christopher Wray should be forced to resign over [the Kavanaugh supplemental background check].

It was Wray's firm, King and Spalding, that used to host the Russia Am Cham conferences for Oleg Deripaska, Mr Millian, and Mr. Sater --  the Riley/Sessions Gang attended when they beat Milton McGregor and his buddies out of $40 million for a fake Russian lottery.

 

Wray's firm represents the Russian Oil and Gas Business firm that Vladimir Putin directs. Also, Christopher Wray was a Yale Law School graduate, just like Kavanaugh,  and has been buddies with the Kavanaugh, Rove, and Sessions crowd for years. 

The FBI's Kavanaugh background check is just a report done by a member of the Jeff Sessions, Mitch McConnell, Donald Trump Russian Mafia. I tried to say last week it would be bullshit, due to Wray's ties to the Russian Mafia. His old firm is a big part of Putin's legal team. Until we as a country crush the New York/Alabama/GOP Russian Mafia, we are going to continue seeing this level of corruption.