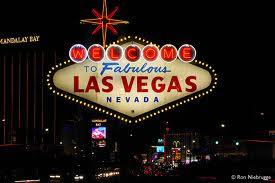 As most people are aware solar energy has become an increasingly important source of energy for the U.S.  One sees reminders of this in neighborhood houses with solar panels on their roofs, or by visiting FedEx Field, home to Washington's pro football team, with solar panels arrayed in one of the parking lots near the stadium.  Articles on solar energy appear fairly regularly in my local paper the Washington Post. Case in point being last week's front page article about the Ivanpah solar project.   But what really caught my eye was a report by Fox5 News Las Vegas that noted that the famous  "Welcome to Fabulous Las Vegas " sign is now completely powered by solar energy.  To quote from the Fox5 News report;
"Las Vegas city leaders and environmental groups were on hand Wednesday evening to flip the switch on the project. The project involved the installation of three solar trees with 18 photovoltaic cells.
"We're planting solar trees at one of the most photographed spots on earth. It's difficult to make a bigger statement about our commitment to sustainability than at the Welcome to Las Vegas sign," Clark County Commissioner Steve Sisolak said.
The conversion to solar power didn't cost taxpayers a cent, as all funding came from the Consumer Electronics Association, NV Energy and the Las Vegas Centennial History Grant Program."
Just one more "sign" that solar energy is gaining acceptance in the U.S.