Hi everyone,
Hope you all had a fantastic weekend. I have reviewed so many soaps in the last 6 months that I have lost count. I have spoken about this brand Shudhvi Naturals in my previous posts on my blog. They do make 100% natural and organic products like hair oil, face cleanser powder, face beauty oil and also handmade soaps of whom I have reviewed the Barley soap too. Today I shall be reviewing the Shudhvi Naturals Coffee Cinnamon Cream Handmade Soap in my post. Read on to know more...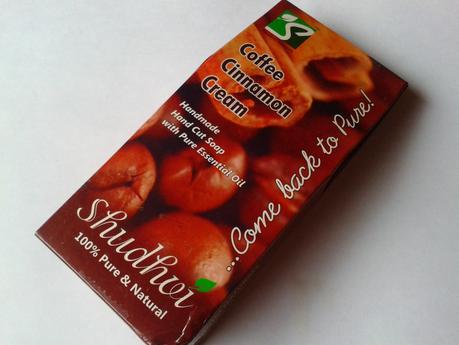 Price:  Rs. 197/-  for 100g Available here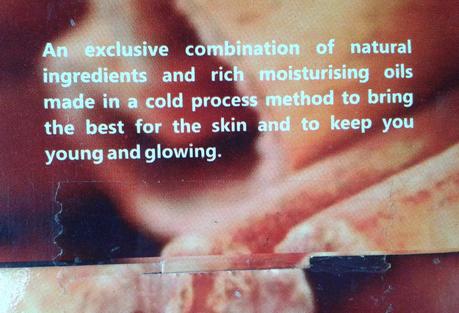 Ingredients:
● Ground Coffee Beans
● Cinnamon Oil
● Cream
● Olive Oil
● Almond Oil
● Coconut Oil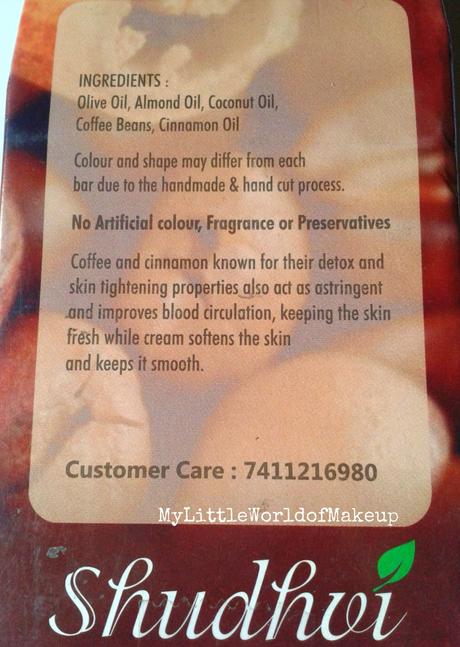 About the soap by the brand:
Coffee and Cinnamon which have natural detoxing and stimulating effects are known to improve blood circulation plumping the skin cells naturally and giving it a healthy glow. Cinnamon also acts as an astringent, tightening the skin and nourishing it. The freshly ground coffee beans act as a gentle exfoliant and fights against premature aging. Cream along with the pure oils used - Olive oil, Almond oil and Coconut oil leave the skin soft, radiant and glowing and super silky with every wash.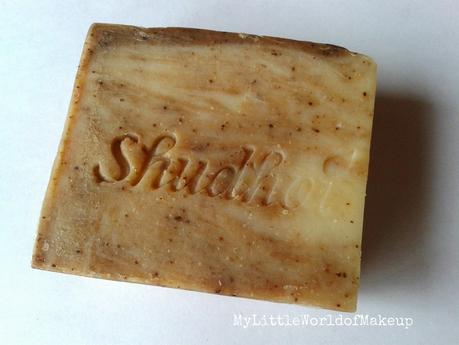 The soap comes in a unique cardboard packaging sealed with a tape. The soap was simply placed in it. All basic information & instructions are printed on the packaging itself. Overall simple & neat packaging.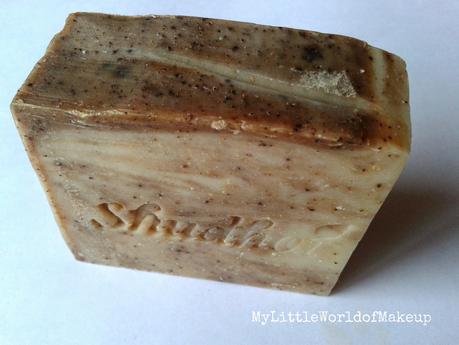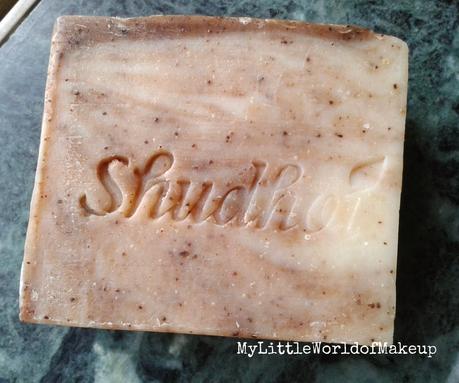 The soap is a huge square shaped bar which claims to be handcut by the brand. It is coffee brown in color and ground coffee beans are visible to the naked eye. First thing first the soap is a exfoliating/scrub  soap in my opinion,it is not like your normal soap. While using the soap you can feel the scrubbing happening on the body. As we all know coffee is used to brighten the skin and also the beans act as a scrub hence it perfectly helps all dead skin scrubbed away. Honestly I wish the scrub effect was little lesser and I also feel this soap would be best used one to two times a week to exfoliate the skin. The soap lathers well also there is a brightening and de tanning effect on the body. Ingredients like coffee and cinnamon make it an amazing scrub soap. I could not smell the coffee or the cinnamon much but apart from that this soap does a good job of exfoliating and perfect for all skin types in summers.
The Good:Easily available onlineContains coffee beans and cinnamon oilExfoliates the skin wellBrightens the skinGet rids of dead skinLathers well & creamyCleanses the skin well100% naturalCruelty free.The not so Good:Could not smell the cinnamon & coffee ( I like my soaps to smell good ;) )Not easily available offline
Rating: 4.2/5Shudhvi Naturals Coffee Cinnamon Cream Handmade Soap is a 100% natural and handmade soap which helps in exfoliating and brightens dull and tanned skin. If used everyday can guarantee you smooth and supple skin free of dead skin cells.I hope this review was helpful & informative to all of you. Please leave a comment below with your inputs . New bloggers/visitors please leave your links for me to follow back. If not immediately will definitely visit your blog sometime.Until next time.. Take care  xoxo

P.S: PR Sample**