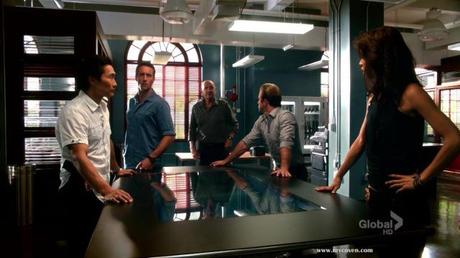 Screencap courtesy of www.MyCoven.de
Podcast #25 WebSouffle's Podcast Review of S2E13 "Ka ho 'oponopono"
Hau'oli Makahiki Hou!!! That's 'Happy New Year' In Hawaiian from your long lost blogger @WEBsouffle from Vermont!
It's been a few months but we are finally able to get back to podcasting for 2012 with our reviews of the latest and greatest "Hawaii Five-0″ episodes of the season!
As she has done in the past, my Hawaiian "sister" Wendie Joy Burbridge has graced us with her lovely presence on the podcast again from Oahu and we skyped this week about Season 2, Episode 13,  "Ka Hoʻoponopono"  (defined by CBS as 'The Fix' in English)
Topics covered by us:
-We delve into the best meaning for the title of the episode
-Partner Musical Chairs and the interchanging of the Five-0 Team pairings
-Lori & Danno's High School Adventure vs. Lori & Kono's High School Adventure
-Did we miss out on cell-phone interceptors on our Christmas lists?
-Steve & Danny's foray into light police brutality
-Local Schools trending as locations for the production this season
-Have we been waiting too long for a resolution to the "Shelburne arc?
-General internet reaction to this week and the season so far
-Our "Lost" connection for the week
-Reader comments from the WEBsouffle Blog
-What's coming up on Wendie's Five-0 Redux Blog next week
-What's in store for the next new episode?
Make sure to listen and post your comments here about the podcast. Feedback is always welcome. Please also make sure to "LIKE" our Podcast blog's Facebook page to keep up-to-date on show news and the next podcast!
Much Mahalo to All from Vermont!