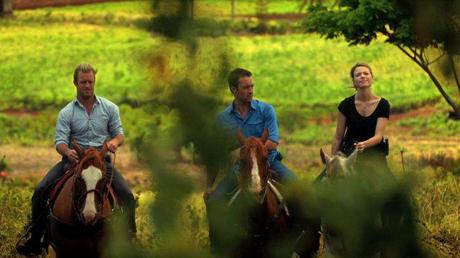 "McDanno" meet Lori Weston in S2E2 "Ua Lawe Wale" (courtesy of CrystalCaps)
"Show#23 of Websouffle's Hawaii Five-0 Podcast Review – "Ua Lawe-Wale" S2E2 with Jools of "The Five-0′s"
Here is the latest 'Hawaii Five-0′ Podcast review of Season 2, Episode 2, airing September 26th and entitled, "Ua Lawe Wale" or 'Taken'. Jools of The Five-0′s talked with me this week about our reaction to the much "calmer" follow-up to the premiere episode of the 2nd season of the show.
We discuss our impressions of the new girl on the team, Lori Weston, fashion changes we've noticed, the show traveling to Lanai, whether Kono is being left in the dust by the team, the McDanno "horseguement"and of course our "Theme" discussion of how the title of the episode ties into all the characters and the crime story of the week.
Please join me next week for our discussion of the 3rd episode, entitled, "Kame'e". Thank you for listening and commenting.
Aloha!